Richest Russian Alisher Usmanov Sells 10% in Holding Company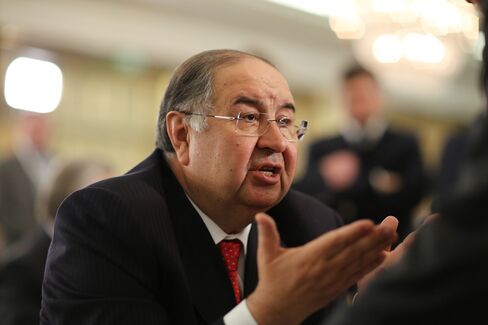 Billionaire Alisher Usmanov, the richest Russian, sold 10 percent of his holding company to his partners as he fulfilled his promise to reward management.
Usmanov will retain 48 percent of the voting rights in USM Holdings Ltd., through which he controls almost all his assets, USM said yesterday by e-mail. Most of the 10 percent stake is being allocated among and acquired by senior executives, including USM Chief Executive Officer Ivan Streshinsky, OAO MegaFon CEO Ivan Tavrin and board members.
"Tavrin and I will each buy a 3 percent stake, another 2 percent will be bought by other directors, and the remaining 2 percent will be kept for future distribution among managers," Streshinsky said in a telephone interview.
Usmanov, 60, has a fortune estimated at $17 billion by the Bloomberg Billionaires Index, built through the Metalloinvest Holding Co. iron and steel business. He is also an investor in MegaFon, the Russian mobile-phone operator, and won recognition for investing in technology and Internet companies such as Facebook Inc. and Apple Inc. With a partner, he controls about 30 percent of Arsenal Football Club.
"Mr. Usmanov was planning to sell the stake to management from the moment he established USM and the current moment is seen as appropriate as asset prices have fallen, making the transaction less difficult," Streshinsky said.
Usmanov Shares
MegaFon, which has dropped about 7 percent this year, advanced 1.9 percent to 1,020 rubles by 5:16 p.m. in Moscow trading. Mail.ru Group Ltd., Usmanov's internet company, advanced 3.6 percent to $28.23 in London, trimming its decline for the year to 36 percent.
The deal isn't a signal that Usmanov will pay less attention to the USM business as he remains the largest and most influential shareholder, Streshinksky said. He declined to give a value for the transaction.
Usmanov may get at least $2 billion from the divestment, Kirill Chuyko, head of equity research at BCS Financial Group, said by phone yesterday.
Usmanov's first investment in the metals and mining industry was a stake in the Oskol Elektrometallurgical Plant, known as OEMK, bought in the late 1990s. The facility, about 600 kilometers southwest of Moscow, is Russia's seventh-largest steel plant, according to the Metalloinvest website.
Young Management
"Having founded the group with the initial acquisition of OEMK, and having built USM into one of the largest and most successful diversified international holding companies over the last two decades, I am convinced that through the combination of the group's strong balance sheet and young and effective management, the prospects of USM for future growth are strong and exciting," Usmanov said in the e-mailed statement.
The billionaire plans to put the proceeds into a new fund and continue focusing on the development and growth of his international portfolio of investments, the statement shows. The fund will be focused on investment areas where Usmanov sees value in the future, USM said in a separate e-mail, without elaborating.
The USM deal comes amid the worst standoff between the U.S., Europe and Russia since the Cold War over the conflict in Ukraine. The billionaire's decision wasn't motivated by the international tensions, USM said by e-mail. "Mr. Usmanov has never considered that they may affect him in any way. He is a businessman and doesn't take any part in politics."
Following the stake disposal, Farhad Moshiri, a long-time friend of Usmanov, will lead USM and will have the right to vote his 10 percent stake in the company and the 30 percent stake held by Vladimir Skoch, the second-largest owner, USM said. Usmanov previously controlled how his partners voted their stakes.
Two other unidentified "long-time friends" of Usmanov will convert the indirect economic interest they held in USM into a stake of 1 percent for each of them, USM said.