Sharif Says He's Staying Until 2018 Before Pakistan March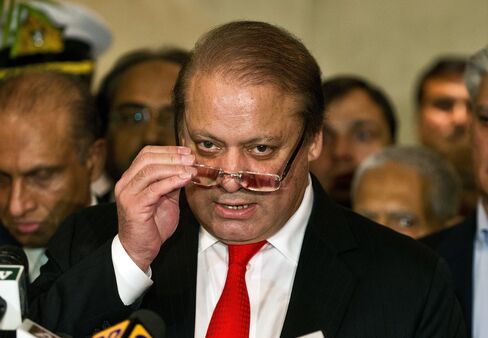 Pakistani Prime Minister Nawaz Sharif said voters will pick a new government in 2018 as one of his Cabinet members dismissed concerns that an opposition protest in the capital tomorrow would trigger a coup.
Sharif late yesterday appointed a commission to probe fraud allegations in the nation's May 2013 elections, the first-ever democratic transfer of power in a country where the army has ruled for more than half of its history. Defense Minister Khawaja Muhammad Asif said in an interview that ties with the military were "cordial and fine."
"No group will have the right to sabotage Pakistan's prosperity and development," Sharif, 64, said in a nationally televised address. "We will not let the law of the jungle take over our country."
The prospect of unrest triggered the biggest fall in Pakistan's benchmark stock index since 2009 on Aug. 11 as Sharif warned demonstrations would threaten economic gains. A Taliban insurgency, power blackouts and political instability have damped economic growth over the past decade, prompting Sharif to seek an International Monetary Fund loan last year.
"There is no current appetite to create rumbling and come out of the barracks," Burzine Waghmar, an academic at the Centre for the Study of Pakistan at the School of Oriental and African Studies in London, said by phone. The army, he said, sees "civilians with their usual bickering, and so let them carry on so long as it's not terribly serious."
Stocks Rebound
Pakistan's benchmark KSE 100 Index, up 13 percent this year, rose 0.7 percent, the second day of gains after its biggest retreat in five years. The Pakistan rupee fell 0.8 percent to the lowest level in about five months.
"All efforts will be made to ensure law and order and to protect lives and properties of people," Finance Minister Ishaq Dar said in Islamabad. "As long as they give us a guarantee that no violence will happen, our party is very flexible."
Imran Khan, a former cricket star whose party controls about a tenth of parliamentary seats, plans to rally 1 million people in a march tomorrow to push for a fresh election, prompting speculation that the military may seize power for the fourth time since 1947. Khan, 61, has said election authorities unjustly dismissed his complaints of fraud in last year's vote, and late yesterday rejected Sharif's investigation.
Roads Blocked
"Protest is the only option after our election rigging claims were rejected," Khan told reporters in Lahore. "Sharif knows the art of corruption. He needs to resign."
Authorities in Islamabad, the capital, blocked roads with containers, barbed wire and large craters to deter demonstrators. Mobile-phone services is suspended in parts of the city from today for an indefinite period of time at the government's request, according to a spokesman for the Pakistan Telecommunication Authority.
Sharif authorized the military in June to flush out Taliban militants in North Waziristan along the Afghan border. He's also pursued a case against Pervez Musharraf, the former military leader who seized power from him in a 1999 coup.
"I don't see any possibility of military intervention or any coup," Asif, Sharif's defense minister, said in an interview in Islamabad yesterday. "We have complete consensus, complete agreement on foreign policy and armed forces requirements."
'Getting Desperate'
Khan has been a vocal opponent of the North Waziristan military offensive. His party runs the government in the northwest province of Khyber Pakhtunkhwa, adjacent to the border with Afghanistan, which it won control of in the last elections.
"Imran Khan is getting desperate," Shaikh Mutahir Ahmed, chairman of the international relations department at the University of Karachi, said by phone. "He wants to create a fuss and get a chance to rule, but this won't be possible."
Sharif has sought to revive Pakistan's finances through a privatization drive and cutting power subsidies since the election that brought him back to office in May 2013.
Sharif's party won 47 percent of seats in the last election. It now controls 55 percent of positions in the 342-member National Assembly after winning the support of independent candidates and receiving allocations reserved for minorities and women.
"These protests will take Pakistan back into the darkness of extremism and terrorism," Sharif said in his televised speech yesterday. "The country is coming out of its problems and heading towards better times."
Muhammad Tahir-ul-Qadri, a popular cleric who has no representation in parliament, plans to join Khan's protest. Qadri led tens of thousands of people in demonstrations before last year's election to demand changes to the electoral system, and his supporters have clashed with police in the past.
"All parties have taken extreme positions and they don't seem ready to step down from those positions," Mahmud Durrani, a former national security adviser, said by phone. "If even one-third of the anticipated crowd enters Islamabad, it will be overloaded and that will cause friction and some trouble."
Before it's here, it's on the Bloomberg Terminal.
LEARN MORE