F1 Probe No Trigger to Punish $890 Billion Fund, Norway Says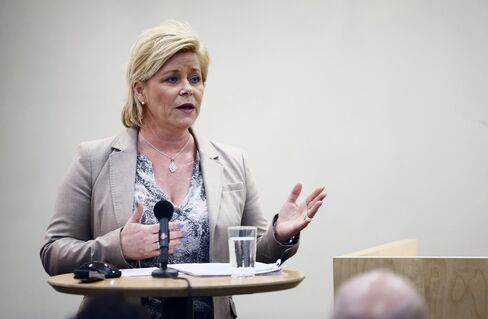 Norway's Finance Minister Siv Jensen said a probe into the world's biggest wealth fund's purchase of Formula One shares shouldn't be used as an excuse to tighten oversight of the investor.
"We do have control mechanisms to oversee that everything is done in a proper manner -- the control board is doing their job," Finance Minister Siv Jensen said yesterday in an interview at her office in Oslo. "Governing of the bank and of the fund has served us very well."
The fund, which is managed by the central bank, had to defend itself earlier this year after lawmakers questioned whether it exceeded its investment remit when it bought a stake in the auto racing group ahead of a planned initial public offering. The fund can only buy unlisted equity if a company is planning to sell shares to the public. Formula One's IPO was subsequently canceled.
Control of the fund is split across parliament, the government and the central bank. The Finance Ministry provides a mandate for the investor, which is then managed by the central bank. The bank's seven-member board, which is appointed by the government and includes the governor and deputy governor, helps oversee the fund. A 15-member supervisory board, elected by parliament, oversees the bank.
Yngve Slyngstad, the fund's chief executive officer, said in April that the fund has had "full openness" on the F1 investment.
Little Expertise
The Labor Party, the biggest in opposition, signaled in March that the fund's growth has made oversight complicated. Think tank Re-Define said in a report that same month that parliament should create an independent committee of financial experts to hold the fund and the Finance Ministry, which oversees it, accountable.
Sony Kapoor, director of Re-Define and a former investment banker who has advised several governments, including Norway's, as well as groups such as the World Bank, said at the time that "few countries have as big a gap between exposure to the international financial system and expertise on it as Norway."
Torstein Tvedt Solberg, a Labor lawmaker on the parliament's finance committee, said in March that Norway needs "to look into new ways of oversight."
Fiscal Rules
Just one board overseeing monetary policy, financial stability and the oil fund means it's overloaded with work and expectations, said Knut Anton Mork, chief economist at Svenska Handelsbanken AB in Oslo.
"Being an expert on monetary policy and being an expert on investment management are two rather different things," he said.
Jensen said Norway will move slowly in opening up the fund to new asset classes such as infrastructure and private equity, even after it lagged behind its 4 percent return target over the past decade. The government will keep within a fiscal rule limiting use of oil revenue to fill its budget deficit, she said. While the cap is set at 4 percent, the amount that figure represents is growing.
"The overall results have been quite good for a long time," Jensen said. "They are performing very well, you have to consider that it's a risk averse profile for the fund."
Norway, western Europe's biggest oil and gas producer, puts most of its petroleum revenue into the fund to shield the $500 billion economy from overheating. The fund got its first capital in 1996, added stocks in 1998 and emerging markets in 2000.
Annual Returns
It's mandated to hold 60 percent in stocks, 35 percent in bonds and the rest in real estate. Norges Bank Governor Oeystein Olsen, who oversees the fund, has said it must take on more risk to increase returns. In addition to infrastructure and private equity, he advocates increasing stock holdings to 70 percent from the current 60 percent limit.
Since the establishment of Norges Bank Investment Management in 1998, the fund has had a real annual return of 3.7 percent and a nominal return of 5.7 percent.
"Because of the size of the fund, because of the global impact it might have, it's important for us to move slowly and to be very clear on what will be the impact of changes in the regulatory framework for the fund," Jensen said. "That has served us very well, we will continue to do so."