Investors Buying Hong Kong Dollars on China Bets, HKMA Says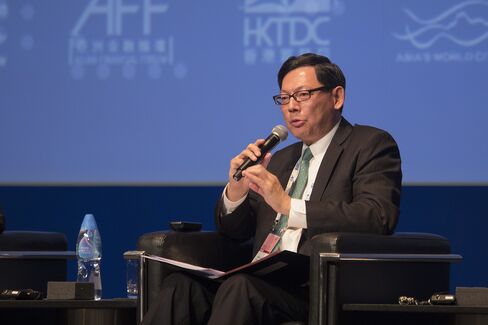 Hong Kong is luring an inflow of funds as investors grow more optimistic about China's economy and buy mainland-related shares, the city's central bank said.
The inflow is boosting demand for the Hong Kong dollar after companies bought the currency in July for dividend payments and mergers and acquisitions, Hong Kong Monetary Authority Chief Executive Norman Chan said yesterday.
Demand for the city's currency has spurred the de facto central bank, known as HKMA, to inject $9.7 billion since July 1 to maintain its peg to the U.S. dollar. Signs China's economy is improving drove Hong Kong's main equity index 6.8 percent higher in July, the biggest monthly gain since September 2012.
"Investors and fund managers seem to be less pessimistic on China and hence are adjusting their asset allocation," Chan said at a briefing.
China's trade surplus surged to a record in July as export growth unexpectedly accelerated and imports fell, the government said Aug. 8. An official index showed manufacturing expanded in July at the fastest pace in more than two years. Goldman Sachs Group Inc. said the recent inflows into the Hong Kong dollar could have been caused by purchases of offshore Chinese stocks by foreign investors because of a growth recovery and a mutual market access program between Hong Kong and Shanghai.
Hong Kong linked its currency to the U.S. dollar in 1983, when negotiations between China and the U.K. over the city's return to Chinese rule spurred capital outflows. It was kept at HK$7.80 per dollar until 2005, when policy makers committed to limiting its declines at HK$7.85 and capping gains at HK$7.75. The currency traded at HK$7.7513 as of 11:14 a.m. local time.
Pegged Currency
The Hong Kong Monetary Authority has no plans to change the peg, Chan reiterated yesterday. "It isn't fashion, so we don't have to change it just because it has been in place for a period of time," he said.
Concern about tougher sanctions against Russia over Ukraine have fueled an influx of Russian money. Mobile-phone operator OAO MegaFon said last month it moved some of its cash holdings into Hong Kong dollars. OAO GMK Norilsk Nickel, the world's largest producer of the metal, keeps some funds in the currency, two people with knowledge of the matter said.
"We have read media reports on some Russian companies that switched some of their cash holdings into Hong Kong dollars," Chan said. "We looked up their financial reports for their cash and cash equivalents. If they are really converting some cash into Hong Kong dollars, the amount wouldn't be huge."
Flow Reversal
The U.S. Federal Reserve began tapering its $85 billion monthly bond-buying program in January and may end the purchases this year. The yield on 10-year Treasuries was at 2.4581 percent today, while a forecast compiled by Bloomberg shows the rate will be at 3.37 percent by the end of the second quarter in 2015.
The flow of funds into emerging markets since the Fed started its program in 2009 may reverse as U.S. interest rates start to return to normal, Chan said. More than $100 billion has flowed into the Hong Kong dollar since August 2008, he said.
"If fund flows reverse, liquidity will decrease with higher interest rates and downward pressure on asset prices," Chan said. "The key is how abrupt that could be. We have been preparing for such a reversal since funds started flowing in."
The Hong Kong government will keep a close eye on the risk of fund flows in and out of the city, South China Morning Post reported today, citing K.C. Chan, the city's Secretary for Financial Services and the Treasury Bureau. He warned that the money could leave as easily as it arrived, the report said.
Mainland Lending
Hong Kong banks have increased loans to Chinese customers as the mainland economy grew and as links between the two economies expanded amid increased global use of the yuan. The city's banks, including foreign lenders' branches, loaned HK$2.867 trillion to customers for China-related businesses as of March 31, HKMA Chief Executive Norman Chan said. That compares with HK$2.6 trillion by the end of 2013.
Hong Kong-based branches of foreign banks accounted for about 43 percent of the loans made to mainland customers, according to Chan. Banks incorporated in Hong Kong represented 39 percent and their mainland subsidiaries accounted for 18 percent. Chinese state-owned enterprises represented 51 percent of the borrowing, including trade finance, while private entities took up 18 percent.
"Risks of mainland-related lending are controllable," Chan said. "For the second half of this year, we have talked to the banks and they indicate demand for loans may be weaker."