France Urges Europe to Arm Kurds to Battle Islamic State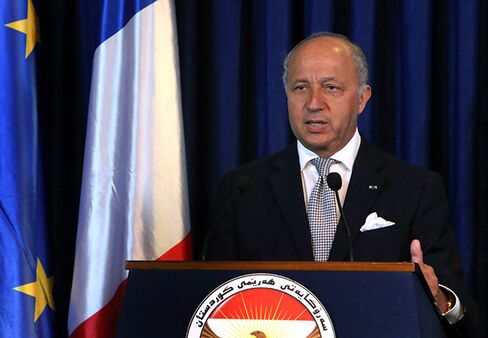 Momentum grew for an emergency meeting of European Union foreign ministers to discuss arming Kurdish soldiers as France and the U.K. backed deliveries of weapons to stem the advance of Islamist militants.
"There is an evident imbalance between this horrible group which has sophisticated weapons and the Kurdish Peshmergas, who are courageous but don't have these weapons," French Foreign Minister Laurent Fabius said on France Info radio today. "It's very nice that we in western countries are in a summer vacation period, but people are dying and we have to come back from vacation."
The U.K. and Italy have indicated they would support arms deliveries to the Kurdistan regional government, while Germany is considering supplying equipment such as protective vests and medical aid. All have ruled out joining U.S. air strikes against Islamic State in northern Iraq, while expressing support for the U.S. operations.
"Western governments have burnt their hands seriously in Iraq over the past decade," Gareth Stansfield, director of Middle East studies at the Royal United Services Institute, a London-based defense and security think tank, said by phone. "It doesn't mean they won't do anything, but that they will take their time to make sure what they do is reasoned, informed and accurate."
Fabius wrote to EU foreign policy chief Catherine Ashton yesterday asking that the bloc's foreign ministers hold a special meeting on Iraq. EU representatives met in Brussels today to discuss Iraq, though not at the ministerial level required to take decisions.
Italian Support
Italian Foreign Minister Federica Mogherini, whom Prime Minister Matteo Renzi is pushing to replace Ashton in the EU's next commission, also requested a special meeting on Iraq. The EU should discuss "initiatives" to help the Kurds' military efforts, she said in an Italian radio interview.
U.S. strikes have slowed advances by Islamic State in the north of Iraq, though the al-Qaeda breakaway group still holds swaths of territory there and in Syria, including Iraq's biggest northern city and key installations such as dams and military outposts.
The U.S., Turkey, Jordan, France, Britain and Gulf states have been discussing how to arm the Kurds, according to a U.S. official, who spoke on condition of anonymity to discuss confidential arrangements. Some weapons already have been delivered, the official said.
Outdated Equipment
Islamic State militants have U.S. weapons taken from the Iraqi army in Mosul, while the Kurdish forces, known as peshmergas, "have very old-fashioned Kalashnikovs and outdated weapons," Iraqi Ambassador to the U.K. Faik Nerweyi told reporters in London yesterday. "The peshmergas need to be better equipped with weapons to better defend their positions and also to eventually drive them out of Mosul."
The German government is considering providing vests, night-vision equipment, helmets and medical aid for those soldiers fighting Islamic State militants, Defense Minister Ursula von der Leyen told reporters in Berlin today after talks with U.K. Defense Secretary Michael Fallon. The EU is working on a possible package of measures for northern Iraq, she said, without elaborating.
U.K. Role
Supplying weapons to Kurdish military forces battling Islamic State was discussed yesterday in a meeting of the U.K.'s emergency Cobra committee led by Foreign Secretary Philip Hammon.
"It was agreed that we should look at how the U.K. could play a role, alongside others, in getting equipment to Kurdish forces so they are better able to counter" the militants, Prime Minister David Cameron's office said.
U.K. air surveillance in northern Iraq will begin very shortly, Fallon said in Berlin.
Britain's Royal Air Force made a second airdrop of aid last night to stranded members of the Yezidi minority hiding from the militants in the region of Mount Sinjar, the Department for International Development said in a statement today. France has delivered 18 tons of humanitarian aid to the Kurdistan government and Fabius said another air cargo of 20 tons is on its way.
Germany too is providing humanitarian assistance, said Volker Kauder, the parliamentary caucus leader of Chancellor Angela Merkel's bloc. Germany can't provide military help in this instance, and in any case can only ever do so as part of a NATO force mandated by the United Nations, he said today. It is German government policy not to send arms into conflict zones.
"But I believe that the help from the Americans was right and necessary," Kauder said on ZDF television. "They have waited a long time, which has to do with the fact that of course the Kurds want to found their own state. But it became clear in the end that the plight of the trapped, surrounded Yezidis and Christians has become too big, and I wholeheartedly welcome that the Americans have now supplied weapons."
While Germany doesn't plan to send arms to Iraq, the decision may need to be revisited if required to "prevent genocide," Von der Leyen said.
Before it's here, it's on the Bloomberg Terminal.
LEARN MORE