Espirito Santo Playbook Staves off Summer of Worry: Euro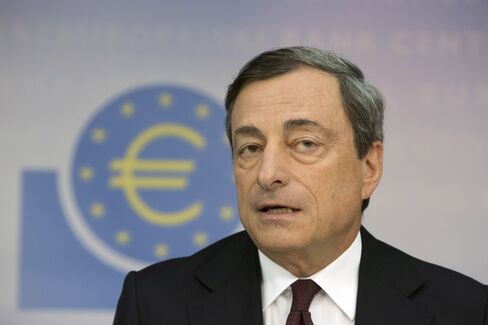 Just before he left for Italy on vacation, European Central Bank President Mario Draghi said Portugal will ride out Banco Espirito Santo SA's woes. The nation's bond yields back him up.
The country's 10-year bond yield has dropped for four consecutive days to 3.69 percent today, down from more than 4 percent a month ago. Two-year yields last week fell to the lowest closing level on record.
Portugal's government bonds led gains among the euro region's higher-yielding securities after the nation's central bank on Aug. 3 laid out a rescue plan for Banco Espirito Santo. By contrast, in the earlier phase of the euro region's crisis, borrowing costs for Ireland, Spain and Cyprus surged on concern that bank bailouts would render their debts unsustainable.
"The fairly swift action in Portugal helped contain the damage," said David Schnautz, an interest rate strategist at Commerzbank AG in New York. "It was very interesting to see that the initial crisis reflex wore thin fairly quickly."
Global markets were roiled and Portuguese 10-year rates climbed to a seven-week high of 4.02 percent on July 10 after an Espirito Santo parent company missed payments on commercial paper, sparking concern that the bank could unravel.
Junior Bondholders
Earlier this month, authorities in Lisbon stepped in with a plan. Banco Espirito Santo, once the country's biggest bank by market value, was split in two, with depositors and healthy assets moving to newly created Novo Banco. Bad loans and junior creditors stay with the old bank, which is getting no state money, until it can be shut down.
The country's bank resolution fund will get a 3.9 billion-euro ($5.2 billion) loan from the government to finance its investment in Novo Banco. Prime Minister Pedro Passos Coelho's administration aims to get repaid by Novo Banco's eventual sale.
With junior bond holders and shareholders shouldering much of the loss, Passos Coelho doesn't need to borrow more cash to solve the Banco Espirito Santo problem.
"What could have been a systemic incident is actually now considered an incident which is restricted to this bank and to the owners of this bank," Draghi told reporters in Frankfurt on Aug. 7. The "Portuguese authorities took swift action" in a situation that "could be potentially complex."
Bank Money
The government had 6.4 billion euros left from a bank recapitalization fund that was part of the nation's 78 billion-international bailout program, which ended in May. The fund, which started with 12 billion euros, is already included in the country's debt.
"Being able to tap Troika funds that already count as part of Portugal's debt mountain has been a big plus," Schnautz at Commerzbank AG said.
The remaining recapitalization facility was considered part of Portugal's treasury cash position, which the government's debt agency forecast last month will be 10.1 billion euros at the end of 2014.
"The split of Banco Espirito Santo into a 'good' and 'bad' bank has limited direct fiscal impact on the Portuguese sovereign, but erodes the cash buffer available to deal with any future shocks," Fitch Ratings said on Aug. 4. "The spill-over risk appears contained for now, and short-dated Portuguese sovereign bonds continue to trade at multi-year lows."
Bubble Burst
In the earlier stage of the financial crisis, the fortunes of governments and banks were more closely entwined. In 2010, for example, Ireland was forced to seek an international bailout as investors fretted about the state's exposure to losses in the financial sector. In all, the government had to inject about 64 billion euros into the financial system after a real estate bubble burst in 2008.
While any impact from Banco Espirito Santo may have been contained so far, there may be limits to further gains in Portuguese bonds, according to Goldman Sachs Group Inc. strategists Silvia Ardagna and Francesco Garzarelli.
"We now think that the 'peripheral theme' has reached the end of the line, and recommend turning neutral," Ardagna and Garzarelli wrote in a note on Aug. 6. "Core yields are more likely to go up than down, and peripheral spread valuations are more than full at these levels."
Banco Espirito Santo's rescue took place during the transition to a new oversight regime. The EU has tightened its rules on how banks can receive state aid, and the Frankfurt-based ECB has begun its assessment of the balance sheets of the bloc's largest banks, including an asset quality review, before it takes over direct supervision of about 120 banks in November.
"We were facing the imminence of a systemic crisis," Bank of Portugal Governor Carlos Costa said on Aug. 7. "We were on the knife's edge and we got out of this situation well. My colleagues in Frankfurt congratulated me."
Before it's here, it's on the Bloomberg Terminal.
LEARN MORE