Ballmer Rejoices in $2 Billion Thrill as Clippers Change Owners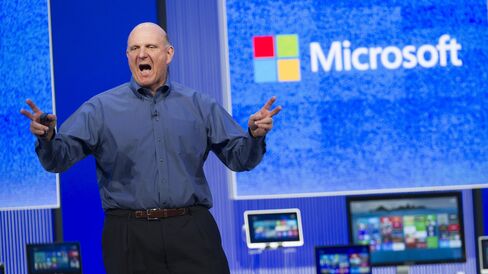 Aug. 13 (Bloomberg) -- Steve Ballmer isn't sweating the price tag or any risk that came with buying the Los Angeles Clippers for $2 billion, by about four times the most money ever spent to buy a National Basketball Association franchise.
"It's the price I paid, and I'm thrilled," Ballmer, a former Microsoft Corp. chief executive officer said, laughing, hours after he officially bought the team. "I have a history of looking at tech companies, and I'd say, basketball teams are lower risk."
The sale of the franchise was completed yesterday as a California judge filed an order confirming Shelly Sterling's right to sell the team, the NBA said in a statement. The league's Board of Governors, made up of its 30 team owners, previously approved the Clippers' sale to Ballmer as it awaited legal rulings.
"I am going to figure out how to support the team and take it to the next level," Ballmer, 58, said in a telephone interview. "You've got to be tenacious and keep pushing, pushing, and pushing to take it to the next level. I will."
The closing concludes a 3 1/2-month ordeal for the NBA and Commissioner Adam Silver that began when audio of Clippers owner Donald Sterling telling a female friend he didn't want her bringing black people to his team's games was posted on the Internet. The aftermath included condemnation from players and businesses associated with the game, threats of boycotts, lawsuits and the highest sale price for an NBA franchise.
Sterling bought the Clippers in 1981 for about $12.5 million. Previously, the most paid for an NBA team was $550 million for the Milwaukee Bucks. That franchise was sold this year to Avenue Capital's Marc Lasry and Fortress Investment Group co-founder Wes Edens.
Richest Owner
Ballmer becomes the richest NBA owner with a net worth of $20.2 billion, according to the Bloomberg Billionaires Index. Second is Microsoft co-founder and Portland Trail Blazers owner Paul Allen, whose net worth is $16.1 billion, according to the index.
Ballmer, who tried to buy the Sacramento Kings and move them to Seattle before that franchise was sold last year to Vivek Ranadive, said he's not a basketball expert so he won't be designing plays in Los Angeles.
"At the end of the day, it's like product development: Support, challenge, understand and occasionally give them something to think about," he said.
California Superior Court Judge Michael Levanas issued a tentative decision on July 28 that gave Shelly Sterling, Donald Sterling's estranged wife, the authority to complete the sale of the Clippers after she had her husband legally removed from their family trust due to mental incapacitation. The decision allowed Ballmer to proceed with his purchase even if Sterling appealed the ruling.
Court Order
Levanas found no credible evidence to support Sterling's contention that he was defrauded and ruled that Sterling was properly removed as trustee, according to his order today. Levanas said he allowed the deal to go through without giving Sterling a chance to appeal because the legal uncertainties about a team sale would cause massive losses to the trust and the Clippers.
Bobby Samini, an attorney for Donald Sterling, last month called Levanas's initial ruling "only half the battle," and said that Sterling would appeal the ruling after the judge handed down his final decision.
'Frivolous' Petition
Donald Sterling yesterday asked an appeals court to halt or unwind the sale, a request that Shelly Sterling's lawyer Pierce O'Donnell said was "patently frivolous." The filing couldn't be immediately confirmed in court records.
"The money has been received by the Sterling Family Trust," O'Donnell said in an e-mail. "We filed an opposition in the court of appeal urging denial of the petitions."
Samini didn't immediately return an e-mail seeking comment.
Citing the efforts of Silver, Shelly Sterling and Ballmer as "heroes" in the initiative to remove Donald Sterling from ownership, Dick Parsons, the former Time Warner Inc. chairman who was named the team's interim chief executive officer by the NBA on May 9, said the transaction went "about as quickly as it could."
Scrambled Egg
"Donald Sterling could appeal, the problem is how do you unscramble the egg?" Parsons said in an interview with Bloomberg Television. "I think this opinion is going to stand no matter what."
Two other lawsuits filed by Sterling would limit his remedies to money damages, according to sports legal experts.
The NBA filed counterclaims against Donald Sterling and the Sterling Family Trust today seeking to recover costs and legal fees arising from Sterling's conduct and the NBA's investigation.
"This matter has caused devastating and incalculable harm to the NBA and its teams, as well as sparked an intensively adverse public reaction," Richard Marmaro, attorney for the NBA and Silver, said in a filing in federal court.
Shelly Sterling announced her deal with Ballmer on May 29, days before the NBA said it would have seized the franchise and found a buyer itself.
Parsons testified in court that if Donald Sterling had remained as owner, the team's biggest sponsors, including Kia Motors Corp., wouldn't have come back and coach Doc Rivers would have left. Rivers will "absolutely" remain with the Clippers, Ballmer said.
The Clippers, armed with All-Stars Chris Paul and Blake Griffin, won the Pacific Division each of the past two NBA seasons, their only division titles under Sterling's ownership. The franchise has never been to the NBA finals.
"The Clippers now have an owner who loves them, and who is going to invest in them, support them, do what he can to make the whole greater than the sum of the parts," Parsons said. "They didn't have that before."
Parsons, 66, said he'll remain with the Clippers for the next few weeks to help the franchise transition its business before "going back to being a retired grandfather."
To contact the reporters on this story: Mason Levinson in New York at mlevinson@bloomberg.net; Trish Regan in New York at tregan8@bloomberg.net
To contact the editors responsible for this story: Michael Sillup at msillup@bloomberg.net Jay Beberman