Cisco CEO Pressured by Goldman Sachs to Embrace Software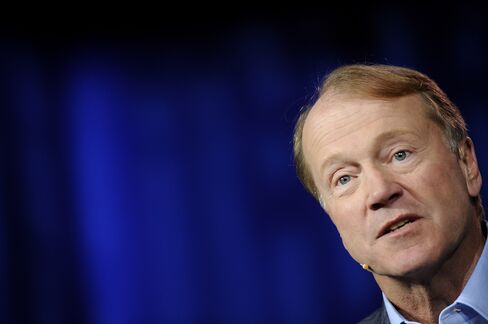 Cisco Systems Inc.'s customers are asking Chief Executive Officer John Chambers to step up the company's push into software-driven networking, instead of just trying to sell more hardware.
Goldman Sachs Group Inc., Verizon Communications Inc. and Coca-Cola Enterprises Inc. are telling the world's largest networking-gear maker that they won't keep paying for expensive equipment, when software can squeeze out more performance and make the machines more versatile.
"What we spent on your gear last year is not what we're going to spend on your gear this year, unless you do something really different," Martin Chavez, chief information officer at Goldman Sachs, recalled telling Chambers earlier this year.
What Chambers is hearing from clients illustrates the pressure Cisco is facing as the company prepares to report fiscal-fourth quarter earnings today, with revenue projected to shrink 3 percent this fiscal year, the first decline since 2009. As Chambers nears retirement after almost two decades as CEO, at stake is whether Cisco can keep dominating the $54.1 billion industry for switches, routers and other equipment that shuttle data and Internet traffic around the globe.
Analysts are projecting Cisco's fiscal fourth-quarter sales to decline 2 percent to $12.2 billion, according to the average of estimates compiled by Bloomberg. They're predicting a profit, excluding some charges, of 53 cents for the period that ended in July, up from 52 cents a year earlier.
Cisco shares are up 12 percent so far this year and are trading at 12 times projected earnings, compared with a price-to-earnings ratio of 16 for Juniper Networks Inc.
Software Networking
Chavez and other customers are pushing San Jose, California-based Cisco to fully embrace software-defined networking, the biggest shift in the industry since Cisco took pole position in the early 1990s. Rather than buying hundreds or thousands of expensive and proprietary machines to handle specific jobs, Goldman and others are deploying software that lets them run cheaper networking equipment more efficiently.
Verizon demanded a software-only version of some of Cisco's video-streaming technologies in 2012, Mike Palmer, Verizon's vice president of product development, said in an interview with Bloomberg in May. Cisco complied, he said.
"For the past 18 months, we've received applications that were formerly delivered as hardware that are now delivered as software," Palmer said.
Chambers also accommodated Coca-Cola Enterprises when the bottler wanted to outsource the operation of its internal phone and video conferencing systems. Instead of buying equipment, the company wanted Cisco to run its gear on the bottler's behalf and charge a monthly fee to deliver the service. Cisco resisted at first, until CIO Esat Sezer threatened to find a supplier that would comply.
Home Built
"By the end of this year, there won't be any more Cisco boxes in our offices," said Sezer, who in previous years had purchased hundreds of products from Cisco for these jobs.
"We are delivering more flexible options for buying from Cisco," David McCulloch, a spokesman for Cisco, said yesterday. "We have a global sales organization, and we're very focused on business outcomes for our top-tier customers. That requires some flexibility in the way we work with them."
Vendors such as VMware Inc. and Cumulus Networks Inc. are also luring customers away with software innovations.
Software-defined networking has become standard practice for Internet companies such as Facebook Inc. and Google Inc., which design most of their own gear. By connecting their own equipment and writing software, the Web companies are able to automatically update tens of thousands of machines to respond to shifts in data traffic. SDN also lets them add new features in hours, rather than weeks or months.
Missing Piece
Analysts are also looking for a progress report on a piece of software called the APIC Controller, a critical element of Cisco's SDN strategy, when the company reports today. While Cisco has been selling a switch called the Nexus 9000 designed for SDN networks since last November, the APIC Controller lets companies manage them as a single, efficient entity.
"The evolution of networks to SDN will take years, but the availability of APIC is an important milestone," said Simon Leopold, an analyst at Raymond James & Associates Inc. "Now, customers will be able to test it in earnest."
Most customers that want SDN are doing so in part because it lets them buy whatever brand of hardware they want, potentially disrupting Cisco's ability to keep them locked in to its proprietary products.
While the shift to software-defined networking will take many years, Chambers has shown in the past that he's willing to adapt. The only question is whether the CEO has enough time, given that he's indicated that he'll retire within a few years.
"There is so much interest in these trends, that Chambers cannot be blindsided by his customers," Sezer said.