China Credit Gauge Unexpectedly Plunges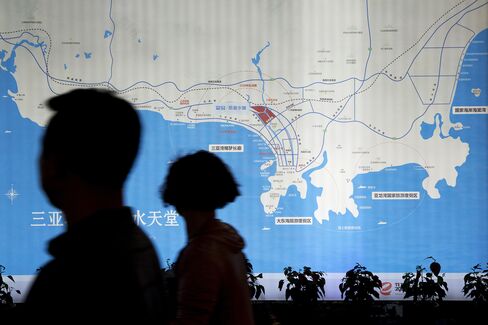 China's broadest measure of new credit plunged to the lowest since the global financial crisis and industrial output unexpectedly slowed, adding risks to growth as the government grapples with a property slump.
Aggregate financing was 273.1 billion yuan ($44.3 billion) in July, the central bank said today in Beijing, contrasting with a Bloomberg LP gauge that showed China loosened monetary conditions last quarter at the fastest pace in almost two years. Factory production rose 9 percent from a year earlier and fixed-asset investment growth weakened, figures from the statistics bureau showed.
The data spurred speculation that the government will increase stimulus, with Premier Li Keqiang's growth target of about 7.5 percent this year at risk. The International Monetary Fund last month urged China to target slower expansion in 2015, saying its economy faces a "web of vulnerabilities" from rising debt and financial institutions' exposure to real estate.
"The July data is certainly a warning sign," said Chen Xingdong, chief China economist at BNP Paribas SA in Beijing. While it may be too soon to turn pessimistic on growth, "if the situation continues for another two or three months, there will be serious liquidity problems," Chen said.
The Shanghai Composite Index reversed gains following the credit data, before rebounding to rise 0.1 percent at the close.
The People's Bank of China said the drop in financing resulted from recent regulation and financial institutions' enhanced control of risks.
Median Estimates
Aggregate financing compared with the 1.5 trillion yuan median estimate of economists, while new local-currency loans of
385.2 billion yuan were half of projections. M2 money supply grew a less-than-anticipated 13.5 percent from a year earlier.
Retail sales grew 12.2 percent in July from a year earlier, below the 12.5 percent median estimate of analysts surveyed by Bloomberg News, while industrial-output expansion was projected at 9.2 percent, the same as June's pace.
Fixed-asset investment excluding rural households expanded 17 percent in the January-July period from a year earlier, compared with a median estimate for 17.4 percent expansion and a
17.3 percent increase in the first half.
The decline in property sales accelerated in July, with data for the first seven months showing an 8.2 percent drop from a year earlier, after a 6.7 percent fall in the first half. Floor space of newly started property construction declined 12.8 percent in the January-July period from a year earlier, easing from the 16.4 percent drop in the first half.
Daily Rate
New yuan loans have been running at 30 billion yuan to 50 billion yuan a day in the first 10 days of August, the PBOC said in a statement on its website. The direction of monetary policy isn't changing and major financial indicators in July remained in a reasonable range, the central bank said.
"Money supply, credit and aggregate financing are expected to maintain stable growth in the future," said the PBOC, which typically doesn't publish separate statements to comment on the monthly figures.
Bloomberg's new China Monetary Conditions Index -- a weighted average of loan growth, real interest rates and China's real effective exchange rate -- rose 6.71 points to 82.81 in the second quarter from the previous three months. That's the biggest jump since the July-September period of 2012, with May and June's numbers the first back-to-back readings above 80 since January 2012.
Interest Rates
Today's credit numbers suggest that the "probability of further monetary-policy relaxation has increased significantly," China International Capital Corp. analysts Anson Huang and Jie Zhu wrote in a note to clients. The PBOC is encouraging large state banks, via "window guidance," to lend more and to lend quickly, CICC said.
Goldman Sachs Group Inc. economists said in a note that "some loosening" is likely this month, while China Merchants Bank analyst Liu Dongliang said the central bank may cut interest rates as early as August.
The aggregate-financing figure was the lowest since October
2008. New yuan loans, which were the lowest since December 2009, were projected by analysts at 780 billion yuan. The median estimate for M2 money supply was for a 14.4 percent gain.
"It's definitely not helpful for China's economic recovery in the future," said Li Wei, a Shanghai-based economist at Standard Chartered Plc. The trend is "unlikely to continue -- otherwise it will lead to a sharp deceleration in growth, and I don't think that's what policy makers want," he said.
Negative Parts
The aggregate-financing number had three negative components for the month to make the broader figure less than new yuan loans. Undiscounted bankers' acceptance bills were minus 416 billion yuan, foreign-currency loans were minus 16.9 billion yuan and trust loans were minus 15.8 billion yuan. Entrusted loans of 121.9 billion yuan were less than half the previous month and corporate bond issuance of 142.7 billion yuan also fell from June.
Bankers' acceptance bills are short-term debt instruments issued by a company that are guaranteed by a commercial bank, usually as part of a commercial transaction, according to JPMorgan Chase & Co. Entrusted loans occur when banks are "entrusted" with funds as middlemen between companies.
"There's still no real recovery in growth -- at best, we can say that economic performance is stabilizing at a low level," said Zhang Bin, an economist in Beijing with the state-run Chinese Academy of Social Sciences. The credit figures "reflect both tightened regulation over certain financing activities and an underlying weak economy," Zhang said.
— With assistance by Xin Zhou
Before it's here, it's on the Bloomberg Terminal.
LEARN MORE