Rory McIlroy Helps Nike Keep Golf Alive After Tiger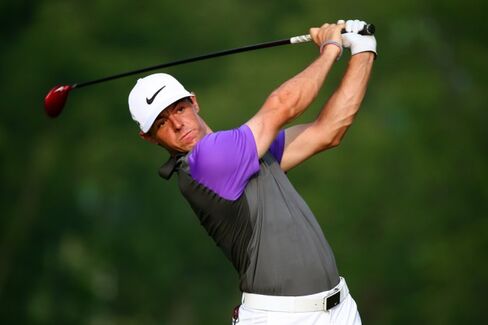 Rory McIlroy won the PGA Championship in dramatic fashion over the weekend, his second consecutive major title and third straight victory on golf's top tour. The 25-year-old Northern Irishman is now the world's top-ranked golfer and sits on the brink of dominating the sport in a way nobody has since Tiger Woods.
It's almost impossible to write about McIlroy without those three words: since Tiger Woods. Sunday's final round drew the highest rating for the PGA Championship since 2009, when Woods was in the running. McIlory reached his fourth major trophy the quickest of anybody since Tiger. His rise has overlapped with the decline of Woods, who missed the cut this weekend. All four of McIlroy's major titles have come since Woods won his last, in 2008.
This has left McIlroy with the unenviable task of filling Tiger's rather large cleats. The golf industry has been in free-fall since Woods brought it to new heights more than a decade ago. Participation, spending, and TV ratings are all down. Golf, as Nigel Currie of BrandRapport put it on Bloomberg TV, "needs someone to come along and start taking the sport by the scruff of the neck and winning regularly."
Last month, with sales hemorrhaging, Dick's Sporting Goods fired more than 500 golf pros who worked at its stores. When Adidas lowered its profit expectations last month, it pointed to an 18 percent drop in sales for its TaylorMade golf brand in the second quarter.
Early last year, when Nike signed McIlroy to a long-term deal reportedly worth as much as $250 million, it was seen as a hedge against the decline of Woods, who is also a Nike athlete. Since then, however, the rest of the golf industry has continued its collapse while Nike's business has held steady: Its golf revenue of $789 million for fiscal 2014 almost matches the $792 million in 2013, according to the company's annual report filed last month.
This is what success looks like in the post-Tiger era. And while McIlroy, whose fame still lags far behind that of Woods, is not the only reason for Nike's relative strength, he's undoubtedly one of them. "Rory's performance this summer has been electrifying," writes Nike golf president Cindy Davis in an email that also credits you-know-who, "Nike Golf has a strong stable of global athletes including two extraordinary talents in Tiger and Rory. They are the two dominant players in golf who create the most energy around our sport."
Before it's here, it's on the Bloomberg Terminal.
LEARN MORE