Norway's Wealth Fund Buys $576 Million of Mayfair Area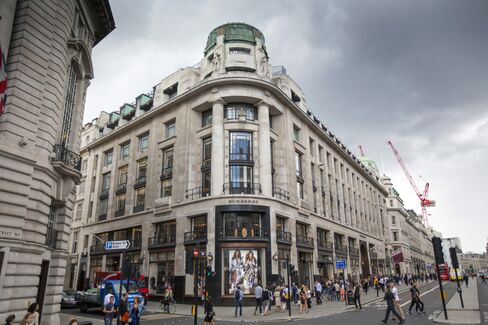 Norway's sovereign wealth fund, the world's largest, bought a stake in an estate in London's Mayfair district for 343 million pounds ($576 million), expanding its property holdings in the U.K. capital.
The fund bought a 57.8 percent share in the 4-acre (1.6-hectare) Pollen Estate between Regent Street and Bond Street from the Church Commissioners for England, Oslo-based Norges Bank Investment Management said today. Separately, the Crown Estate acquired a 6.4 percent stake for 38 million pounds.
In 2010, the Norwegian fund agreed to buy a $772 million stake in Regent Street from the Crown Estate. The Pollen Estate's 43 properties include office and retail space on Savile Row, famous for its tailors, and Cork Street. The buildings will continue to be managed by the trustee company.
The yield on the purchase is probably about 2.5 percent, which "underscores the premium buyers are willing to pay to get critical mass in key U.K. markets," Mike Prew, an analyst at Jefferies Group LLC, said by e-mail. The yield is the rent expressed as a percentage of the purchase price.
The U.K. Secretary of Defence-Greenwich Hospital also owns 10 percent of the Pollen Estate, while the Pollen family holds 25.8 percent. The estate was established in 1622 with 35 acres of land including what is now Great Marlborough Street and Hanover Street in Mayfair.
Global Strategy
"The purchase is according to the fund's strategy to build a global, but concentrated, real estate portfolio," Thomas Sevang, a spokesman for NBIM, said in an e-mail. "Our strategy is to focus our investments on a limited number of large global cities, where we invest in core retail and office properties."
Norway's $890 billion wealth fund formed a real estate group last month to speed up its property investments and is seeking to invest almost $10 billion annually over the next three years. The fund owns properties on Times Square in New York and the avenue des Champs-Elysees in Paris, as well as in Boston, San Francisco and Zurich.
The Crown Estate, the property company that generates income for Queen Elizabeth II, in June reported record annual earnings as the value of its real estate reached 9.4 billion pounds. U.K. commercial property values have been climbing as an improving economy boosts demand for stores and office space. The Crown Estate said in June that every shop it owns in London's West End district, including most of Regent Street, is occupied.
Rising Rents
The value of workspace in central London climbed 1.8 percent in May from a month earlier, according to Investment Property Databank Ltd. Rents for the best office buildings in the City of London increased more than 9 percent to 60 pounds a square foot in 2013 and will rise to 65 pounds this year, according to broker Knight Frank LLP.
Norway, western Europe's biggest oil and gas producer, puts most of its petroleum revenue into the fund to shield the $500 billion economy from overheating. The fund got its first capital in 1996, added stocks in 1998 and emerging markets in 2000. The government is allowed to use the targeted 4 percent return to plug budget deficits. The fund is mandated to hold 60 percent in stocks, 35 percent in bonds and the rest in real estate.
The fund in total returned 1.7 percent in the first quarter and its property holdings returned 2 percent. Real estate accounted for 1.2 percent of its assets at the end of March.
Before it's here, it's on the Bloomberg Terminal.
LEARN MORE