Erdogan's Rise Built on Fast-Track Economy Now Slowing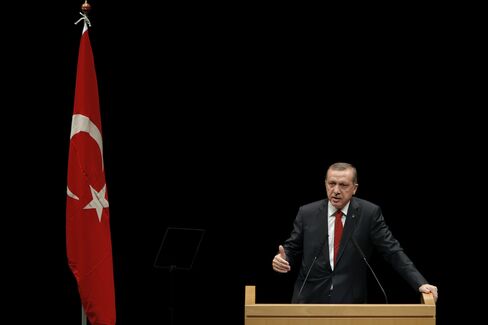 After building a political career based on economic strength, Turkey's Recep Tayyip Erdogan may have to spend some of the next five years repairing the damage that his pursuit of rapid growth has brought.
Erdogan, 60, won Turkey's first direct presidential election on Aug. 10, extending his leadership of the country until at least 2019. He now confronts an economy nearing the limits of fast-track growth based on encouraging rapid construction and consumer spending at the expense of its manufacturing industry, said Sevket Pamuk, a professor of economics at Bogazici University in Istanbul.
"Growth relying on real estate development has a certain appeal for the government," Pamuk said by phone on Aug. 4. "However, it's not a sustainable model. It wouldn't allow growth to remain at elevated levels going forward."
During the second half of Erdogan's 11-year run as prime minister, growth was less than half the 6.8 percent average of the first half. Demand-driven expansion also saw imports outpace exports, contributing to a current account gap that is forecast to reach 6 percent of economic output by the end of this year.
Turkey's two-year lira notes are the worst-performing debt among 20 emerging markets tracked by Bloomberg since former Federal Reserve Chairman Ben S. Bernanke hinted at future tapering of the U.S.'s stimulus program in May 2013
Morgan Stanley has listed Turkey among the so-called "Fragile Five" economies most vulnerable to a withdrawal of the foreign investment needed to finance their deficits. South Africa, Indonesia, India and Brazil are the other four.
Worst Performer
The shortfalls expose these countries to any shift in investor sentiment as the U.S. Federal Reserve moves closer to ending its bond-buying program and raising interest rates.
Still, Turkey's gross domestic product climbed to $820 billion last year from $233 billion in 2002 and the debt-to-GDP ratio fell to 37 percent, from almost 80 percent a decade ago. Inflation has also slowed, dropping to single digits from over 70 percent in 2002, while more than 5 million jobs have been created since 2007, according to the Finance Ministry.
Erdogan has overseen "Turkey's political transformation and its rise as a global economic actor" and we expect "this will continue under his presidency," Mehmet Buyukeksi, head of Turkish Exporters Assembly, said in an e-mailed statement.
Turkey's lira weakened 0.6 percent to 2.1639 per dollar at 3:23 p.m. in Istanbul. The currency has declined more than 14 percent since Bernanke hinted at tapering, making it the worst-performing emerging-market currency in Europe, the Middle East and Africa since then. The yield on the two-year lira notes rose 441 basis points in the same period to 9.45 percent today.
Curbs on Credit
Erdogan's decade-long surge in domestic spending will have to give way to more investments and exports as the economy's growth engine over the next decade, Mert Yildiz, a Burgan Bank Group senior economist, said by phone from Istanbul Aug. 5.
Average economic expansion over the next decade will be 3.5-to-4 percent, he estimated.
Erdogan's government has used curbs on credit and other measures to put the brakes on consumption after high-speed expansion underpinned by cheap global credit through 2011 resulted in the world's largest current account gap as a percentage of GDP. It reached as high as 9.4 percent in 2011.
Manufacturing Share
The surge in domestic spending led to new malls, high-rise buildings and residences that redefined the skyline of Istanbul and other cities. The country now has 326 malls, up from just a few in 2002, according to the Association of Shopping Center Investors, which didn't have specific data for 2002.
The growth led to a lack of competition in the real estate industry and disproportionate rates of return that manufacturers couldn't match, Deputy Prime Minister Ali Babacan told NTV television last month.
Manufacturers accounted for 15.3 percent of its GDP in 2013, compared with 20.8 percent in 2005, according to the state statistics institute in Ankara.
"The share of industrial production within GDP started going down," Babacan said. "That is a dangerous trend."