Crossing Link to Singapore May Cost You $20 More Due to Spat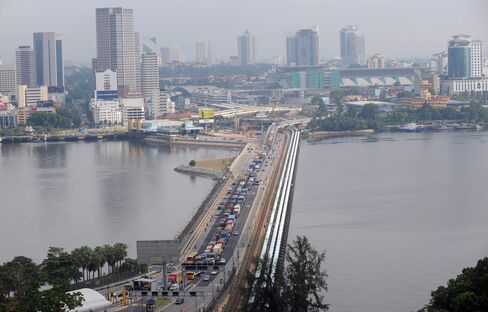 Singapore and Malaysia are engaged in a tit-for-tat over fees they charge vehicles crossing a vital link between the two nations. People like Paul Lim expect to pay the price.
It began with a decision by Singapore to raise the levy on foreign-registered vehicles visiting the island starting this month, which prompted Malaysia to boost toll charges on the Causeway linking the neighbors. The city-state has said it plans to match the toll-fare increase in the coming weeks, without specifying the amount, a move that could bring the total additional cost to as much as about S$25.60 ($20) for a one-day round trip in a Malaysian car.
"The public transport coming in, the private buses, they're likely to raise their rate for the Malaysians riding in," said Lim, chief executive officer of security firm Soverus Pte., where 100 Malaysian security guards account for 25 percent of his staff. "That's going to increase the cost to my Malaysian workers. We're going to increase the salaries."
The transport oneupmanship marks a bump in relations between the two Southeast Asian nations, which had improved in recent years after Prime Ministers Najib Razak and Lee Hsien Loong resolved a decades-old dispute over railway land. For Singapore, it could mean higher business costs and the exacerbation of a labor crunch that's already made companies more reliant on the thousands of Malaysian workers crossing the border every day, according to DBS Group Holdings Ltd.
Economic Impact
"We're just shooting ourselves in the foot by matching Malaysia's policy move," said Irvin Seah, a Singapore-based economist at DBS who used to work at the Ministry of Trade and Industry. "We don't need the additional revenue. It will have an impact on the economy," especially on small and medium-sized enterprises, he said.
Malaysians account for more than 15 million crossings over the border to work in Singapore every year, according to an estimate from Wai Ho Leong, a Singapore-based economist at Barclays Plc. Singapore is Malaysia's biggest export market.
About 13,000 foreign-registered cars enter Singapore daily and 8,000 foreign goods vehicles enter the country every month, according to government data. Together with buses and motorcycles, they bring in workers, students, tourists as well as food and other supplies.
In addition to cars, the Singapore entry levy was increased for goods vehicles, while the Malaysian toll fees were raised for taxis, buses and lorries. The vehicle entry permit for foreign-registered cars was raised to S$35 a day from S$20 by Singapore.
Toll Increase
"While the most immediate effect will come through food prices, the more significant impact may come through wages," said Vishnu Varathan, a Singapore-based economist at Mizuho Bank Ltd. Inflation may gain 0.1 to 0.2 percentage point if suppliers raise prices, and Singapore's central bank may hold "its slightly tighter stance" as it remains cautious about a wage-price spiral, he said.
Malaysia's toll increase this month involved a jump to 9.70 ringgit ($3) from 2.90 ringgit in the charge for cars entering Johor state from Singapore, the Straits Times reported, citing the Malaysian Highway Authority. It also introduced a new fare of 6.80 ringgit for cars going the other way on the Causeway. If Singapore, which currently only imposes a toll for leaving the island, matches both moves, Malaysian cars would pay about S$47.90 for a round trip including the foreign vehicle levy, from S$22.30 previously.
The cost could spiral further, with Malaysia saying it will introduce its own levy on foreign vehicles entering Johor, the Star newspaper reported July 16, citing Najib.
'Political Move'
"This is a tit-for-tat, it's a political move," said Desmond Lee, director of Singapore-based fruit and vegetable wholesaler FRESHDirect Pte. His suppliers, who transport 2,000 kilograms to 4,000 kilograms of produce from Malaysia every day, will probably try to use the toll and levy increase as an excuse to charge him more, he said.
For 38-year-old Mohammed Nafis, a systems management officer at ST Electronics Pte., lighter traffic since the fare increases has cut his two-hour commute to work in Singapore from Johor in half.
"People who find it costly to travel to work from Johor, these people will eventually decide to leave their jobs in Singapore, and also the Johoreans who no longer find it feasible to travel via bus because the number of commuters will probably just increase," he said. "I feel for them."
Johor Tourism
Johor has experienced a 5 percent fall in tourist arrivals from Singapore since the start of August, the Straits Times reported Aug. 9, citing a member of parliament from the state. Malaysia will assess the impact of the toll increase on Johor businesses and will find ways to boost the use of public transport, the Works Ministry said this month.
The increase in vehicle entry fees to Singapore will only affect about one in 10 foreign-registered cars as the rest don't enter or stay in the city during periods when the fee is charged, the island's Land Transport Authority said. The charges seek to equalize the cost of owning and using a foreign-registered vehicle in Singapore, with that for a Singapore-registered one, which has widened in recent years, it said.
"Many of our members have business connections or factories based in Malaysia," said Lam Joon Khoi, Secretary-General of the Singapore Manufacturing Federation. "Companies that employ a large number of Malaysian workers or Singaporeans who have to travel to Malaysia would need to work out solutions individually to soften the impact, such as reimbursing the travel costs."
Clients Screaming
On Aug. 1, Channel NewsAsia reported bus drivers protesting the new toll rates that day caused a traffic jam that forced workers and students to cross the border on foot. Soverus's Lim estimates the disruption probably cost him as much as S$4,000 after dozens of his security guards were late or missed their shifts.
On top of increasing wages, which Lim estimates will cost him about S$20 per worker per month, he also plans to accelerate a "share-a-bike" program for employees.
"After that day when I had probably 20 workers taking a very healthy walk across the Causeway and I've got clients screaming away, being very frustrated that their security workers don't get there on time, I thought this is a good timing to try to get this going," he said.
Before it's here, it's on the Bloomberg Terminal.
LEARN MORE