Bunds Turning Japanese Drives Buying Spree of JGBs: Japan Credit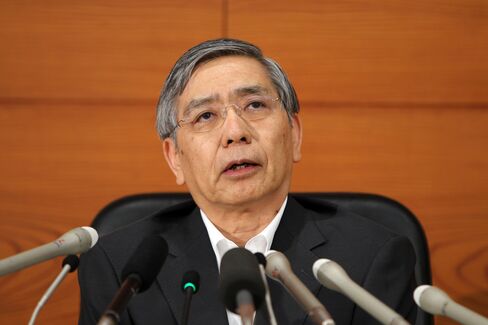 Global investors escaping record-low yields in Germany are seeking safety from geopolitical turmoil in Ukraine and Gaza in Japan's sovereign debt.
Foreign money managers were net buyers of JGBs maturing in one year or more for a fifth straight week in the five days ended Aug. 1. A total of 1.29 trillion yen ($12.6 billion) was piled in over the longest streak since May 2011, according to data from Japan's Ministry of Finance last week.
The European Central Bank's introduction of negative interest rates in June, the first for a major economy, pushed the yield premium offered by two-year JGBs over equivalent German bunds to the highest since May 2013. Investors have snapped up debt around the world, pushing the Bank of America Merrill Lynch Global Broad Market Index to a 14-month high, as Iraq added to the concerns about Ukraine and Gaza.
"We're starting to see the Japanization of European debt as yields drop," said Toru Yamamoto, chief strategist at Daiwa Securities Co. in Tokyo. "Investors overseas may be shifting some of their holdings in euro assets to Japanese short-term debt. Those inflows into Japan will further reduce the likelihood of JGB yields rising."
Japan's two-year bond yielded 0.06 percent on Aug. 8, or five basis points higher than the equivalent German debt. The bunds offered a 14 basis point premium in March. A basis point is 0.01 percentage point.
Benchmark Yields
The yield on Japan's benchmark 10-year notes is the lowest globally after Switzerland at 0.515 percent as the Bank of Japan buys about 7 trillion yen of JGBs per month to defeat deflation. Germany's benchmark rate, the least in the euro area, dropped to a record on Aug. 8.
The yen traded at 102.12 per dollar and 136.86 per euro as of 10:14 a.m. in Tokyo today, up 3.1 percent and 5.8 percent respectively in 2014 as escalating tensions in Ukraine and the Middle East boosted demand for haven assets.
President Barack Obama last week authorized limited airstrikes against Sunni militants in Iraq. Meanwhile, Russia struck back at U.S. and European Union sanctions with a ban on a range of foods as Ukrainian troops pressed the attack on pro-Russian rebels in a bid to drive them out of their last strongholds.
The ECB on June 5 followed Japan in unveiling historic package of stimulus measures to fight the threat of deflation, cutting the deposit rate to minus 0.1 percent and slashing the benchmark interest rate to a record low 0.15 percent. President Mario Draghi said on Aug. 7 risks remain on the downside with geopolitical tensions in Ukraine and Russia.
Unprecedented Easing
The BOJ last week maintained record easing, sticking with a pledge to increase the monetary base at an annual pace of 60 trillion yen to 70 trillion yen. The BOJ will carefully watch the impact of geopolitical risks, Governor Haruhiko Kuroda said on Aug. 8.
Twenty-six percent of 34 economists polled by Bloomberg News forecast the BOJ will increase stimulus at one of its two meetings in October, with 35 percent seeing a move by the end of the year. The survey was conducted July 30 to Aug. 1.
"It's difficult for yields to fall any further as we come closer to the limit of expanding monetary easing," said Chotaro Morita, the chief rates strategist in Tokyo at SMBC Nikko Securities Inc. "Low JGB yields are solely the result of BOJ easing. Fundamentals imply that the 10-year yield should be above 1 percent."
Yield Outlook
Japan's 10-year yield will rise to 0.9 percent at the end of 2015, economists predict in a separate Bloomberg survey with the most recent forecasts given the heaviest weightings. The benchmark German bund yields will climb to 2.12 percent in the same period.
Japanese investors offloaded 104.7 billion yen of German bunds in June, a sixth straight month of sales, Ministry of Finance data showed on Aug. 8.
Money managers also added 424.4 billion yen of U.S. Treasuries. The federal funds futures contracts reflect near certainty the central bank will keep its benchmark at 0.25 percent or lower this year.
"Part of the inflows into Japanese securities is the result of the ECB's introduction of negative interest rates," said Ayako Sera, a Tokyo-based market strategist at Sumitomo Mitsui Trust Bank Ltd. "Those dynamics will change once the Federal Reserve starts raising rates, but since there's still some time before that, people are putting their money somewhere safe that's not cash and has relatively higher yield."
*T *T