Lexus Sees $375,000 LFA Supercar Return After Generation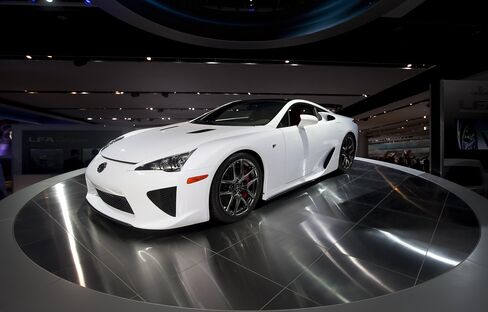 Long live the Lexus supercar.
Toyota Motor Corp.'s Lexus, which ended a two-year production run of the $375,000 LFA in 2012 after manufacturing 500 units, may build a successor to the 552-horsepower car, Executive Vice President Mark Templin told reporters today. The long-term plan has President Akio Toyoda's backing, he said.
"Akio believes that every generation deserves to have a car like an LFA, so we're building an LFA for the generation we have today," Templin said in Kyushu, Japan, before a ceremony for the new Lexus NX crossover. "At some point, there may be another special car for another generation," he said, without providing specifics.
A second LFA isn't imminent, and another generation could be about 30 years in the future, said Brian Lyons, a spokesman.
The LFA was a decade-long project that Templin said motivated Lexus engineers, improved the brand's reputation and influenced work on premium models the company has introduced since. It also gave the world's largest automaker a model to compete with brands including Volkswagen AG's Porsche, Fiat SpA's Ferrari and Daimler AG's Mercedes-Benz.
Lexus has turned the U.S. luxury car market back into a three-brand race this year after years of Toyoda pushing the company's premium division to expand its reputation beyond quality and add styling and performance attributes. Redesigned versions of the IS sedan and GX sport utility vehicle have helped narrow the lead of Mercedes-Benz and Bayerische Motoren Werke AG's BMW in the U.S. market this year.
LFA Origins
The origins of LFA started with the concept of building a $120,000 coupe, and the car grew more expensive because of the amount of technology and features added, Templin said.
Lexus showed an LF-LC coupe concept car at the 2012 Detroit auto show, which the company hasn't made into a production model. Asked if Lexus may take that step, Templin said: "I won't tell you yes, and I won't tell you no."
"We got more response from that press conference than any car I've ever shown in my life," he said of the LF-LC's unveiling. "I was blown away by the response people had for that car."
Toyoda, 58, named a designer to lead the brand for the first time by promoting Tokuo Fukuichi earlier this year. The Toyota City, Japan-based company introduced its first turbocharged engine to a Lexus model with the NX, which started selling in Japan last week, and the RC and RC F sport coupes arrive in U.S. dealerships by November.
Lexus is targeting 550,000 deliveries worldwide this year, up from last year's record 523,000 units. About half of the brand's worldwide sales in 2013 were in the U.S., where deliveries rose 12 percent to 273,847 vehicles.
Sales in the U.S. are exceeding Toyota's target and on track to surpass 300,000 units this year, Jeff Bracken, the brand's general manager for the market, said on an Aug. 1 conference call. Deliveries of the brand's second-best selling passenger car IS have almost doubled, while sales of the GX SUV have more than doubled.
The NX crossover is selling in Japan starting at 4.28 million yen ($42,000), according to a July 29 statement. The company plans to sell 700 units per month in its home market.
In China, where the government is conducting an antitrust investigation into the auto industry, Lexus is waiting to see the outcome of its talks with the National Development and Reform Commission before deciding on its actions, Fukuichi told reporters today in Japan.
Before it's here, it's on the Bloomberg Terminal.
LEARN MORE