Gaza Truce Collapses as Israel Meets Rocket Fire With Airstrikes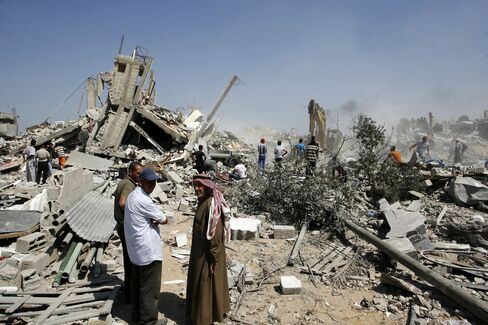 Three days of truce in Gaza ended as Israeli aircraft bombed the territory in response to rocket fire by Palestinian militants, while Egypt called on both sides to reaffirm their commitment to a broader agreement.
The Israeli army said 50 rockets were fired at the country's south yesterday, including some before the truce expired at 8 a.m., and a soldier and a civilian were injured. "We will continue to strike Hamas, its infrastructure, its operatives and restore security," Army spokesman Lieutenant-Colonel Peter Lerner said. The Health Ministry in the Gaza Strip said five people were killed in Israeli airstrikes.
Hamas, which runs Gaza, said the cease-fire wasn't extended because Israel hadn't responded to Palestinian demands, though the Islamist group denied it was responsible for rocket attacks today. Islamic Jihad and the Popular Resistance Committees, two other militant movements that operate from the narrow coastal strip of land, said they fired missiles at Israel.
Fighting over more than four weeks has killed about 1,900 Palestinians, according to Gaza's Health Ministry, the majority of them civilians. Israel says militants account for between 750 and 1,000 of the Palestinian dead. Sixty-seven people have died on the Israeli side, all but three of them soldiers. Talks in Cairo have sought a lasting cease-fire accord that accommodates Hamas's demand for an end to economic curbs on Gaza and Israel's desire to end attacks from the territory.
Troops Withdraw
Along with the U.S. and European Union, Israel considers Hamas a terrorist organization. It holds Hamas responsible for controlling the other militant groups in Gaza.
Israel withdrew troops from Gaza on Aug. 5 following a four-week offensive that it said aimed to end the rocket fire and destroy tunnels militants used to stage cross-border attacks. Soldiers haven't been sent back into Gaza, an army spokeswoman said anonymously, in accordance with military regulations.
Gazans had begun to head home during the truce, often to find their houses destroyed. The United Nations Relief and Works Agency said the number of displaced people in its 89 shelters fell from a peak of almost 273,000 to 171,240 as of yesterday. Israel's artillery and air strikes razed more than 10,000 Palestinian homes and damaged hospitals, UN shelters housing the displaced, and power and water infrastructure.
'Sticking Points'
The resumption of fighting came after last-ditch negotiations throughout the night in Cairo, mediated by Egypt, failed to secure agreement to prolong the truce or narrow differences that have hindered a permanent accord. Channel 2 reported that the Israeli delegation had returned from Cairo.
Egypt's foreign ministry called on all sides to reaffirm their commitment to talks to enable progress on the "very limited sticking points that remain in the fastest possible time" in a statement carried by the state-run Middle East News Agency.
The past month's fighting followed the breakdown of U.S.- brokered peace talks between Israel and the Palestinians in April. Palestinian President Mahmoud Abbas responded by ending his seven-year rift with Hamas, a move condemned by Israel.
The killing of three kidnapped Israeli teenagers, which Israeli blamed on Hamas militants, and the suspected revenge murder of a Palestinian youth added to tensions, and weeks of rocket fire and Israeli air strikes escalated into war. Hamas and other Islamists have fired thousands of rockets into Israel since early July.
UN Condemnation
Fending off condemnation from UN Secretary-General Ban Ki-moon and other world leaders about Israel's use of military might in Gaza, Prime Minister Benjamin Netanyahu said Israel used appropriate force given the rocket and tunnel attacks. Israel accuses Hamas fighters of using Gazans as human shields, striking from densely inhabited neighborhoods.
Clashes also broke out yesterday in the West Bank, governed by Abbas's Palestinian Authority. One Palestinian was killed as soldiers opened fire on a crowd of people throwing stones as they approached an Israeli settlement, Israel's army said.