Brazil July Inflation Slows More Than Economists Forecast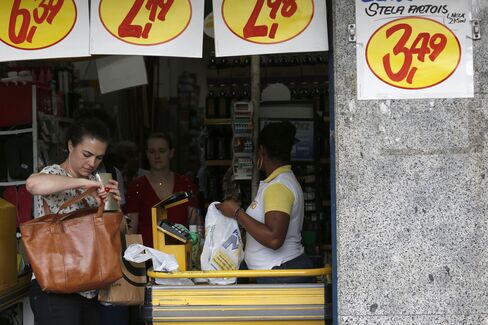 Brazil's consumer price increases slowed more than expected in July, as transport and food costs fell in the world's second-biggest emerging market.
Inflation as measured by the benchmark IPCA index decelerated to 0.01 percent, the slowest in four years, from 0.40 percent in June, the national statistics agency said today in Rio de Janeiro. That was below all estimates from 46 economists surveyed by Bloomberg, whose median forecast was 0.10 percent. Annual inflation slowed to 6.50 percent, versus a median estimate of 6.60 percent.
While consumer price increases slowed more than expected, inflation at the top of the target range is hurting consumers' purchasing power less than two months before presidential elections. President Dilma Rousseff has worked to contain inflation by capping government-regulated prices, while the central bank undertook the longest rate-raising cycle in the world of its benchmark Selic rate.
"The overall picture continues to be one where you see price pressures," Carlos Kawall, chief economist at Banco J. Safra, said by phone from Sao Paulo. "All the news is that auto sales are down, electronic goods sales, furniture, they're all down, yet prices are still resilient."
Swap rates on the contract due January 2017, the most traded in Sao Paulo today, rose one basis point, or 0.01 percentage point, to 11.81 percent at 10:46 a.m. local time. The real declined 0.5 percent to 2.3061 per U.S. dollar.
Personal Expenses
Transport prices in July fell 0.98 percent, following a 0.37 percent increase in June, the statistics agency said in today's report. That included a 26.86 percent decline in airfare due to the end of the monthlong World Cup soccer tournament, which finished July 13. Food prices dropped 0.15 percent. Personal expenses increased 0.12 percent, including a 7.65 drop in hotel prices. Personal expenses rose 1.57 percent in June.
The greater-than-expected drop in hotel prices was due to the end of the World Cup, according to Flavio Serrano, senior economist at Banco Espirito Santo de Investimento. The other surprise that drove down inflation was a 2.91 percent drop in phone rates, he said.
Regulated prices including phone and electricity rates rose 4.63 percent in the 12 months through July versus 3.95 percent in June. The price of services increased 8.44 percent in the same period.
Second Round
An Ibope poll published yesterday showed that Rousseff's advantage over runner-up Aecio Neves in a possible Oct. 26 second-round vote narrowed to six percentage points from eight in the previous survey. The poll had a margin of error of two percentage points.
The central bank on July 16 held the key interest rate at 11 percent for the second straight meeting after raising it 3.75 percentage points in the 12 months through April. Policy makers target inflation of 4.5 percent plus or minus two percentage points.
Today's data "is good news for the central bank," Enestor Dos Santos, principal economist at Banco Bilbao Vizcaya Argentaria, said by phone. "It will increase the possibility of the Selic staying at this level at the beginning of next year rather than being increased. We still have to see the upcoming data to confirm this trend."
Brazil's inflation is showing a more favorable trend, and it's clear policy makers aren't contemplating a reduction in the Selic, Carlos Hamilton, the central bank's economic policy director, said yesterday in Rio de Janeiro. He also said fast inflation reduces confidence.
Consumer confidence as measured by the Getulio Vargas Foundation posted two successive increases in June and July, rebounding from its lowest level in more than five years.
Inflation Outlook
Markets may reduce their 2014 inflation forecast in light of July data, economic policy secretary Marcio Holland said.
Analysts surveyed by the central bank Aug. 1 cut their 2014 inflation outlook for the third straight week, to 6.39 percent. They reduced their economic growth forecast for the 10th straight week, to 0.86 percent. The economy expanded 2.5 percent in 2013.
Inflation will end this year within the target range as the economy slows from last year and the effects of recent monetary tightening have not been fully felt yet, central bank President Alexandre Tombini said at a Senate hearing Aug. 5. Brazil is not condemned to inflation of 6 percent, he said.
"Despite the benign July monthly print, inflationary pressures are still quite generalized and disseminated throughout the economy," Alberto Ramos, chief Latin America economist at Goldman Sachs Group Inc., wrote in a note.
(Earlier versions of this story corrected to say that median estimate from economists for July inflation was 0.1 percent, and food prices fell 0.15 percent.)
Before it's here, it's on the Bloomberg Terminal.
LEARN MORE