Snowden Wins Three-Year Extension of Russian Residency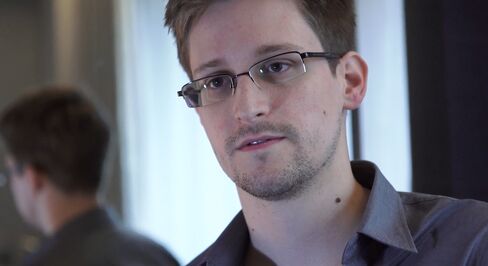 Edward Snowden, the former security contractor who disclosed American spying programs, has won the right to live in Russia for three more years, his lawyer said, threatening to further strain ties with the U.S.
Snowden, whose one-year asylum expired July 31, can apply for Russian citizenship in mid-2018, Anatoly Kucherena told reporters in Moscow today. Snowden didn't get a residency permit as a special favor, the lawyer said. "This is an ordinary procedure for any foreign citizen," he said.
As the standoff over Ukraine worsens, Russia and the U.S. are locked in their biggest geopolitical confrontation since the fall of the Berlin Wall. Tensions erupted last year when the two powers clashed over the civil war in Syria and Russia granted Snowden temporary asylum when he fled from Hong Kong in June 2013 after exposing clandestine U.S. National Security Agency programs that collect phone and Internet data.
Snowden's revelations about U.S. spying last year set off a global debate about the trade-offs between privacy and security and hurt ties with European allies, in particular Germany.
Snowden, 31, has said he worked alone in taking thousands of classified documents, denying claims made by U.S. lawmakers that he was an agent of a foreign government. He faces espionage charges in the U.S.
The former U.S. security contractor has followers, who understand that "total surveillance" is a "gross violation of the law," said Kucherena. "There will be more Snowdens," he added.
Snowden hasn't decided yet whether he would stay in Russia or return to U.S., Kucherena said. The residency permit allows Snowden the right to travel abroad, although for no more than three months a year, the lawyer said.
Snowden got a job in IT sector and learns Russian. He also is involved in human rights activities, Kucherena said. There is also a fund which gets private donations to help Snowden.
The Russian authorities were sure to grant Snowden the right to live in Russia because he is "still in danger," Vladimir Volokh, the head of an advisory council of the Federal Migration Service, said last month. The security for Snowden is provided by a private company, Kucherena said today.
President Vladimir Putin has denied that Russian agents have worked with Snowden or invited him to fly through Moscow. He blamed Snowden's continued presence in the country on the U.S. revoking his passport and blocking his bid for asylum in Latin America.
The Russian leader said in December during a nationwide phone-in show where Snowden made a surprise video appearance, that while said he hadn't met the fugitive personally, he respected him for making "noble but complex" choices.
Before it's here, it's on the Bloomberg Terminal.
LEARN MORE