SNB Trims Holdings in Apple, Exxon, J&J, SEC Filing Shows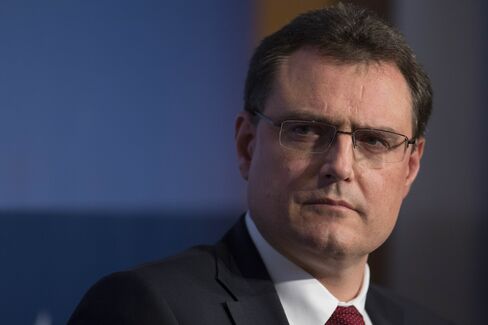 The Swiss National Bank trimmed the number of shares it held in Apple Inc., Exxon Mobil Corp. and Johnson & Johnson in the second quarter, a U.S. regulatory filing shows.
The Zurich-based central bank held 0.3 percent fewer shares in the iPhone-maker on June 30 than at the end of March, according to the filing. It cut its shares in both Exxon and J&J by 0.2 percent. Even so, those three companies remained its top three U.S. equity holdings. At the same time, it increased the number of shares it held in drugmaker Merck & Co. by 1.1 percent, the data showed.
The SNB stands out among major central banks for its equity holdings -- the U.S. Federal Reserve isn't allowed to purchase stocks. The Swiss central bank's holdings stem from its decision to invest 16 percent of its foreign-exchange reserves in shares, with the majority held in highly rated government bonds.
The SNB's foreign-currency reserves ballooned in the wake of its setting a minimum exchange rate of 1.20 per euro on the franc in September 2011. The reserves hit a record 453 billion francs ($499 billion) last month, the SNB said today. While the SNB's cap defense caused the reserves to climb almost 70 percent in the first year after its introduction, policy makers have said they've not had to intervene since September 2012.
SNB spokesman Walter Meier declined to comment on both the July foreign-exchange figure and the filing, which the SNB is required to make to the Securities and Exchange Commission. It doesn't otherwise disclose the stakes it holds in individual companies. As of the end of June, it held stakes in some 2,500 U.S.-listed companies, the SEC filing shows.
According to Governing Board member Fritz Zurbruegg, the SNB's investment strategy is to replicate broad-based indexes. Some companies are excluded on ethical grounds.
Before it's here, it's on the Bloomberg Terminal.
LEARN MORE