Russia Retaliation Inflicts Worst Euro-Area Scars on Finland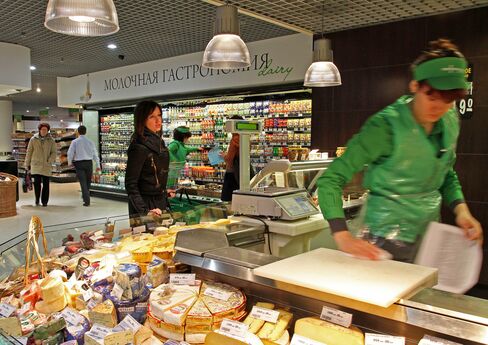 Finland, the euro nation most dependent on trade with Russia, is now bracing itself for the economic shock that President Vladimir Putin's decision to retaliate against western sanctions is set to cause.
Finnish exports to Russia have already contracted since the crisis in Ukraine intensified in March and after European and U.S. restrictions were agreed on to isolate Russia's economy. In a counter-move, Russia slapped import bans today on an array of foods, including dairy and cheese. With 14 percent of Finland's trade coming from its eastern neighbor, those developments are exacerbating the Nordic country's fight to emerge from its second recession since 2008.
Valio Oy, a cooperative dairy producer that accounts for about 40 percent of Finnish food exports, today "halted all production lines making goods for sale in Russia," Chief Executive Officer Pekka Laaksonen said by phone. "They will remain halted until we can sell in Russia again. Time will tell what the financial impact is."
Half of Valio's exports are destined for Russia, where it sells good such as butter, Viola cheese spreads and Oltermanni hard cheese, the company said on its website. Finland exported 400 million euros ($535 million) in food to Russia last year.
The government will study the impact of the ban and consider ways to minimize the fallout, it said in an e-mailed statement today.
Clearly Negative
Russia's deteriorating outlook couldn't come at a worse time for Finland, which had pegged its recovery hopes to a rebound in exports. Gross domestic product contracted for a second quarter in the three months through March, while unemployment reached 9.2 percent in June, compared with 7.8 percent a year earlier.
"The impact of the crisis, and measures against Russia, comes through the Russian economy and its weak domestic demand," Chief Economist Anssi Rantala at Aktia Bank Oyj said by phone Aug. 1. "It's clear the impact on Finland is negative."
The Nordic nation may seek compensation from its fellow European Union countries, Prime Minister Alexander Stubb told reporters yesterday, without giving details.
Finland sent 10 percent of its exports to Russia last year, and imported 18 percent from the country. Its total trade volume with Russia of 14 percent even exceeded that of former Soviet states, and now euro members, Latvia and Estonia. The euro-area average trade with Russia in 2013 was 3.4 percent.
Tourism Losses
Finland also faces losses in its tourism industry. The northernmost euro member has a longer border with Russia than the other 27 EU members combined and a third of the tourists arriving in Finland come from Russia. That's more than twice as many as from Sweden or Germany. Overnight stays by Russians are down 11 percent so far this year, according to Statistics Finland.
"Russia is for many Finnish companies a kind of a domestic market," Rantala at Aktia said. "Finland is among the most affected by the weakness in the Russian economy."
Before it's here, it's on the Bloomberg Terminal.
LEARN MORE