Russia Favorite With Banks to Energy Unless Sanctions Hit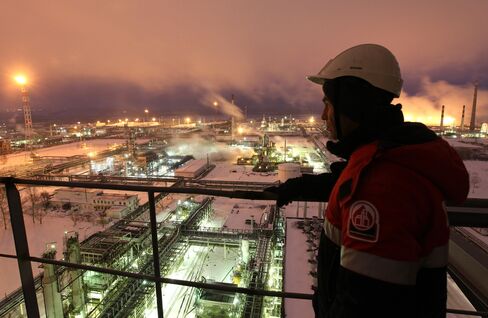 Some of the most lucrative banks and energy companies in the world are also among the cheapest.
What's the catch? They are Russian.
While OAO Novatek has the best return on equity and assets among the 100 largest energy companies and OAO Sberbank has the second-highest net interest margin among lenders, deepening international sanctions against Russia are turning investors away. The two stocks have lost about $23 billion in combined market value in the past six weeks, leaving both at discounts of more than 40 percent to their industry rivals, as they became targets of the measures aimed at punishing Russia for its support of Ukrainian rebels.
Look beyond Novatek in the energy industry and the findings are similar. Six of the biggest Russian oil and gas companies, including OAO Lukoil, OAO Bashneft and OAO Rosneft, have an average return on equity of 18.8 percent, almost four times the global average, data compiled by Bloomberg show. They have benefited from rising oil production in a country where the cost of drilling projects is lower than elsewhere in the world.
"Russian banks and energy would be the two sectors to be in in an ideal world of no sanctions and a growing economy," Ian Hague, founding partner at Firebird Management LLC which oversees about $1.1 billion including Russian stocks, said by phone from New York on Aug. 4. "The valuations wouldn't see those improbable cheap levels if it wasn't for sanctions and the geopolitical risk related to Russia's role in the conflict with Ukraine."
Stock Declines
The benchmark Micex Index has lost 7.7 percent since President Vladimir Putin's incursion into Crimea in March. Moscow-based Sberbank, Russia's biggest lender, and Novatek, the country's second-largest natural gas producer, have driven declines in that period, underscoring how the international standoff is pushing investors out of even some of the most profitable corporations. Two spots behind Sberbank in the global ranking of the most lucrative banks is VTB Group. Like Sberbank, VTB's price-to-book valuation is about half the global average.
Russia's benchmark Micex Index trades at 4.8 times estimated earnings, making it the cheapest measure among 21 emerging markets tracked by Bloomberg. That compares with a multiple of about 5.3 in February, before Putin's annexation of the Crimea peninsula. The stock gauge posted the worst monthly drop in July since 2012 as the U.S. and European Union escalated sanctions targeting Russia's $2 trillion economy after the downing of a passenger jet on July 17 over territory controlled by pro-Russian insurgents. The rebels have denied involvement while Russia has blamed Ukraine for the crash.
Cynical Market
"The market is rather cynical," Vladimir Miklashevsky, a strategist at Danske Bank A/S in Helsinki, said by e-mail on Aug. 5. "Considering that many long-term investors in Europe are waiting for the cancellation of EU sanctions in a few months, assets with good financial metrics remain attractive despite the continued slowdown of the Russian economy."
Some Russian oil and gas producers have increased production faster than international competitors, helping boost profitability. Tarko-Sale, Russia-based Novatek, whose shareholders include sanctioned billionaire Gennady Timchenko and France's largest oil producer Total SA, said last month that second-quarter net income more than doubled after production of liquid fuel rose 13 percent from a year earlier.
'Less Downside'
At Ufa-based Bashneft, a producer centered on fields in the southern part of Russia's Ural mountains, management expects oil production to rise more than 10 percent this year to 350,000 barrels a day through a combination of reviving oil fields, exploiting new deposits and acquisitions. By comparison, Irving, Texas-based Exxon Mobil Corp., the world's largest publicly traded oil producer, saw its second-quarter production drop 5.7 percent to the lowest since the third quarter of 2009.
Russian energy companies won't be hurt by the economic slowdown and declines in the currency, said Andrey Vashevnik at R&B Investment Fund Ltd. in Moscow.
"On the contrary, they'll benefit from a weaker ruble," Vashevnik, who manages $25 million as chief investment officer at the Moscow-based firm, said by phone on Aug. 5. "Oil and gas companies have less downside."
The ruble has slid 9.5 percent this year against the dollar, the second-worst performance among emerging markets, boosting the local-currency proceeds that companies get from exports. The International Monetary Fund forecast last month that Russia's economy will expand 0.2 percent this year after growing 1.3 percent in 2013. The government predicts 0.5 percent growth.
Bullish Analysts
Investors should resist the temptation to shop for cheap stocks because the combination of Russia's slowing economy and its geopolitical isolation may push the government to lean on banks and energy companies to help shore up growth, according to David Riedel, president and founder of Riedel Research Group Inc. in New York.
"Both sectors are subject to heavy state influence," Riedel, whose firm covers developing nations including markets and companies in Russia, said by e-mail this week. "We would not recommend investing in either sector."
Analysts are maintaining optimistic price targets for Russian stocks. They predict the price of 94 percent of 50 companies in the Micex Index will rise, the highest proportion of bullish forecasts among benchmarks for the four biggest emerging-market economies. The figure compares with about 87 percent for Brazil's Ibovespa, 50 percent for China's Shanghai Stock Exchange Composite Index and 83 percent for India's S&P BSE Sensex.
"The Russian market is one of the cheapest in the world and is undervalued compared to not only developed but developing markets," Vitaly Isakov, a portfolio manager at Otkritie Asset Management in Moscow, said by e-mail on July 30. "Many negative events are already priced into this low price and if the reality turns out to be even slightly better than people's grim expectations, we may see the market rise."
Before it's here, it's on the Bloomberg Terminal.
LEARN MORE