Manhattan-Size Apartments Shed Maid's Room in Sao Paulo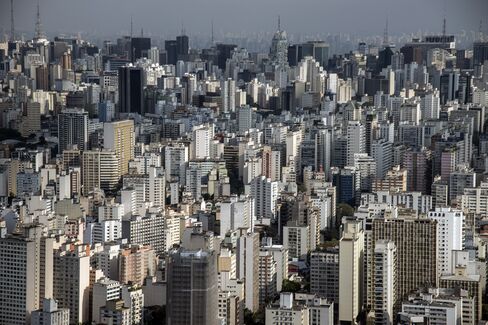 A four-hour Sao Paulo traffic jam in December finally persuaded Ricardo Tadeu Souza Valle that it was time to go.
He sold his three-bedroom, 100-square-meter (1,076-square-foot) apartment in the Saude neighborhood, 16 kilometers (10 miles) from his office, and bought a home less than half the size. He moves into his new place in October, cutting his commute to work in the Chacara Santo Antonio district to a 10-minute walk -- in exchange for paying 30 percent more.
"Sao Paulo traffic has gotten so much worse, that's why I decided to live close to work, so I wouldn't have to drive anymore," said Valle, a 32-year-old Sao Paulo native who's a partner at financial consultant Conquest Brazil.
Valle is part of a growing segment of Brazilians choosing to pay more to live near work over big homes and nice cars. Other societal changes are also pushing middle-class people into smaller apartments, such as a willingness to forgo a live-in maid and children leaving the nest rather than living with their parents until marriage.
"Demography, lifestyle, jobs and credit - these are the reasons for the explosion of demand for apartments in Brazil," said Eduardo Muszkat, executive director of You Inc., a developer that specializes in compact abodes. "And then you come to Sao Paulo, where traffic is chaotic, and living close to work or close to the metro really increases the value" of small apartments.
Land Grab
The influx into business districts like Itaim Bibi has driven up real estate prices as land becomes scarce. Housing stock is already limited by Sao Paulo's dense population, which grew by 1 million people in the past decade to about 11.4 million people packed into 576 square miles.
"Land is very expensive, and when that's the case, if I build a big apartment, it'll be too expensive and inaccessible," Muszkat said in an interview. "The equation works when the apartment is small, well-located with laundry and gym services, which makes it fit into the buyer's wallet."
That shift is leading homebuilders like Cyrela Brazil Realty SA to shrink the size of the apartments they're building.
Cyrela sees buyers who want proximity to work, said Piero Sevilla, director of development at Cyrela, in an interview in Sao Paulo.
"What prompts smaller apartments? Look at the world's big urban centers -- there's a lot of traffic and it's hard to get around," he said.
Cyrela rose 0.9 percent to 12.90 reais at 11:02 a.m. in Sao Paulo trading. The shares have fallen 11 percent through yesterday compared with a 9.7 percent increase on the Ibovespa index.
Affordable Living
Part of the move toward smaller dwellings also stems from a need to keep prices in line with what people can pay for as they push into the dense urban center, said Sam Lieber, chief executive officer at Alpine Woods Capital Investors LLC in Purchase, New York, whose holdings include a stake in homebuilder Direcional Engenharia SA.
"They're not building to a size, necessarily, they are building to an affordability level for the largest number of people and that's one good way to do it," Lieber said.
Access to loans and an increase in professional jobs over the past decade have allowed Brazilians to finance homes that were previously sold in cash, You's Muszkat said.
The unemployment rate in Brazil dropped to 4.9 percent in April from 13 percent in 2004. Home loans have grown to about 530,000 with a value of 109 billion reais ($48 billion) in 2013, from a total of about 54,000 with a value of 3 billion reais in 2004 according to the Brazilian Association of Real Estate Loans and Savings Companies.
Desirable Region
The 40-square-meter (430 square feet) apartments at a new building called the Uber in Itaim Bibi sell for around 800,000 reais, said Roberto Sadao, a broker for homebuilder Grupo Canopus.
That amounts to $818 per square foot, compared with the average $1,335 per square foot in Manhattan, according to Trulia, an online residential real estate site, where the median size of a studio apartment is 550 square feet.
"This is a highly desirable region," Sadao said, standing in Uber's sleek model apartment featuring a wide balcony and two-burner electric cooktop. "The buyers are single or are executives from the interior of Sao Paulo who have business in the city."
The studios are the same size as the average family home in Hong Kong, said Paavo Monkkonen, assistant professor of urban planning at the University of California at Los Angeles, in a telephone interview. Middle-income countries see more children moving away from home than poor or rich countries.
Inflation Concerns
"You can afford to live outside of your parents' house," he said. "In Hong Kong, housing is so expensive that people stay with their parents longer," even though it's cramped.
Even as Paulistanos consider a move, sales are sluggish amid inflation in Brazil that surpassed the target ceiling of 6.5 percent in June. That combines with concerns about the country's direction as President Dilma Rousseff runs for re-election this year, said Uber broker Sadao. Of 122 apartments in the Uber building, which will be ready next year, only about 20 have sold.
"People aren't buying because of the administration's policies and the uncertain economy," Sadao said. "We have repressed inflation, everyone knows that, but those interested will start buying again soon because they'll realize that soon you won't be able to build like this anymore."
Valle said his friends are following in his footsteps and shrinking their homes to be closer to work. A subway station is scheduled to open near his apartment next year, connecting to the international airport.
"I'm going to sell my car once the subway opens," Valle said. "The subway was a key factor in my decision to move. It'll be like I can get to London on foot, by getting to the airport without stepping into a cab."
Before it's here, it's on the Bloomberg Terminal.
LEARN MORE