If Russia Closes Siberian Skies, European Airlines Will Suffer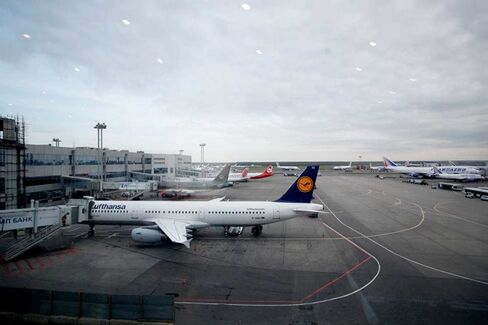 If Russia decides to restrict its airspace in retaliation for economic sanctions, European airlines stand to suffer the most and bear the highest costs from rerouting flights.
Air France-KLM and Lufthansa sent the most planes over Siberia in the past week—almost 500 combined, according to data prepared for Bloomberg Businessweek by Flightradar24, an aircraft-tracking service. Finnair was next with 115 flights. Among U.S. airlines, United had 15 flights that traversed Russian airspace and American had one. Taken all together, there were more than 1,600 airline flights over Siberia since July 29.
The issue of restricted airspace gained urgency after Russia raised the prospect as a potential response to European Union sanctions that led to the grounding of Aeroflot's low-cost airline, Dobrolet, on Monday. That action, along with the bankruptcy of at least four Russian travel agencies in the past month, stranded about 15,000 Russians on summer holidays abroad. And airspace, of course, entered into the diplomatic standoff over Russia's push into Ukraine following the destruction of a Malaysia Airlines flight last month. Russian-backed separatists are believed to be responsible for downing the jet and killing 298 people.
Closing or restricting the Siberian airspace is one of the retaliatory measures Putin is mulling, according to a report this week in a Russian business newspaper. "Political instruments of pressure on the economy are unacceptable, they contradict all norms and rules," Putin said Aug. 5 during a meeting with a regional governor, according to Bloomberg News. Any retaliation Russia undertakes "must be done extremely carefully to support producers and avoid harming consumers," he said.
Siberia is the most direct route for European airlines to reach Asia. U.S. carriers also overfly parts of Russia on some of their Asian routes over the North Pole but would be able to adjust more easily. Short of an outright ban on flights by EU-based carriers, Russia could restrict certain parts of Siberia and make flights to Asia longer, costing airlines more in terms of fuel and time, Bloomberg News reported. "We hope that political tensions will not spill over to negatively impact efficient global connectivity," said a spokesman for the International Air Transport Association, Perry Flint.
Amid its shutdown, Dobrolet said on Wednesday it plans to buy 16 new Boeing 737-800s in a deal valued at $1.5 billion, part of its goal to fly 40 737s to 45 destinations by 2018. The news appears timed as a reminder that Russian airlines are customers for billions of Boeing and Airbus aircraft. Aeroflot's long-haul fleet consists of Airbus A330s and Boeing 777-300ERs.
Before it's here, it's on the Bloomberg Terminal.
LEARN MORE