Humin, an Address-Book App Built on Connections
A tech scion manages his contacts to create a contacts manager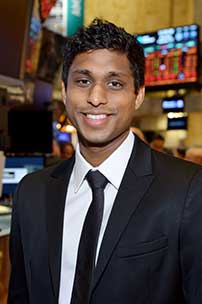 Even before its launch on Aug. 14 at Apple's App Store, Humin is getting a lot of buzz. The free app, which turns your phone's alphabetical contact list into a more intuitive searchable database, has been tested by Virgin head Richard Branson, will.i.am of the Black Eyed Peas, Hollywood agent Ari Emanuel, Angry Birds creator Peter Vesterbacka, and the U.S. Chamber of Commerce. Ankur Jain, Humin's chief executive officer, says 20,000 "of the world's influencers" in 70 countries are testing the beta app. Some of the most prominent are friends or mentors he encountered through his father, Naveen Jain, a longtime entrepreneur and angel investor who began bringing the younger Jain to meetings at the age of 6.
Humin analyzes contact data to try to give users more relevant information. "The goal is to remember someone the way you do," Jain says. The app combines contacts from multiple sources into a list that's searchable by details such as mutual friends or where and when you met. Besides annotating your contacts so you don't have to, the app reorders them based on details such as who's in town.
"It's changed how I make calls," says Shakil Khan, head of special projects at Spotify. "I don't have some Adam or Aaron at the top of the list who I haven't seen in years." Troy Carter, who's amassed more than 10,000 contacts while managing celebrities such as Lady Gaga, says Humin "solves a personal pain point for me" by eliding contacts he doesn't use. Carter and Khan say they chose to invest because they were impressed with Jain.
The Wharton-educated son of a Valley fixture, Humin's founder understands the challenge and value of managing his contacts. Three years ago, Fast Company dubbed him the "best-connected 21-year-old in the world." At 18 he established the Kairos Society, an annual conference where college-age entrepreneurs meet with corporate executives and public figures, including Bill Clinton. Jain and his four co-founders tapped his network in 2012 to develop Humin, recruiting Autodesk CEO Carl Bass and X-Prize founder Peter Diamandis as board directors. The startup's staff has since grown to 30; Jain hired Mark Zuckerberg's sister Arielle away from Google last fall to manage product and just brought in Spotify's mobile ad chief Sriram Krishnan to run global markets.
The question is whether all the talent and talk translate into users; almost 80 percent of the 1.3 million programs in the App Store are essentially unused, estimates Adjust, a market analyst. Brian Blau, a research director at Gartner, says Humin's focus solely on contacts sets it apart from the new wave of phone management apps, but he cites the one-joke, multimillion-download Yo, which lets people text contacts with the word "yo," as evidence that mobile success can be hard to predict. Chris Frost, director of technology and infrastructure at Cruzio Internet, a California Internet service provider, tried Humin after receiving an e-mail invite from a friend of a friend and says, "It struck me as cool but not essential."
Humin's biggest advantage, says Diamandis, is that Jain is "able to gather smart, passionate people around him." It's unclear how the app will make money: Jain says he's thinking about business versions and added features that might be worth paying for. He expects to announce deals this fall with U.S. and European telecoms to bundle the app with their smartphones, but he wouldn't name the partner companies or disclose investment figures.
If Humin is a hit, what's to stop Google or Apple from copying it? Jain is betting on his head start, partnerships with carriers, and some advanced coding. He says Humin is the first contacts app that processes all its data on a person's smartphone instead of relying on servers, meaning that the company won't ever have access to private data such as e-mail and that contacts are searchable even without a signal. He's also trying to keep the app in its particular niche. Unlike Facebook or LinkedIn, "we're not trying to guess who you might want to meet or do anything like that," he says. "It's a simple idea, but we think it's a powerful one."
Before it's here, it's on the Bloomberg Terminal.
LEARN MORE