Germany's Bond Advance Sends 2-Year Note Yield Below Zero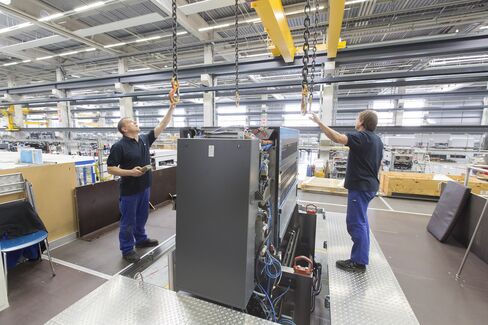 German bond gains sent the two-year rate below zero for the first time since May 2013 and 10-year yields to an all-time low as the European Central Bank kept interest rates at a record low today.
German securities have rallied this year, with higher returns than stocks, as the ECB cut borrowing costs and introduced stimulus measures including targeted longer-term loans to banks to try to counter the threat of deflation. Now they're extending gains with bonds from Austria to Finland as investors seek haven assets after Russia massed troops along its border with Ukraine and data points to slower growth in the 18-nation currency bloc.
"It's going to be a very long time before the ECB starts raising rates and that scenario is being pushed further out with low inflation, weakness in data and what's going on in Ukraine," said Allan von Mehren, chief analyst at Danske Bank A/S in Copenhagen. "People are moving their money into safer assets. Yields could stay negative if Ukraine continues to escalate."
Benchmark 10-year yields fell three basis points, or 0.03 percentage point, to 1.07 percent as of 4:21 p.m. London time after touching 1.069 percent, the lowest level since Bloomberg began tracking the data in 1989. The 1.5 percent bund due in May 2024 rose 0.285, or 2.85 euros per 1,000-euro ($1,335) face amount, to 103.955.
Negative Yield
The two-year note rate was little changed at 0.006 percent after falling to minus 0.004 percent, the least since May 24, 2013. A negative yield means investors who hold a security until it matures will receive less than they paid to buy it. The ECB charges banks 0.1 percent to deposit cash with it.
ECB officials led by President Mario Draghi left the refinancing rate at a record-low 0.15 percent and the deposit rate at minus 0.1 percent, as predicted by economists in separate surveys by Bloomberg News.
This month's ECB decision follows reports yesterday that showed Italy unexpectedly returned to recession and German factory orders dropped the most since 2011, as slowing global growth and rising tensions with Russia over Ukraine threaten the euro area's recovery.
Draghi said the risks to the recovery from conflicts including that in Ukraine are increasing.
'Geopolitical Risks'
"Heightened geopolitical risks, as well as developments in emerging-market economies and global financial markets, may have the potential to affect economic conditions negatively," Draghi said at a press conference in Frankfurt. "We are strongly determined to safeguard the firm anchoring of inflation expectations over the medium to long term."
A report today showed German industrial output increased less in June than economists forecast. Production rose 0.3 percent from May, when it declined a revised 1.7 percent. The median estimate in a Bloomberg survey of analysts was for a reading of 1.2 percent.
The yield on Austrian, Dutch, Finnish and French 10-year bonds all dropped to the lowest on record today. Austria's rate declined to 1.336 percent and Dutch yields slid to as low as 1.268 percent. The rate on similar-maturity French debt reached 1.492 percent and Finland's fell to 1.217 percent.
Spain's bonds declined as the nation sold a combined 3.1 billion euros of debt due in January 2020 and October 2024. The Madrid-based Treasury auctioned 2 billion euros of 10-year bonds at an average yield of 2.686 percent, the lowest on record. The rate on Spanish securities due in April 2024 increased two basis points to 2.61 percent today. Italy's 10-year yield climbed four basis points to 2.86 percent.
The Stoxx Europe 600 Index of shares rose 2.2 percent for the year, including reinvested dividends. German securities are beating that, having returned 6 percent this year through yesterday, Bloomberg World Bond Indexes show. Italy's earned 9.5 percent and Spain's gained 10 percent.
Before it's here, it's on the Bloomberg Terminal.
LEARN MORE