Sprint Names Brightstar's Claure as CEO, Replacing Hesse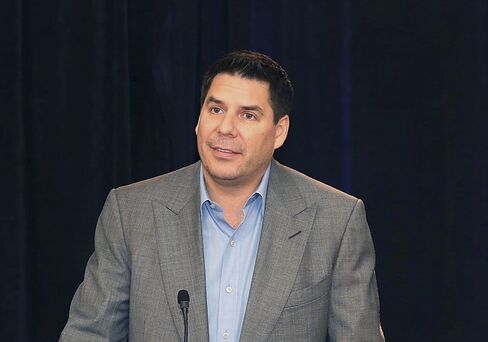 Aug. 6 (Bloomberg) -- Sprint Corp. named Marcelo Claure, the founder of mobile-phone distributor Brightstar Corp., as its new chief executive officer and president, replacing Dan Hesse after a scuttled plan to merge with T-Mobile US Inc.
Claure, a board member at Sprint and the CEO of Brightstar, will start Aug. 11, the Overland Park, Kansas-based company said today in a statement. Bloomberg News reported the planned appointment yesterday. Hesse, 60, had led the third-largest U.S. wireless carrier since December 2007.
The new CEO will need to finish the rollout of high-speed services and stem a loss of customers to the other three major U.S. carriers. Claure, 43, is leaving one SoftBank Corp.- controlled company to join another that is also owned by the Japanese firm. His appointment comes after Sprint abandoned talks to combine with T-Mobile because of regulatory concerns, a person with knowledge of the matter said yesterday.
"It seems like in the runup to trying to do the transaction with T-Mobile, Sprint all but abandoned its plan B, which is run the business," Craig Moffett, an analyst at MoffettNathanson LLC, said in an interview today on Bloomberg Television with Tom Keene. "They have a lot of wood to chop with respect to fixing their network, fixing their pricing, fixing their brand. It's going to be a long road."
When SoftBank paid about $22 billion for control of Sprint about a year ago, billionaire Chairman Masayoshi Son pledged to upgrade its network so the company could better compete with larger rivals Verizon Communications Inc. and AT&T Inc.
Price Cuts
Since then T-Mobile, which is controlled by Deutsche Telekom AG, has won customers with price cuts and phone financing offers to accelerate growth in users. That has increased the pressure on Sprint, which lost 245,000 monthly subscribers in the quarter that ended in June, while all three other carriers added users. Sprint still managed to post its first quarterly profit in more than six years.
"As President and CEO, Claure's first priority will be to continue the build out of Sprint's network by leveraging its strong spectrum holdings as well as ensuring that Sprint always maintains truly competitive offers in the marketplace," Sprint said today in its statement.
John Legere, the CEO of T-Mobile known for wearing company-branded shirts and taunting competitors on Twitter, was likely going to run the combined company if a deal with Sprint had gone ahead, two people familiar with the matter said in June, asking not to be identified because the discussions were private.
"While we continue to believe industry consolidation will enhance competitiveness and benefit customers, our focus moving forward will be on making Sprint the most successful carrier," Son, who is also Sprint's chairman, said in the statement.
SoftBank Purchase
Claure is joining Sprint less than a year after SoftBank bought a 57 percent stake in Brightstar as part of the Japanese carrier's push for international expansion. Claure built his wealth through Brightstar, and his 43 percent stake is estimated to be worth $950 million.
SoftBank will acquire Claure's remaining stake in Brightstar, according to a statement today, which didn't say how much SoftBank will be paying. Brightstar said current board member Ron Fisher will replace Claure as chairman, and the company will begin a global search for a new CEO.
Claure has real-estate investments in Bolivia as well as education investments in Mexico. He's also working with soccer star David Beckham to bring a professional team to Miami. Claure bought Club Bolivar, Bolivia's top soccer team, in 2008.
Claure will be based at Sprint's headquarters in Overland Park and plans to relocate to the Kansas City area.
CEO Compensation
Sprint may owe Hesse severance pay exceeding $40 million in cash, stock and benefits. Most of the package comes from long-term incentives such as stock options and restricted stock. That portion was valued at $48.3 million alone at the end of March, though Sprint shares have fallen 21 percent since. Hesse's total severance package would have been $56.2 million at the time, according to a filing in June.
Hesse was the highest-paid CEO in the U.S. wireless industry last year, with $49.1 million in compensation, including $27.8 million in stock awards.
Claure will be paid an annual base salary of $1.5 million and will be eligible for a bonus of up to 250 percent this year and 200 percent next year, according to a regulatory filing today. He also received a signing bonus of $500,000 and stock-based compensation valued at $24 million.
To contact the reporters on this story: Olga Kharif in Portland at okharif@bloomberg.net; Alex Sherman in New York at asherman6@bloomberg.net
To contact the editors responsible for this story: Sarah Rabil at srabil@bloomberg.net Crayton Harrison