Smartphone War: What Was It Good for? Absolutely Nothing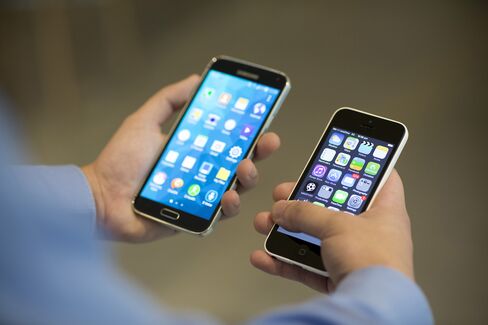 The decision by Apple Inc. to scale back its patent battle with Samsung Electronics Co. may represent more of a reboot than a truce.
What started as a grievance three years ago over claims that Samsung copied the "look and feel" of the iPhone and iPad devolved into a tit-for-tat that strayed far from its roots. In the end Apple won jury verdicts equal to about a month's worth of Samsung's profits and failed to limit the South Korean company's ascension to be the world's biggest smartphone maker.
"Apple's gotten nothing," said Rodney Sweetland, a patent lawyer with Duane Morris in Washington who's been monitoring the cases. "Apple sued the world. It went to war against everybody and at the end of the day all they've got left is an appeal of a $1 billion verdict that, if they win, will cover their legal costs worldwide."
The agreement to drop all global litigation except two California trials Apple won signals that the company is refocusing its patent strategy on the question that started it all: How much value does design add to an electronic device made of plastic, computer chips and software code?
"Maybe there is a need to figure out, once and for all, the value of design patents," said Will Stofega, program director of market researcher IDC. "That has to be resolved somehow."
Neither Apple nor Samsung would discuss why they've been unable to reach a complete settlement, including in the U.S. In May, they blamed each other after a Samsung lawyer referred to Apple as a "jihadist" in a news interview and Apple demanded that its participation not be cited in future court proceedings.
First Salvo
The Apple-Samsung fight is the last large battle of a war that started in March 2010, when Apple first sued HTC Corp., the Taiwanese handset maker. Apple extracted a pledge from the struggling company that HTC wouldn't copy the iPhone. Cupertino, California-based Apple also reached a détente with Google Inc.'s Motorola Mobility unit -- another handset maker in difficult straits.
What's left are two cases begun in California that resulted in verdicts beneficial to Apple. The first case, currently on appeal, resulted in a $929.7 million judgment against Samsung. In the second case, Apple was awarded $120 million and is seeking a court order that would limit sales of some older Samsung models.
The larger verdict focused heavily on patented designs and the look of the iPhone and whether Samsung copied what it called "mere appearances in complex, technological devices."
Design Patents
It marked one of the first times that design patents and trade dress -- the unique look of a product -- was such a big factor in a case involving the technology industry, said Mark Janis, a law professor at Indiana University Maurer School of Law in Bloomington, Indiana. He submitted a filing supporting Apple's legal position on the value of design patents.
Companies like Apple, Microsoft Corp. -- and Samsung -- are starting to obtain more design patents for such features as graphical user interfaces to differentiate their products to consumers, Janis said. Design patents are given for a distinctive visual appearance, and historically were used for surface ornaments like the fins of an old car.
"It's conceivable that Apple might want to go to the mat on that," he said. "They're not going to invest heavily on design patents if they can't protect it."
'Attorneys Won'
Since Apple hasn't been successful in limiting Samsung sales, having the appeals court uphold the value of the design patents could be the victory it needs, said Maulin Shah, managing director of New York-based researcher Envision IP.
The laws have changed since the original suit was filed, and not in Apple's favor. The U.S. Court of Appeals for the Federal Circuit, which handles all patent appeals, made it harder to obtain big damage awards and limited a patent owner's ability to block sales of complex technology products based on a single feature.
Samsung has filed court papers on the second case, seeking to invalidate Apple's software patents based on a June ruling from the U.S. Supreme Court. That may be one factor that makes it harder to settle, said Michael Risch, a law professor at Villanova University School of Law in Villanova, Pennsylvania.
The legacy of the smartphone wars will be the legal precedents set, such as the rules for sales bans and decisions that treat patents differently on unique features different from those included in industry standards.
"Ultimately it doesn't seem like either side came up on top, unless Apple wins the appeal," Shah said. "Ultimately the big winners are the attorneys that both sides retained to fight these battles globally."
Before it's here, it's on the Bloomberg Terminal.
LEARN MORE