Nigerian Nurse Dies of Ebola as 5 Other Cases Confirmed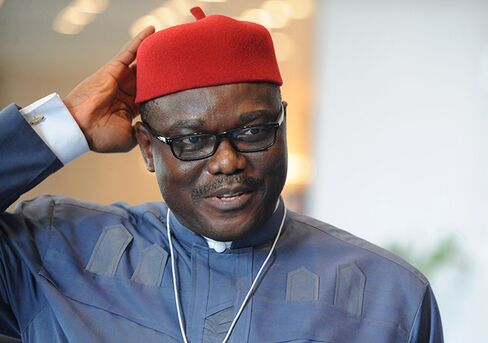 A Nigerian nurse became the second person to die of the Ebola virus in Africa's most populous nation, Health Minister Onyebuchi Chukwu said, while officials suspected a patient died of the disease in Saudi Arabia.
The Nigerian health worker, who died yesterday, had helped treat Liberian Patrick Sawyer, who fell ill from the virus after arriving on a flight to Lagos, the commercial capital. He was taken to a hospital in the city and died five days later on July 25.
Nigeria has five other confirmed cases of Ebola in Lagos, a city of about 20 million people, Chukwu said in a statement handed to reporters today in Abuja, the capital of Africa's biggest economy.
The health ministry has written to the director of the U.S. Centers for Disease Control and Prevention to request access to an experimental treatment which has been used on two Americans.
"We are getting reports that the experimental drug seems to be useful," Chukwu told reporters at a separate briefing in Abuja. "We are making efforts to get the drug," he said.
Nancy Writebol and Kent Brantly, American aid workers who contracted Ebola in Liberia, have both been given doses of the treatment, developed by San Diego-based Mapp Biopharmaceutical Inc.
Volunteers Wanted
Writebol, 59, was showing "continued improvement" as she arrived in the U.S. for treatment in an Atlanta hospital, said Bruce Johnson, the president of SIM USA, the charity that sponsored her work in Liberia. She was flown yesterday to Georgia, then taken to Emory University Hospital. Brantly, 33, has been receiving medical care at Emory since Aug. 2.
Nigeria wants more health workers and is trying to tighten hospital isolation procedures in its efforts to control the spread of the hemorrhagic fever in Lagos, a major regional hub for shipping and air travel, and a base for many international businesses.
"We need volunteers now. They are extremely necessary and urgently needed to assist us in tracking the contacts and more importantly to manage those cases that are already in isolation," Lagos State Commissioner for Health Jide Idris told reporters today. Two of the five confirmed cases are critically ill, he said.
In the Saudi Arabian city of Jeddah, a man suspected of having contracted the virus died today, the country's health ministry said in a statement on its website. The cause of death is being investigated.
As of Aug. 4, the outbreak of the Ebola virus had sickened 1,711 people and killed 932, according to the World Health Organization. Most of the cases are in Guinea, Liberia and Sierra Leone, on West Africa's Atlantic coast. Nigeria, a $500 billion economy and Africa's top oil producer, doesn't share a border with any of those countries.
Economic Risks
"Though there is a risk that the virus spreads further, currently we do not believe Ebola will have a significant impact on economic activity in Nigeria," Oyin Anubi, an analyst at Bank of America Merrill Lynch in London, said in an e-mailed statement today.
"This is in contrast to the countries at the epicenter of the crisis -- Guinea, Sierra Leone and Liberia -- where economic activity is likely to be more severely affected."
Sierra Leone's President, Ernest Bai Koroma, and Liberian counterpart Ellen Johnson-Sirleaf have declared a state of emergency, with measures that include quarantines and a ban on public gatherings. Both leaders canceled trips to Washington for a summit this week. Nigeria's President, Goodluck Jonathan, is attending the meeting.
British Airways suspended flights to Liberia and Sierra Leone until Aug. 31, the carrier said yesterday. It follows Emirates, the world's largest airline by international traffic, which halted services to the Guinean capital, Conakry.