Newspaper Has Lock on Prescience Covering Japan Earnings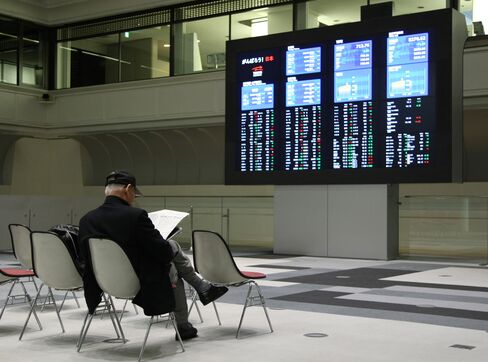 If you wanted to find out what Toyota Motor Corp., NTT Docomo Inc. and Canon Inc. earned last year before they reported results, the best guide wasn't analyst or company predictions. It was the Nikkei newspaper.
The business daily printed full-year profit figures for Japan's biggest car, phone and camera makers before they released financial statements, without saying where it got the information. It did the same thing for more than 40 other Nikkei 225 Stock Average firms, posting a record of accuracy that beat analysts' estimates and the companies' own forecasts.
Investors in the world's second-biggest equity market are conditioned to treat the stories as something approaching gospel, an artifact of days past when businesses used the media to publicize results before market regulations were enacted to prevent it. While some investors find the practice untoward, leaking results isn't illegal and would only breach listing rules if it could be proved, according to the Tokyo exchange.
"It's seen as part of companies' guidance in Japan," said Mitsushige Akino, Tokyo-based executive officer at Ichiyoshi Asset Management Co. "I'm purely speculating, but it has to be coming from the companies."
Japanese media aren't restricted by disclosure rules and earnings previews have never been considered market manipulation under securities law, according to Etsuro Kuronuma, a professor at Tokyo's Waseda University. The situation is similar to the U.S., which exempted journalists when it adopted rules on fair disclosure in 2000, known as Regulation FD.
Press Freedom
Protections on press freedom are contained in Japan's constitution. The Tokyo Stock Exchange said there are no legal prohibitions on companies that leak, except where insider trading is involved. The Financial Instruments and Exchange Act prohibits passing on inside information only if the leaker knows the receiver intends to trade on it and provides it willingly, according to the bourse.
Of the 45 Nikkei articles analyzed by Bloomberg News that contained profit figures that preceded the formal release of results, 37 gave a number that was within 10 percent of the company's result, or predicted a range that turned out to be correct. The Nikkei's figures proved as or more accurate than companies' forecasts 84 percent of the time, data compiled by Bloomberg show. They beat analysts' estimates in 61 percent of cases.
Most stories focused on operating profit and none gave a source for the information. Shares moved an average 1.6 percent after the articles, compared with 0.9 percent for the Nikkei 225 on those days, data compiled by Bloomberg show. The Nikkei 225 rose 0.5 percent in Tokyo today, while the broader Topix index added 0.6 percent.
Toyota Earnings
Toyota's operating earnings likely jumped about 70 percent to around 2.3 trillion yen, the Nikkei reported May 1, reiterating a figure it gave in January.
The Toyota City, Japan-based automaker sank 2.3 percent to a five-month low on Jan. 30 after the newspaper's first story signaled the company was poised to miss the 2.48 trillion-yen average estimate of analysts tracked by Bloomberg. Four months later, on May 8, the company reported a 2.29 trillion-yen result.
The Nikkei correctly wrote that Canon's operating earnings would trail the company's official forecast, driving shares down 2 percent on Jan. 9, and also got closer than analysts or NTT Docomo's announced target on the Tokyo-based wireless carrier's 820 billion-yen operating profit.
Toyota spokeswoman Shino Yamada said the information didn't come from the carmaker. Canon spokesman Jun Misumi said the figures weren't provided by the camera maker. NTT Docomo manages information thoroughly based on company regulations, spokeswoman Motomi Ishii said.
Editorial Policy
The Nikkei doesn't respond to questions about its editorial policy and reports based on appropriate news gathering, Nikkei Inc. said in a faxed statement. Bloomberg News competes with the Nikkei and other Japanese media in providing financial news.
Companies can benefit from sharing earnings information with the press, according to Ichiyoshi Asset Management's Akino.
"Their intention is probably to have the share price rise, or to dripfeed any bad news to spread out the impact," Akino said. "That way, shares don't suddenly tumble after they announce."
Many foreign investors complain that the practice lacks transparency, said Kentaro Hayashi, the head of the planning section of Japan Exchange Group Inc.'s listing department. Still, "there's no law against leaking to the media," he said. "And while it's not right to give information just to specific newspapers, we don't know if the information is coming from the companies."
Mandatory Disclosure
The bourse didn't make disclosure of corporate information to all parties as soon as it became available mandatory until 1999, Hayashi said. Firms released results to select newspapers in advance for decades before having to disclose them through official channels. The exchange's press club has been around since the 1950s.
Amir Anvarzadeh, a manager of Japanese equity sales at BGC Partners Inc. in Singapore, doesn't see a problem and says the Nikkei reports are useful.
"Why wouldn't it be fair as the information is in the public domain?" he said by e-mail. "It's more information that otherwise wouldn't be there. It's always been helpful to me, as most of the time it's proved correct."
Investors can't afford to miss the reports. KDDI Corp. surged 4.6 percent on Jan. 29 when the Nikkei said the mobile-phone company's operating profit would be 660 billion yen. It gained 3.1 percent on May 1 after reporting earnings of 663 billion yen.
Didn't Leak
KDDI didn't leak the information, and when it asked the Nikkei about the story, the reporter said analyst estimates were used, spokeswoman Yuri Horiuchi said. When the article was published, analysts were expecting a figure of 664.8 billion yen. KDDI raised its official forecast to 660 billion yen from 630 billion yen the day after the story.
While investors say they trust the Nikkei reports, they're not always a better guide than analysts. The paper said on April 23 that Chubu Electric Power Co. would post a loss of about 75 billion yen. When the company released results on April 28, the figure was 65.3 billion yen. Analysts were closer with expectations of a 61.6 billion-yen loss.
"If the articles are wrong, investors are surprised and wonder why, but they don't doubt the stories in general," said Makoto Kikuchi, chief executive officer at Myojo Asset Management Co. in Tokyo. "When they're wrong, it may be because the information from the company is old, or the person leaking it didn't have all the info."
Tougher Rules
The exchange announced plans a year ago to toughen disclosure rules after Kobe, Japan-based Kawasaki Heavy Industries Ltd. issued conflicting statements on merger talks with a competitor. The change was discarded because companies improved their communication with investors, the bourse's Taisuke Maruo said in April.
When a media report looks like it may be a leak, the exchange asks the firm to respond. Companies have generally either refuted the report or said something less categorical, like "nothing has been decided at this time" or "we're not the source of this information." People trading in Japan's markets must read between the lines.
"It's very common to see a quasi-denial -- not really a full denial but a sort of couched denial," said Howard Smith, Japan head of hedge-fund firm Indus Capital Advisors LLC. "Usually it's a pretty good signal the event is going to happen."
Insider Trading
Bruce Aronson, a professor of law at Hitotsubashi University, said the possibility of insider trading by journalists before the earnings stories are published is a concern. Hayashi at the bourse says newspapers have regulations against this as their reputation is at stake.
For traders of Japanese stocks, the out-of-the-blue media reports can be a headache.
"There's a point in having an earnings release date: so you can trade around it," said Benjamin Collett, Hong Kong-based head of Asian equities at Sunrise Brokers LLP.
Collett said leaking of results to the press should be stopped, but in the meantime people learn to adapt to the practice.
"I don't think it's good and it should be rectified," he said. "You just have to accept this as part of your risk. We've all complained about it once when we've lost money, but you start figuring it out."
Before it's here, it's on the Bloomberg Terminal.
LEARN MORE