U.S. Joins Ukraine Incursion Concern as Putin Hits Back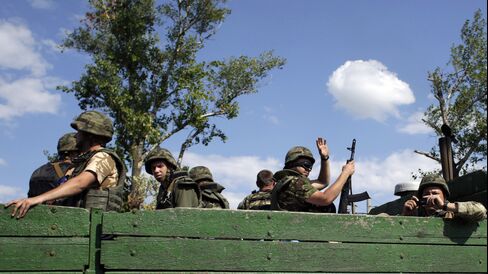 The U.S. joined NATO and Poland in warning about the risk of Russia sending troops into Ukraine. Russia called reports of a military buildup on its western border "groundless" and hit back at sanctions against it.
The threat of an incursion is "reality," U.S. Defense Secretary Chuck Hagel said yesterday in Germany. Earlier, the North Atlantic Treaty Organization said there's a threat of Russian troops crossing the border under the "pretext" of a humanitarian or peacekeeping mission. Russia ordered limits on food imports from nations that have sanctioned it.
"When you see the buildup of these troops, the sophistication and training of these troops, the heavy military equipment that's being put on the border, of course it's a reality and it's a possibility," Hagel told reporters at the headquarters of the U.S. European Command in Stuttgart, Germany.
The standoff over Ukraine is intensifying in the wake of tighter U.S. and European Union sanctions on Russia, with President Vladimir Putin ordering economic retaliation in the form of agricultural-import bans. In Ukraine's easternmost regions, government troops are pressing ahead with an offensive against pro-Russian insurgents that prompted officials in Kiev to say this week that victory was near.
U.S. President Barack Obama said yesterday that sanctions "are working as intended in putting enormous pressure and strain on the Russian economy." He again dismissed the idea of sending weapons to Ukraine's military to help fight the rebels.
'Terrible Violence'
Ukraine has been "fighting a group of separatists who have engaged in some terrible violence, but who can't match the Ukrainian army," Obama told reporters in Washington. "Now, if you start seeing an invasion by Russia, that's obviously a different set of questions. We're not there yet."
The escalation is rattling global investors. The MSCI Emerging Markets Index fell 0.6 percent to 1,056.77 yesterday, while gold futures jumped 1.8 percent to $1,308 in New York and yields on 10-year Treasuries touched the lowest level since May.
NATO spokeswoman Oana Lungescu said yesterday that the alliance can "can see what Russia is doing on the ground," calling its troop movements a "great concern."
"The latest Russian military buildup further escalates the situation and undermines efforts aimed at finding a diplomatic solution to the crisis," she said by e-mail. "This is a dangerous situation."
Poland, a NATO member that borders Ukraine, has "reason to believe" the risk of an incursion is "greater than a few days ago," Prime Minister Donald Tusk said yesterday in Warsaw.
Merkel Call
Statements by the U.S. and NATO on Russia amassing troops on the Ukrainian border amount to "disinformation," the Moscow-based Interfax news service reported, citing Major General Igor Konashenkov, a spokesman for the Defense Ministry.
Putin told German Chancellor Angela Merkel in a phone call yesterday evening that Ukraine's government is at fault for the worsening crisis and that a "real political dialogue" is needed to resolve the conflict, according to a Kremlin statement.
Putin struck back at U.S. and EU punishment over Ukraine, ordering restrictions on food imports from countries that have imposed sanctions "to protect national interests." The Russian leader's decree bans or limits food and agriculture imports for a year, with the government to draw up a list of restricted products, according to the Kremlin website.
'Direct Aggression'
Russia's Foreign Ministry on Aug. 5 called for a humanitarian mission to eastern Ukraine, which it said is on the verge of a "catastrophe." Ukraine considers the proposal "cynical" and blames its neighbor for not allowing the military conflict to end, Andriy Lysenko, a spokesman for the country's Security and Defense Council, said yesterday in Kiev.
Ukraine would treat Russia dispatching peacekeepers as "direct aggression," Hennadiy Zubko, first deputy chief of President Petro Poroshenko's administration, told reporters. He described the conflict as a "war between Russian special forces, paid Russian mercenaries and Ukraine."
Putin will probably aim for a "fig leaf policy" with an incursion under the guise of a peacekeeping operation, according to Amanda Paul, an analyst at the European Policy Centre in Brussels. "As other conflicts in the former Soviet Union have shown, once there is a Russian military presence it usually never leaves," she said by e-mail.
Troop Estimates
The government in Kiev has estimated that Russia has deployed 45,000 soldiers, 160 tanks and 192 warplanes among other equipment along its border, including soldiers stationed in Crimea. Even so, Russia may not be willing to enter into a military conflict, according to Stefan Meister, an analyst at the German Council on Foreign Relations in Berlin.
"I can't believe Russia would attack Ukraine, which would worsen the situation further and deepen the conflict with the West," Meister said yesterday by phone.
While Russia has repeatedly denied any involvement in the conflict, the U.S. and its EU allies say Putin is supplying the insurgents with weapons, manpower and financing and say he could stop the war if he reined in the separatists.
Eighteen Ukrainian soldiers were killed and 54 wounded in fighting during the last 24 hours, Lysenko said yesterday. Three civilians were killed amid overnight shelling in Donetsk, a city of 1 million, with artillery fire damaging infrastructure and residential buildings, the city council said yesterday.
The fighting is hampering efforts to examine the crash site of Malaysia Airlines Flight MH17, which the U.S. says was probably shot down last month with a missile fired by the insurgents. The rebels and Putin's government blame Ukraine.
"The security situation has worsened in recent days, tensions have risen and the crash site has become less and less accessible," Pieter-Jaap Aalbersberg, head of the recovery mission, said yesterday in an e-mailed statement. "The experts are not able to perform their task adequately."