Americans Keep Skimping Like the Recession Never Ended
Five years after the end of the 2007-09 recession, Americans still haven't gotten their spending mojo back. A post on Wednesday by economist Jonathan McCarthy on the Federal Reserve Bank of New York's Liberty Street blog shows the problem vividly.
This chart shows the extreme decline and partial rebound in consumer spending on "discretionary" services per capita adjusted for inflation. The important point is that the trough was so deep that even after a steep rise, we're still 3.5 percent below the pre-recession peak. In past recessions, spending never fell this far relative to the previous peak, even at the worst point, let alone five years past the bottom.
Call it the Richard Farina economy, after Farina's 1966 book, Been Down So Long It Looks Like Up to Me.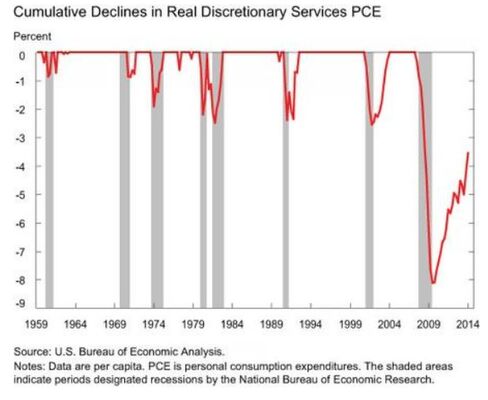 (The line never goes above zero because McCarthy is looking only at declines from previous peaks. At times when spending is above a previous peak, it gets a zero.)
Discretionary services represent a little less than half of all services. They include recreation, transportation, restaurants, and utilities1. Nondiscretionary services are housing2, financial services without payment, and health care. Another chart in his post shows that spending on nondiscretionary services per capita adjusted for inflation never fell more than a fraction of a percent from its pre-recession peak. More on the methodology in a previous McCarthy post here.
Here's McCarthy's conclusion:
The sluggish pace of recovery for both discretionary and nondiscretionary services expenditures suggests that the fundamentals for consumer spending remain soft. In particular, it appears that households remain—almost five years after the end of the recession—wary about their future income growth and employment prospects. Consequently, a positive resolution of these issues seems necessary before a stronger services and overall consumer spending recovery can be sustained.
1It does seem odd to categorize utilities as discretionary, although technically you don't need electricity and running water.
2Housing is categorized as a service on the logic that either you're renting or you live in a house you own, which means that in a sense you're renting from yourself.
Before it's here, it's on the Bloomberg Terminal.
LEARN MORE