Gannett Buys Cars.com for $1.8 Billion, Splits Publishing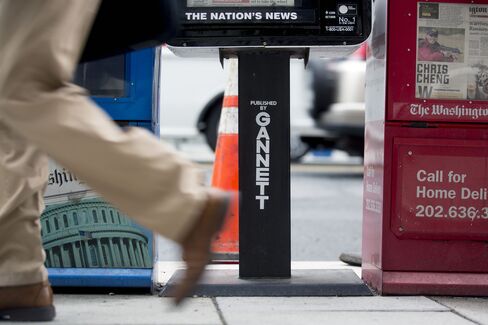 Gannett Co. plans to split into two publicly traded companies by spinning off its publishing business, including USA Today, and also said it has agreed to buy full ownership of Cars.com.
Gannett will separate the publishing business through a tax-free distribution to shareholders, leaving behind a company focused exclusively on broadcasting and digital assets, including Cars.com and CareerBuilder, according to a statement today. Gannett also agreed to buy the 73 percent interest it doesn't already own in Classified Ventures LLC, the parent company of Cars.com, for $1.8 billion in cash.
Gannett had been one of the last holdouts in an industry that's forsaking the traditional newspaper-TV marriage. The company is now joining a long line of media companies from Time Warner Inc. to News Corp. that have split publishing from broadcasting to better highlight the growth of the TV business.
"This was the right moment in time to contemplate the spinoff of our publishing business," Chief Executive Officer Gracia Martore said in a phone interview, adding that the moves let both companies pursue acquisitions. "We now have the ability to be a consolidator in a consolidating industry."
Time Warner spun off its Time Inc. magazine division this year; Tribune Co.'s assets split as of this week; and Rupert Murdoch's News Corp. last year became 21st Century Fox Inc. for the film and TV business and News Corp. for the newspapers.
'Value Creation'
"The main reason any company has done this is to separate out broadcasting, which is becoming a higher-valued asset, from publishing, which, even though it has been stabilizing, clearly has more challenges than the other part of the business," said Jim Goss, an analyst at Barrington Research in Chicago. "There is great value creation and benefit to shareholders."
Gannett fell less than 1 percent to $34.06 at 1:17 p.m. in New York, giving it a market value of about $7.7 billion.
Local broadcasters are extracting higher payments from cable and satellite operators for the right to carry their programming. Gannett's TV unit booked $88.7 million from retransmission fees in the 13 weeks that ended June 29, more than double the same period a year earlier.
Newspapers, meanwhile, have steadily lost money and readership since hitting a sales peak in 2005. Classified advertising has been hardest hit, dropping by more than half between 2000 and 2008 to $9.9 billion, according to the Pew Research Center. Competition from the Internet -- including sites like Cars.com -- has cut into that revenue.
'Attractive' Properties
Gannett said its two new companies will be able to expand in their industries because they have financial flexibility for acquisitions. The newspaper unit will be almost debt-free, with the broadcasting division retaining debt of $4.6 billion. The newspaper unit's cash flow will let it buy other companies without adding substantial debt, Martore said today on a conference call.
"They can do a variety of acquisitions and investments without really in any way levering up in that business," she said. "Clearly there have been attractive newspaper and local-media properties that have been on the marketplace."
Splitting the operations will also make acquisitions easier by helping the new companies avoid regulations that restrict combined ownership of TV stations and newspapers, Martore said.
"We view the moves favorably, as the sum of the parts should be greater than the whole; each remaining company will be able to pursue acquisition growth opportunities," Michael Kupinski, an analyst for Noble Financial Capital Markets, said today in a note to clients. The Gannett newspaper company will "be well positioned to be a leader in what is expected to be a heightened environment for industry consolidation."
Keeping Name
Gannett's newspaper unit, which includes publications like Florida Today and the Arizona Republic, will retain the Gannett name and its digital publishing platform. The company, to be led by Bob Dickey, president of Gannett's local-newspaper unit, will continue to have a relationship with Cars.com and Career Builder.
The broadcasting and digital business, which doesn't yet have a name, owns or provides service to 46 TV stations, including markets like Dallas, Houston, Washington and Seattle.
Cars.com, which was started in 1998, lets users check prices, compare models and read reviews of auto dealers.
Gannett already owned 27 percent of the auto-sales website. Classified Ventures is backed by four media companies in addition to Gannett: McClatchy Co., Tribune Media Co., AH Belo Corp. and Graham Holdings Co.
The purchase price implies a multiple of 11.7 times estimated 2014 earnings, Gannett said.
Shares Gain
Bloomberg News reported earlier that Gannett agreed to buy the remaining stake in Cars.com for $1.8 billion, citing a person familiar with the matter.
Shares of McClatchy gained 4.9 percent to $4.79 today, while AH Belo added 6.6 percent to $11.25. Tribune and Graham Holdings rose less than 1 percent.
Greenhill & Co. advised Gannett on the Cars.com transaction, along with Citigroup Inc., and Nixon Peabody LLP provided legal counsel. The sellers got financial advice from Moelis & Co. and legal advice from Skadden, Arps, Slate, Meagher & Flom LLP. Greenhill also advised Gannett on its split.
Before it's here, it's on the Bloomberg Terminal.
LEARN MORE