EU Airlines Could Suffer From Russian Airspace Sanctions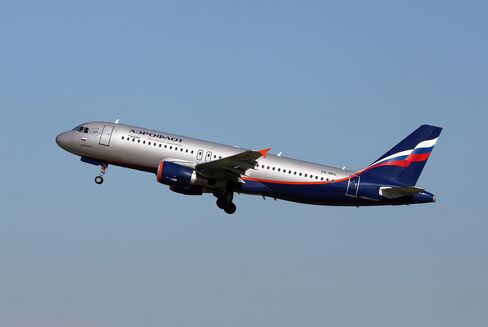 Air France-KLM Group and Deutsche Lufthansa AG would suffer most from curbs on flights across Siberia in retaliation for European Union sanctions imposed on Russia over the Ukraine crisis, an analysis of networks shows.
Of the 1,600 flights operated by 39 carriers across the region east of the Ural mountains in the past week, about half were provided by 14 EU carriers, according to data supplied to Bloomberg News by aircraft-tracking service Flightradar24.
Operations between Europe and Japan, north-west China and South Korea are most exposed, according to the data, which excludes services starting or ending in Russia. Air France and KLM had 249 flights over Siberia last week, including routes linking Paris with Beijing, Shanghai and Wuhan in China, while Lufthansa together with its Austrian and Swiss units had 220. Punitive measures under consideration in Moscow include longer trans-Siberian routes for scheduled EU carriers and bans on charter flights, people with knowledge of the plans said today.
"It could have consequences for a lot of the carriers that use that airspace and have hubs in Frankfurt, Paris or London," said Daniel Friedenzohn, assistant professor at Embry-Riddle Aeronautical University in Daytona Beach, Florida. "It forces them to fly longer routes, forcing them to spend more on fuel."
Finnair Falls
British Airways had 93 flights across Siberia between July 29 and Aug. 6, including operations from London to Tokyo, Seoul and Hong Kong. Still, the services represent a small part of the timetable for Europe's top carriers, with the Lufthansa figure equal to 1 percent of the group's 22,000 flights in the period.
The smaller Finnair Oyj has more to lose, with 115 flights across Siberia during the week after the carrier made a virtue of Helsinki's location on the fringes of the EU to offer connections to cities across northeast Asia using the shortest "great circle" routes through Russian airspace.
Finnair stock was trading 3 percent lower at 5:30 p.m. local time today following a 5.6 percent drop yesterday after Russian business newspaper Vedomosti said the government might limit or ban trans-Siberian flights by European Union carriers, citing unidentified people familiar with the matter.
Punishing Putin
Russia is considering its response after EU sanctions led to the suspension of flights at the Dobrolet discount unit of OAO Aeroflot as European companies annulled leasing, insurance and servicing contracts. The grounding is among more visible results of measures aimed at Russian President Vladimir Putin for his support of anti-government separatists in Ukraine. The EU and U.S. President Barack Obama have urged Putin to help curb rebel activities after the downing of Malaysian Air MH17.
Retaliation to the sanctions is being discussed, Russian Prime Minister Dmitry Medvedev said in a meeting with Aeroflot Deputy Chief Executive Officer Vadim Zingman and Transport Minister Maxim Sokolov, according to a statement yesterday that didn't specify what the steps might be, leaving carriers to wonder if the Ukraine standoff will ensnare their industry.
Authorities are discussing three possible measure, with a ban on Ukrainian flights across Russia to Asia being considered alongside the charter ban and an artificial lengthening of trans-Siberian routes for scheduled EU airlines to make them less competitive, two people said today, asking not to be named.
Southern Option
For EU airlines, a long denial of access to Siberian airspace would force them to look at adding stopovers and raising fares to cover higher fuel bills, said Friedenzohn, who specializes in U.S. and international flight networks.
Carriers might divert services south over China, Mongolia or Kazakhstan, where many are routing planes to avoid eastern Ukraine after skies there were closed following last month's suspected shooting down of MH17, which killed 298 people.
A graphic supplied by Flightradar24 show that Lufthansa's Beijing-Frankfurt service using the flagship Airbus Group NV A380 superjumbo operates only a few hundred miles into Siberia.
Lufthansa already has experience of a Russian airspace ban, having relocated a hub used for refueling Asian cargo flights to Krasnoyarsk in Siberia from Astana in Kazakhstan in 2009 to secure route rights. Russia's government temporarily excluded the carrier's aircraft to campaign for the switch.
Germany this January hammered out a fresh agreement to secure over-flight rights in exchange for Russian cargo airlines being granted permissions to operate freighter services between Frankfurt and the U.S.
Siberian Thaw
Flights over Siberia increased after Russia liberalized airspace rules with the end of the Cold War and collapse of the Soviet Union. That has in turn generated revenue from over-flight charges which foreign governments have sought to resist but which Moscow insists on applying.
"This is airspace that used to be closed, so it could be closed again because you're angry, to send a signal," said Robert Mann, president of aviation consultant R.W. Mann & Co. in Port Washington, New York. "But that would be cutting off one's nose to spite one's face. These routes generate significant revenue for Russia in royalty payments."
Aeroflot collects royalties from foreign carriers for Siberian overflights, receiving about $170 million in 2013, according to Irina Stupachenko, an analyst at Otkritie Capital in Moscow. Stupachenko said any restrictions would be "very negative" for the airline, for which the royalty payments are equal to 18 percent of full-year earnings.
'Extremely Unlikely'
Russia would also be disproportionately hurt by any tit-for-tat move from the European Union to close its own airspace to Aeroflot and peers, said Oliver Sleath, a Barclays Plc analyst in London.
"This is extremely unlikely to happen because the response would be more crippling to the Russian economy," Sleath said. Russian flights that cross EU airspace outnumber European carriers' trips over Siberia, he said.
Shares of Aeroflot were trading 4.9 percent lower at 44.69 rubles as of 6:37 p.m. in Moscow following a 5.9 percent drop yesterday, taking the decline this year to 47 percent, the sharpest on the 42-member BI Global Airlines index.
Trans-Pacific travel could also suffer if the sanctions were extended to the U.S. Restrictions would predominantly impact trans-polar flights typically linking Asia with North America, consultant Mann said, with diversions likely to be so expensive as to render some routes uneconomical.
The spillover effect from any Russian sanctions on EU airlines may reach carriers in Asia. For some operators there the measures could mean fuller jets as competition from Europe decreased, though deals that let companies book travelers on one another's flights means services are highly interconnected.