Caesars Hedge Fund Debt Battle Triggers Dueling Lawsuits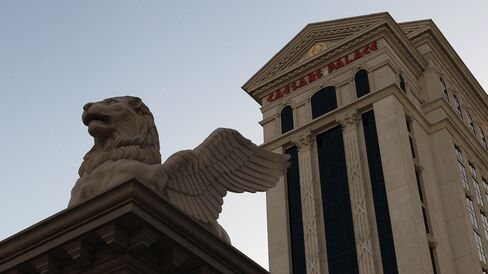 Aug. 5 (Bloomberg) -- Caesars Entertainment Corp.'s negotiations with noteholders challenging efforts to restructure $12.7 billion in debt spilled into court, as the casino company claimed hedge funds want to force a default while a bond trustee alleged Caesars is squandering assets.
Caesars sued more than 30 bondholders, including funds overseen by Appaloosa Management LP, Oaktree Capital Group Holdings LP and Elliott Management Corp. Caesars accused them in a statement of attempting to impede the restructuring with "disruptive appearances before gaming regulators" and "a baseless default notice."
Wilmington Savings Fund Society, a trustee for holders of some of Las Vegas-based Caesars' 10 percent notes payable in 2018, simultaneously sued the company in Delaware Chancery court in Wilmington, accusing it of fraudulently transferring assets as part of the restructuring and wasting assets.
Caesars' effort to reshuffle debt has drawn the ire of noteholders after the company, the largest owner of casinos in the U.S., took steps to remove guarantees on much of its $23 billion in debt to prepare for a wider reorganization.
In May, the company sold a 5 percent stake in Caesars Entertainment Operating Co., its largest unit, to undisclosed investors. The sale meant some bond investors will no longer hold a claim to the parent company's assets, leaving them with less bargaining power in talks over the debt.
The operating company was insolvent at the time Caesars forced it to give up some of its most valuable assets, according to the trustee's lawsuit. That makes the transfer an intentional fraud inflicted on creditors, according to the suit.
Talks Continue
Negotiations with bondholders over Caesars' debt will continue despite the lawsuits, said a person familiar with the talks, who asked not to be identified because the matter is private.
Caesars fell 9.5 percent to $12.71 in trading in New York. The shares, which dropped as much as 13 percent today, have fallen 53 percent since March 4.
The operating unit's bonds were the third-most actively traded yesterday among U.S. non-financial high-yield issuers, according to Trace, the bond-price reporting system of the Financial Industry Regulatory Authority.
The unit's $3.6 billion of 10 percent notes due 2018 rose 2.8 percent to 31.875 cents on the dollar today in New York, according to Trace. The bonds are still trading at less than half their price in September 2013 when the company announced transactions to restructure commercial mortgage-backed security debt.
Creditors' Interest
In the trustee's suit, Wilmington Savings Fund contends Caesars' executives "have made clear they have no intention of preserving the value" of the gaming company "or otherwise protecting the interests of creditors."
Bruce Bennett, a lawyer for noteholders, said today in a phone interview that about two months ago, "more than 50 percent of the holders of the second-priority notes under the 2009 indenture" approved filing suit over Caesars' debt-reorganization effort. Bennett confirmed the bondholder group in the Wilmington Savings Fund suit includes Appaloosa and Oaktree.
Caesars was purchased in a $30.7 billion leveraged buyout led by Apollo Global Management LLC and TPG Capital in 2008. Last month, Caesars won approval for a $1.75 billion refinancing from Illinois casino regulators over the objections of bondholders.
Bondholder Talks
A lawyer for some debt holders told the Illinois Gaming Board July 24 that Caesars was putting the Caesars Entertainment unit's finances in jeopardy by shifting casino assets to other subsidiaries and stripping away a guarantee of their debt.
Some of Caesars' noteholders, including Appaloosa's David Tepper, contend they may get shortchanged in the debt reorganization and are challenging the terms of the company's reshuffling of its obligations. Tepper was listed as the U.S.'s highest-paid hedge fund manager last year by Institutional Investor's Alpha magazine after he received $3.5 billion, according to the publication.
Tepper didn't immediately respond to an e-mail today seeking comment on Caesars' suit against him or the Delaware suit.
One of the lead defendants in Caesars' lawsuit is Elliott Management, billionaire Paul Singer's hedge fund and leader of an effort to force Argentina to pay its defaulted debt holders.
Argentina defaulted for the second time in 13 years last week after negotiations with the holdouts led by Singer failed.
Stephen Spruiell, a spokesman for Elliott, didn't immediately respond to phone and e-mail messages seeking comment on the cases. Alyssa Linn, a spokeswoman for Oaktree at Sard Verbinnen & Co., didn't immediately respond to phone and e-mail messages seeking comment on them.
Swap Positions
Caesars singled out Elliott among the first-lien investors for credit-default swap positions the hedge fund took in connection with the company, lawyers for the casino owner said in the New York suit. Those positions create "a blatant conflict of interest" and incentivize creditors to trigger a default so Elliott and others can cash them in, Caesars' attorneys said.
Instead of negotiating a deal that would allow Caesars to cut its debt and avoid bankruptcy, Elliott is attacking the casino owner because the fund is "betting the CDS holdings will pay off if its baseless assertions can convince the market" that Caesars will default, the company's lawyers said.
Caesars' Payments
Caesars officials said in the New York suit that it "has never missed a single payment of interest or principal on the notes since they were issued" and executives' moves over the past months have extended the company's "ability to make payments of its obligations as they come due."
In the Delaware suit, creditors accused Caesars' officials of wrongfully maneuvering to devalue noteholders' investments through "self-dealing transactions" designed to "move some of the company's most valuable assets out of the reach of creditors." The suit cites the transfer of businesses such as Caesars' interactive gambling unit, the Planet Hollywood casino in Las Vegas and Harrah's New Orleans.
The trustee's suit also claims Caesars transferred its online gambling business, which the company valued at $779 million, from the operating company to the parent company in 2011 "for little or no consideration."
Hotel, Mall
The Wilmington Savings Fund suit also claims Caesars directors wrongfully transferred the Octavius hotel tower and the Project Linq shopping mall in Las Vegas to an affiliate for the assumption of $450 million in bank debt and no consideration for the equity value. After a bondholder complained, the price was increased by $150 million in cash and notes.
The net effect of the transactions has been to divide the gaming company into two segments: a "Good Caesars" and "Bad Caesars," according to the trustee's suit.
The New York case is Caesars Entertainment Operating Company Inc. v. Appaloosa Investment Limited Partnership, 652392/2014, New York State Supreme Court (Manhattan). The Delaware suit is Wilmington Savings Fund Society FSB v. Caesars Entertainment Corp., CA NO. 10004, Delaware Chancery Court (Wilmington).
To contact the reporters on this story: Jef Feeley in Wilmington, Delaware at jfeeley@bloomberg.net; Christopher Palmeri in Los Angeles at cpalmeri1@bloomberg.net; Laura J. Keller in New York at lkeller22@bloomberg.net
To contact the editors responsible for this story: Michael Hytha at mhytha@bloomberg.net; Shannon D. Harrington at sharrington6@bloomberg.net; Anthony Palazzo at apalazzo@bloomberg.net