Bernanke, Greenspan Voice Doubts About Tying Fed to Policy Rule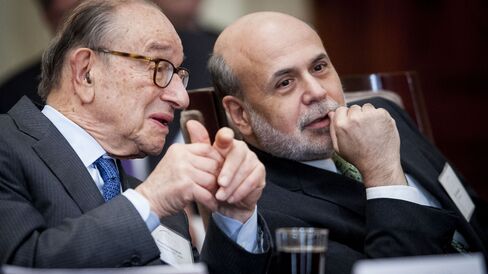 Former Federal Reserve Chairmen Ben S. Bernanke and Alan Greenspan suggested it would be a bad idea to bind monetary policy to an interest-rate rule, as some Republican lawmakers want to do.
Bernanke said he opposes a bill approved by the House Financial Services Committee last week that would impose such a requirement on the Fed, arguing in an interview that setting policy in a mechanical way would make it "substantially less effective."
Greenspan suggested in a separate interview that such rules don't work in all circumstances, while declining to comment on the House proposal because he hadn't read it.
The Republican-sponsored bill would require the central bank's policy-setting Federal Open Market Committee to describe a strategy for how it would adjust interest rates. The FOMC could subsequently alter the rule, though any changes would be subject to review by Congress's Government Accountability Office.
Currently, the Fed doesn't bind itself to such a formula, preferring flexibility in an economy that continues to elude their forecasts. Fed Chair Janet Yellen told the committee last month she opposed the legislation.
The measure, which has little chance of passing in a Senate controlled by Democrats, nevertheless signals Republican interest in a more constrained and transparent Fed as it closes one of the most expansive periods in its 100-year history.
Taylor Rule
While the FOMC would be free to choose its own rate regime under the proposed legislation, it would have to explain any deviation from a rule developed in 1993 by John Taylor, a Stanford University professor and former Treasury Department official. The Taylor rule sets the main interest rate based on the rate of inflation and the gap between the economy's potential and actual level of output.
"The Taylor rule doesn't work all the time," said Greenspan, 88, who headed the Fed from 1987 to 2006. "I've always argued that it picks up about 80 percent of what the Fed's actions ought to be. But the remaining 20 percent is very tricky."
And there's no way to know beforehand when it's best to stick to the strategy and when it's not, he added.
Bernanke, 60, said such a rule "would have been no assistance whatsoever since 2008" in setting policy because the Fed had cut interest rates to zero in December of that year.
Unable to reduce rates any further, the Fed then sought to spur economic growth by buying bonds, a strategy known as quantitative easing, and by providing investors with assurances it would keep monetary policy loose for a long time.
Not Opposed
Bernanke, who served as Fed chairman for eight years before stepping down in January, emphasized that he doesn't oppose the use of rules like Taylor's as general guidelines for policy. What he is against is applying them in a mechanical way.
Such rules say "how the interest rate, the instrument of policy, should be set, given a small number of economic variables," said Bernanke, who is now at the Brookings Institution in Washington. "If the structure of the economy changes or there is extra information that is not in the rule then it gives you the wrong answer."
Greenspan, who heads his own consulting company in Washington, told Bloomberg Television's "In the Loop" with Betty Liu on July 30 that the Taylor rule tracked the policy the Fed pursued under his stewardship from 1987 to 1993.
"If we could replicate that in some form or another, that's the way we should be functioning," he said. "The problem, however, is going from where we are now, with a very inflated set of balance sheets, which require an unprecedented procedure."
'Critical Question'
"We are not yet back to the point where we have a normalized monetary policy," Greenspan added. "And I think that's the critical question. It's going to be an experimental issue. And it's going to be very tough."
The Financial Services Committee approved the bill on July 30 by a vote of 32 to 26, with Republicans supporting the proposal and Democrats opposing it.
The bill, called the Federal Reserve Accountability and Transparency Act, is sponsored by Republicans Bill Huizenga of Michigan, a vice chairman of the financial services subcommittee on monetary policy, and Scott Garrett of New Jersey.
It would also require more transparency on the Fed's bank oversight and would require the Fed chair to testify before Congress quarterly, instead of twice a year as the law now specifies.
Bond Purchases
The Fed's repeated buying of bonds has expanded its balance sheet to a record $4.41 trillion. The central bank announced last week that it was reducing its monthly purchases to $25 billion from $35 billion, staying on pace to end the program in October.
Yellen, 67, explained her opposition to the Republican bill when she appeared before the House Financial Services Committee on July 16 to deliver the central bank's semi-annual monetary policy report to Congress.
"It would be a grave mistake for the Fed to commit to conduct monetary policy according to a mathematical rule," she said in response to questions from lawmakers. "No central bank does that."
While the legislation would allow the Fed to depart from such a rule if it felt such a move was warranted, Yellen said the measure would still compromise the Fed's independence.
Political scrutiny "would essentially undermine central bank independence in the conduct of monetary policy, and I believe that global experience has shown that we have better macroeconomic performance when central banks are removed from short-term political pressure," she said.
Before it's here, it's on the Bloomberg Terminal.
LEARN MORE