Amnesty Says 'Gruesome' Nigerian Footage Shows War Crimes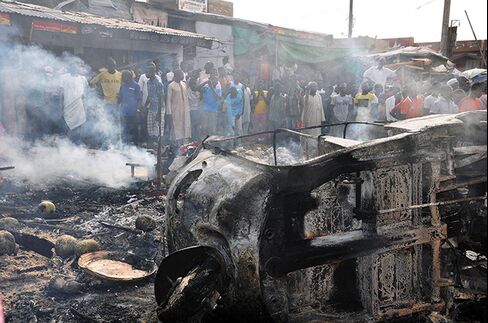 Amnesty International said it obtained Nigerian video footage, images and testimonies of war crimes committed by government forces and Islamist insurgents in the country's northeast.
The "gruesome" evidence includes images of detainees whose throats were cut and their bodies "dumped in mass graves by men who appear to be members of the Nigerian military" and a pro-government militia, London-based Amnesty said in an e-mailed statement today. There's another showing the impact of an attack by Boko Haram insurgents on a village in which about 100 people were killed.
The Nigerian military is examining the authenticity of the films, Defense Ministry spokesman Major-General Chris Olukolade said in an e-mailed statement. The alleged abuses are against the training given to soldiers, he said.
"This shocking new evidence is further proof of the appalling disregard for humanity in northeastern Nigeria, where war crimes are being committed with abandon by all sides in the conflict," Amnesty said.
Nigerian security forces are struggling to contain a five-year insurgency by Boko Haram, whose name means "western education is a sin" in the local Hausa language. The group, which wants to impose Islamic law in Africa's most populous country, has carried out bomb and gun attacks in the country's mainly Muslim north and the capital, Abuja, killing thousands of people, even as the military has stepped up an offensive.
Schoolgirls' Abduction
The militia drew global outrage when it abducted more than 200 schoolgirls from their dormitories in April and threatened to sell them into slavery. Most of the girls are still missing.
"More than 4,000 people have been killed by all sides in the conflict during armed attacks this year alone," Amnesty said. "Civilians who are not directly participating in hostilities make up the majority of this death toll."
About 600 of the people who died were victims of extra-judicial killings since Boko Haram attacked a detention center at Giwa barracks in Maiduguri on March 14, Amnesty said.
The military is taking the allegations of abuses depicted in the videos "very seriously," said Olukolade.
"The defense headquarters considers these allegations too grievous to be associated with Nigerian troops, considering the doctrinal and operational contents of the training imparted to personnel on a continuous basis," that emphasizes respecting human rights, he said.
"Much as the scenes depicted in these videos are alien to our operations and doctrines, it has to be investigated to ensure that such practices have not crept, surreptitiously."
Before it's here, it's on the Bloomberg Terminal.
LEARN MORE