Johnny Manziel Joins Tiger Woods as MusclePharm Endorser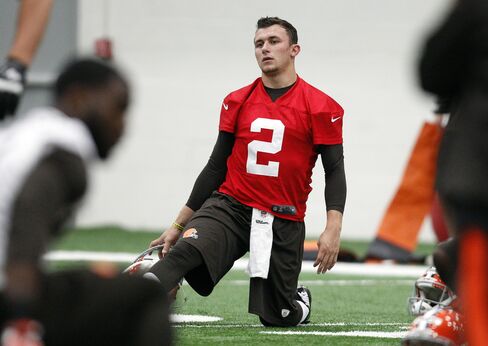 Cleveland Browns quarterback Johnny Manziel signed a sponsorship contract with sports-nutrition company MusclePharm Corp., joining a roster of endorsers that includes Tiger Woods and the San Francisco 49ers' Colin Kaepernick.
Manziel, who in 2012 became the first freshman to win the Heisman Trophy as college football's top player, agreed to a multiyear deal with MusclePharm, the Denver-based company said in a statement. Financial terms weren't disclosed.
MusclePharm manufactures and distributes branded nutritional supplements, including powders, capsules, tablets and gels.
Nicknamed "Johnny Football," the 21-year-old Manziel was selected with the 22nd pick of the National Football League draft in May. His other endorsements include McDonald's Corp. and Nike Inc., and he also has a deal with Mars Inc.'s Snickers candy bars, according to ESPN.
Before it's here, it's on the Bloomberg Terminal.
LEARN MORE