GE Doubling Jobs in Africa as Ford Plans Eventual Surge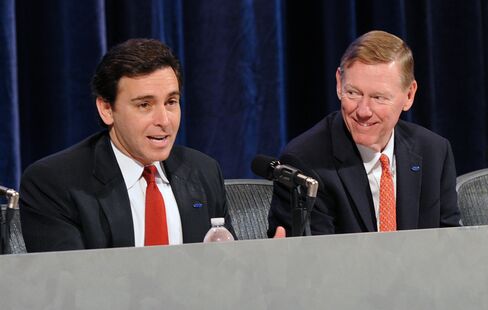 U.S. manufacturing giants General Electric Co. and Ford Motor Co. see Africa emerging as the world's next big growth market and are rushing to expand there.
"Everything is pointing toward a surge in the African economy," Jim Benintende, Ford's head of operations in the Middle East and Africa, said in an interview yesterday on the eve of the U.S. Africa-Business Forum in Washington. "We're really focused on this region like never before."
Ford is looking to expand its manufacturing plants in Africa, as it introduces new models like the Mustang sports car and forecasts industrywide auto sales will grow 40 percent by 2020. GE yesterday announced plans to invest $2 billion in the region by 2018 and double its workforce on the continent.
"Africa is one of the most important growth areas, purely from an economic standpoint," GE Chief Executive Officer Jeffrey Immelt said at a media event for the start of the U.S.- Africa Leaders Summit in Washington being hosted by President Barack Obama. "It's in very early days for Africa, so there's still a lot yet to be done and the notion of having the summit here says that it's important."
The summit is aimed at boosting economic ties to help nurture growth on the continent that has the world's lowest income and, according to the African Development Bank Group, the fastest growth.
GE won about $8.3 billion in orders in Africa over the last year as it accelerates operations in a continent where Immelt said sales were "almost zero" in 2000. Revenue there last year was $5.2 billion, according to GE, which estimates that Africa's basic infrastructure needs could generate $90 billion in investment opportunities.
Vehicle Market
Africa's vehicle market is accelerating rapidly. Ford, the second-largest U.S. automaker, projects that industrywide sales will grow to 2.1 million vehicles over the next six years, from 1.5 million in 2013. Africa's driving-age population is projected to soar 55 percent to 840 million people by 2023, from 540 million last year, Ford has said.
Benintende, a Ford veteran appointed to run the regional operation this year, is formulating an Africa growth strategy for Mark Fields, who took over as chief executive officer July 1 after Alan Mulally retired. The plan is to increase Ford's factories in Africa beyond its two plants in South Africa, with Nigeria being considered as an option, Benintende said.
"Mark is the one leading the charge, saying, 'Tell me what I need to do for you to make this all work,'" Benintende said. "He's fully engaged."
Africa Challenges
The continent remains a difficult place to do business, Benintende said, citing the Ebola outbreak in Liberia and Sierra Leone and civil unrest in Nigeria, where Boko Haram rebels have been fighting security forces in a bid to impose Islamic law.
"It's going to be a rocky road for a bit of time," Benintende said. "But you've got to take the long-term view in places like Nigeria. It's the biggest economy in Africa. You can't ignore that. It's got abundant natural resources, it's got a burgeoning middle class. There's a lot of real good reasons to look at Nigeria for future investment."
The Africa spending planned by GE will go to develop facilities, improve supply chains and train workers, according to a statement from the Fairfield, Connecticut-based company. GE's Africa business includes supplying locomotives for Nigeria and aircraft engines for Kenya Airways Ltd.
The local payroll will swell to 4,000 people during the next few years compared with about 2,000 now as the company expands into the continent's eastern nations, according to Jay Ireland, GE's Africa CEO.
Foreign Investment
"We've doubled it in the last three years and we'll probably double it again," Ireland said in an interview in Washington. "All those investments need people, so we'll be adding."
Foreign direct investment in sub-Saharan Africa rose 16 percent in 2013 to $43 billion, close to a record level, according to the World Bank.
"There's still tremendous opportunities," said Immelt, who toured Africa in January. "There's still huge deficits of electricity and infrastructure that we can invest in."
Benintende also is traveling the continent to explore Ford's options in the region. He said he expects to submit a proposal to Fields next year with a detailed plan on how many factories and dealerships the automaker needs to add.
"We need to put Ford people on the ground, close to our customers," Benintende said. "We can't operate from an ivory tower."
Car Exports
Ford, based in Dearborn, Michigan, is debuting 17 new models in South Africa and Sub-Saharan Africa over the next two years, including right-hand-drive versions of the Mustang, Fusion sedan and Focus small car. The automaker also is expanding its African dealer network.
"A lot of these nations are really coming up," Benintende said. "If they can get together, I think it will be a tremendous economic force in the future."
Benintende is meeting with government and business leaders at the U.S.-Africa Business Forum. Today's event, hosted by Bloomberg Philanthropies and the U.S. Commerce Department, will give business and national leaders an opportunity to discuss investment and the continent's economy.
Bloomberg Philanthropies is led by Michael Bloomberg, the founder and majority owner of Bloomberg LP, the parent of Bloomberg News.
Ford is already benefiting from adding five new models to its South Africa lineup last year. Sales in that country are up 21 percent so far this year, to 37,598 cars and trucks. Last year, Ford's sales rose 40 percent in South Africa.
Ford's Investment
The automaker's market share in the country, where annual industrywide sales are about 600,000 vehicles, rose to more than 10 percent last year from 7.7 percent in 2012. Through mid-June, Ford had 11.5 percent of the market, trailing Toyota Motor Corp. and Volkswagen AG. In 2010, Ford ranked sixth in sales.
The company has invested about $500 million in South Africa since 2010 to begin production of its Ranger compact pickup and Duratorq diesel engine. Ford builds the Ranger at an assembly plant in Pretoria, which it exports to 148 markets, and manufactures engines at a factory in Port Elizabeth. In total, it employs about 3,200 people in the country.
"Since 2005, we've exported $9 billion worth of vehicles and parts out of South Africa to the rest of the world," Benintende said. "We can see our business improving in Africa. So we want to be there."
Locomotives, Generators
Last year, GE announced one of its largest-ever power-plant orders when it signed gas-turbine deals totaling $2.7 billion from a unit of Sonelgaz, Algeria's national electricity and gas company. Algeria is one of the biggest countries in Africa for GE investment, Immelt said.
Angola's government announced plans in June to buy $1 billion of trains and power generators from GE. The deal was part of the U.S.'s Power Africa initiative, a privately funded plan announced last year by Obama to increase access to power in sub-Saharan Africa.
In March, GE was one of four winners of a 50 billion rand ($4.7 billion) train-engine contract to supply locomotives to Transnet, South Africa's state-owned ports and rail operator.
"The last few years oil and gas dominated our order flow," Ireland said. "This year transportation, which is our locomotive business, is going to be one of the bigger ones."
Growing Profit
GE's Middle East and Africa region is one of just two, with the Pacific Basin, to have increased sales over the past five years, according to data compiled by Bloomberg.
In the Middle East and Africa, Ford reported a pretax profit of $77 million for the first half of the year, up 28 percent from a year earlier. The region accounted for about 2.5 percent of the company's worldwide automotive pretax profit of $3.09 billion in the period.
Ford has said it created the Middle East and Africa business unit this year to increase focus on an "important growth region." It expects the business to break even this year.
Ford shares fell 0.9 percent to $16.87 at the close in New York and have gained 9.3 percent this year. GE fell 1 percent to $25.02 and has dropped 11 percent this year.
GE Spending
Global capital spending by GE amounted to $51.03 billion over the past four fiscal years, according to data compiled by Bloomberg. It had $49 billion in assets in the Middle East and Africa at the end of December, the data show.
GE is in a stronger position to help develop Africa's power grid after it agreed in June on a $17 billion deal to acquire the gas-turbine operations, electrical-transmission businesses and other energy assets of France's Alstom SA. The U.S. manufacturer will also benefit from the hydro business of Alstom, which Immelt called "very complementary."
"They have everything A-to-Z now" in power equipment, said Nicholas Heymann, a New York-based analyst at William Blair & Co. who rates the shares as market perform. "They're really clicking on that front."