BOE Underestimating Slack in U.K. Economy, Blanchflower Says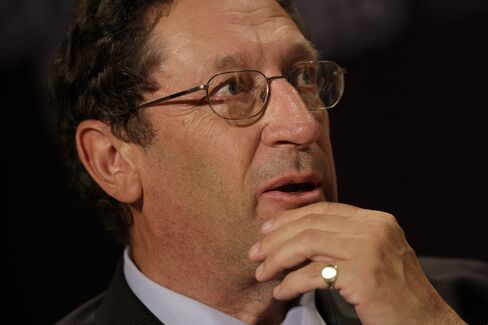 The Bank of England is underestimating the amount of spare capacity in the economy, and weak wage growth should allow it to maintain stimulus, according to former official David Blanchflower.
Policy makers are making "arbitrary downward adjustments to labor market slack" which are "inappropriate," Blanchflower and David Bell, a professor of economics at the University of Stirling, wrote in a paper published by the National Institute of Economic and Social Research today. The central bank, which estimates slack is between 1 percent and 1.5 percent of output, will release new forecasts on Aug. 13.
While BOE Governor Mark Carney has put slack and wages at the center of the debate on borrowing costs, saying there's room for more spare capacity to be absorbed before interest rates increase, he's also said the time to normalize rates is "edging closer." Officials will leave the key rate at 0.5 percent on Aug. 7, according to a Bloomberg News survey.
"There is much less wage pressure" in the economy than officials estimate, Bell and Blanchflower, who now teaches at Dartmouth College in New Hampshire, said. "The crucial test is how quickly nominal wages start to rise, but there is absolutely no sign of this happening."
Pay excluding bonuses rose in May at the slowest pace since records began in 2001. Blanchflower and Bell said the Monetary Policy Committee's measure of slack doesn't properly take into account the long-term unemployed.
Weak Wages
Former Bank of England policy maker Sushil Wadhwani said today the discrepancy between falling unemployment and weak wages may indicate that the natural rate of joblessness is lower than officials think,
"There's no way I can begin to understand why wages are so low," Wadhwani said at a Fathom Consulting event in London. "We may be missing out on the idea" that the non-accelerating inflation rate of unemployment "may be much lower, and that's highly relevant to the outlook."
The Blanchflower and Bell paper was published in Niesr's Economic Review, in which the institute forecast that the economy will expand 3 percent this year and 2.3 percent in 2015. Wages will begin to rise gradually later this year as unemployment falls below 6 percent, it said.
"We expect continued growth in employment," Simon Kirby, an economist at the institute in London, said yesterday at a press conference. While the central forecast is for a modest rise in productivity and wage growth, one of the key risks is that the latter doesn't pick up, he said.
Inflation will remain below the BOE's 2 percent target until 2016, Niesr said, forecasting consumer prices will rise 1.6 percent this year and 1.8 percent next year.
"Over the near term, we don't think there's going to be that much inflationary pressure," Kirby said. "This is helped by wage developments in the labor market, but also sterling's recent appreciation."