London's Mayor: U.K. Must Be Ready to Exit Unreformed EU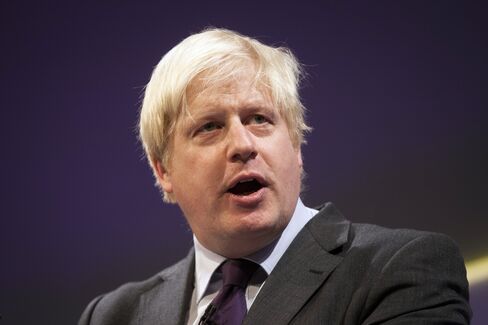 Britain should be ready to leave the European Union if Prime Minister David Cameron fails to achieve sufficient reforms before a referendum promised by the end of 2017, London Mayor Boris Johnson will say this week.
Johnson will on Aug. 6 introduce a report by his economics adviser Gerard Lyons which will say that, while the best outcome would be staying in a reformed EU, remaining in an unreformed bloc would be worse for Britain than pulling out and retaining an "outward-looking" trade policy.
"The U.K. can only achieve serious reform if it is serious about leaving," Lyons said in an interview with the Sunday Times newspaper. "It can only be serious about leaving if it believes this is a better outcome than the status quo of staying in an unreformed EU. This report concludes that that is the case."
Johnson, who is among the favorites to succeed Cameron as leader of the Conservative Party, will back the premier's plan to renegotiate Britain's membership and pursue changes before calling a referendum, the newspaper said. Johnson may announce his intention to stand for a seat in Parliament's lower House of Commons in the next five weeks, the Times reported, citing unidentified allies.
'Establishment Sell-Out'
"Boris is saying he would be a tougher negotiator; whether it's true or not, it's what a lot of Euroskeptics in the Conservative Party would like to hear," Andrew Gimson, the author of "Boris: The Rise of Boris Johnson," said in a phone interview today. "He's saying he would be a better leader on Europe because he would be prepared to take the risk of leaving and negotiate from a strong position, rather than the weak establishment sell-out position which Euroskeptics think Cameron represents."
Lyons's report says that a million jobs could be created in London in the next 20 years under a reformed EU, while 900,000 would be created if the U.K. was to pull out and keep an outward-looking trade policy. Maintaining the status quo would create 200,000 jobs in the capital over the same period and withdrawal into isolation would cost 1.2 million jobs.
Lyons said the estimates, based on work by London-based Volterra Partners LLP, provide long-term forecasts usually absent from the EU membership debate. By estimating outcomes for the next 20 years, the report takes into account the uncertainty and disruption which would be caused by a change in policy, he said. He declined to specify which reforms he meant.
"The best scenario is to be in a reformed EU, but leaving on good terms and adopting sensible policies does provide a very strong outcome for the U.K. economy," Lyons said in a telephone interview yesterday. "It's not just about being in or out, it's also about the policies adopted if you're in and the policies you follow, as well as the terms on which you leave, if you're out."
Before it's here, it's on the Bloomberg Terminal.
LEARN MORE