Woods's PGA Championship Status in Question With Back Spasms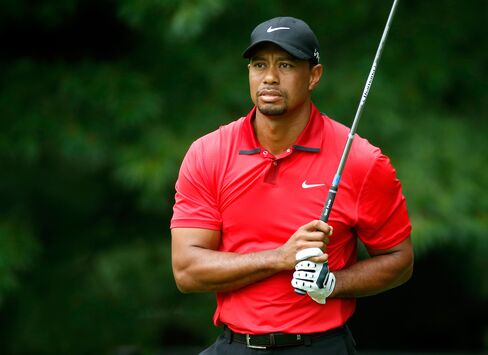 Tiger Woods is in jeopardy of missing this week's PGA Championship, golf's fourth and final major of the year, after withdrawing from the final round of the Bridgestone Invitational with back spasms.
Woods, who was playing in his third event since undergoing back surgery in March, said he hurt his back after losing his balance hitting a shot from a bunker on the second hole yesterday. He continued to play in pain and hit several shots that came up well short or off-line of his target before leaving the course in a golf cart on the ninth hole.
"I fell back into the bunker, it just jarred it, and it's been spasming ever since," Woods said on his website. "It's just the whole lower back. I'm not sure what happened."
The 38-year-old Woods hasn't yet said how severe his latest setback is or if he'll be forced to skip the PGA Championship that begins in three days at Valhalla Golf Club in Louisville, Kentucky. Woods has already missed this year's Masters Tournament and U.S. Open due to his ailing back.
Following a 315-yard tee shot into the rough on the left side of the ninth hole, Woods grimaced, reached at his back and struggled to pick up his tee. He was then driven off the course in a golf cart.
The 14-time major winner was 3 over par in his round when he withdrew and 4 over for the tournament. Rory McIlroy of Northern Ireland, the winner of last month's British Open, won the event at 15 under par, one shot ahead of Spain's Sergio Garcia.
The PGA Championship field will already be missing American Dustin Johnson, who said he was taking an indefinite leave of absence from golf for personal reasons. Johnson is the No. 17-ranked golfer in the world.
Ratings Skid
With Woods mostly absent or out of contention this season, television ratings for the PGA Tour's biggest events have declined.
When Germany's Martin Kaymer won the U.S. Open by eight shots with the second-lowest total score in the event's 119-year history, the victory drew the smallest U.S. television audience since at least 1992. Final-round ratings for the Masters were the lowest in a decade as Bubba Watson won his second title and the British Open final-round ratings declined 28 percent from the previous year.
"I'd have a very difficult time telling you what the defining story line of the PGA Tour is this year," Casey Alexander, a New York-based analyst at Gilford Securities Inc., said in a telephone interview."The Tour has a volume of young talent to a degree that I can almost not remember. But that has created a situation where not one dominant figure has stepped through and said 'I'm the superstar.'"
Pinched Nerve
Woods underwent surgery March 31 to repair a pinched nerve in his back, keeping him out of the Masters for the first time as a professional and the U.S. Open. He finished 69th at the British Open last month, his worst 72-hole result in any of the sport's four major tournaments. In addition to his recent back injury, Woods has had several surgeries to repair damage in his left knee throughout his career.
The injury also puts his availability in question for the Ryder Cup in late September, where he would have to be a captain's pick by Tom Watson.