Putin Sanctions Drive Away Banks as Loans Dry Up: Russia Credit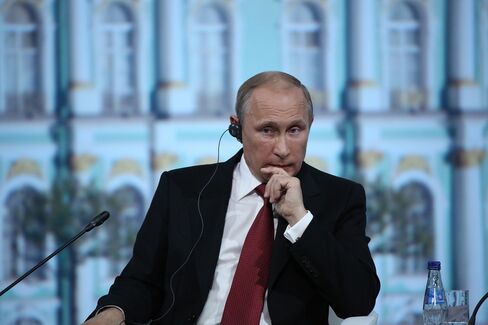 Lending to Russian companies reached a crescendo last year, with international banks pledging $31 billion to OAO Rosneft to buy TNK-BP. As sanctions are tightened against the nation, even the smallest deals have dried up.
No Russian companies received loans in U.S. dollars, Swiss francs or euros last month, the first time this has happened in at least five years, according to data compiled by Bloomberg. Global banks fell away in the second quarter, with lending plunging 42 percent from a year earlier to $4.7 billion as the Ukraine conflict worsened after President Vladimir Putin annexed Crimea in March. That was the least for any quarter since 2012.
International lenders are weighing the political and financial consequences of doing business with Russian companies after the U.S. and European Union stepped up sanctions on the nation's banking and energy industries because of the crisis in Ukraine. OAO VTB Bank's plan to get a $1.5 billion loan led by Barclays Plc will probably be scrapped, lawyers said last week. Royal Bank of Scotland Group Plc and Citigroup Inc. said Aug. 1 they're scaling back their dealings with the country.
"Russia is not likely to be a good place to do business for quite some time," Philip Hanson, an associate fellow at the Chatham House research group in London, said by phone on Aug. 1. "We're going to see continuing trouble that's going to have its economic consequences particularly for international banks."
Increasing Margins
About $28 billion was wiped from the value of the three Russian banks on the Micex stock index, according to data compiled by Bloomberg. OAO Sberbank, the nation's biggest lender, lost $22.8 billion, the data show.
Russian companies paid an average interest margin of 287 basis points, or 2.87 percentage points, more than benchmark rates for internationally syndicated loans in the second quarter, according to data compiled by Bloomberg. That compares with 194 basis points in the same period a year earlier.
The spread on loans for investment-grade western European companies dropped to an average of 66 basis points in April through June from 122 basis points a year earlier.
While Russian companies have obtained at least $600 billion in debt and equity financing from international capital markets since the country emerged from its 1998 default, EU sanctions announced last week ban five state-controlled lenders from selling new shares and bonds.
U.S. Sanctions
European banks may also steer clear of syndicated loans to the country to avoid potential penalties, even though such lending hasn't been penalized, according to Jonathan Fisher, a London-based barrister specializing in financial services at Devereux Chambers.
Bank of America and Nomura Holding Inc.'s electronic-trading unit Instinet temporarily banned trading in Russian energy stocks Rosneft and OAO Novatek last month after the U.S. sanctioned the firms over Russia's policy on Ukraine, four people with knowledge of the matter said.
VTB, Russia's second-biggest lender, which has been sanctioned by the U.S. and the EU, has sought a deal with lenders also including Bank of America Corp. and Citigroup.
"These sanctions are going to bite," Fisher said July 31. "EU banks, wary of U.S. sanctions, won't want to touch it and the U.S. banks plainly won't breach their own laws."
Glencore, Vitol
The U.S. extracted an $8.97 billion fine from BNP Paribas SA for deals that violated sanctions on Sudan, Iran and Cuba.
Last year, lenders were piling into the market, with Glencore International Plc and Vitol SA raising $8.3 billion to fund their crude-purchase deal with Rosneft. Billionaire Vladimir Evtushenkov's OAO Bashneft was able to reduce interest payments on a $600 million loan just months after obtaining the funds.
Statoil ASA, Norway's biggest energy company, may be forced to terminate an agreement for oil exploration with Rosneft because of escalating sanctions, analysts at Arctic Securities ASA and Swedbank First Securities said on Aug. 1.
While sanctioned companies have sufficient reserves to meet their short-term obligations, the restrictions could spur an "acceleration of capital flight and suppression of investment activity," UralSib Capital analysts Alexey Devyatov, Natalia Berezina and Olga Sterina wrote in a report Aug. 1.
The central bank's 2.5 percentage points of interest-rate increases since the incursion into Crimea may cause larger damage to the economy than sanctions, UralSib said.
"Western banks have been in a hands-off mode with Russian banks and corporates, even with entities that were not subject to sanctions," Evghenia Sleptsova, a London-based Russia and CIS senior analyst at the Roubini Global Economics research consultancy, said by phone Aug. 1. "Even if the sanctions momentum stalls, in the medium term access to Western capital markets will remain restricted."
Before it's here, it's on the Bloomberg Terminal.
LEARN MORE