Armenia, Azeri Leaders to Meet in Sochi Amid Deadly Clashes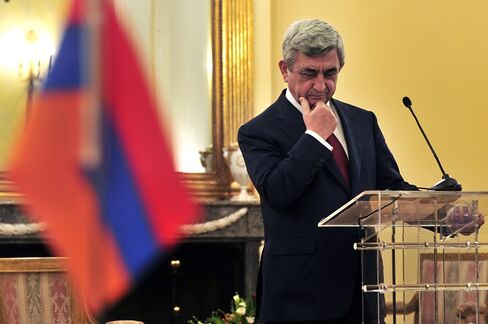 Leaders of Armenia and Azerbaijan plan to meet this week in a bid to defuse tensions after at least 15 soldiers were killed in a disputed border region.
The fighting in the past week has been the deadliest since the two former Soviet states signed a cease-fire 20 years ago. Armenian President Serzh Sargsyan will hold talks with his Azeri counterpart Ilham Aliyev in the Russian city of Sochi on Aug. 8-9, the prime minister of Armenia, Hovik Abrahamyan, said in comments posted on the government's website.
"We hope that serious arrangements will be reached during the meeting," Abrahamyan said. "We are not afraid of war, I just think it is not clever to solve problems via wars in the 21st century."
The border skirmishes flared amid the worst geopolitical standoff since the Cold War between Russia and the U.S. over the conflict in Ukraine. A renewed war between Azerbaijan, an ally of the U.S. and Turkey, and Russian-backed Armenia has potential to put NATO directly at odds with the government in Moscow, according to Timothy Ash, London-based economist for emerging markets at Standard Bank Group Ltd.
"Militarily, Armenia is still thought to have superiority, given Russian backing, but with its rising oil wealth, Azerbaijan has been re-arming rapidly," Ash said today by e-mail.
Energy Route
The escalating death toll since July 31 has inflamed tensions between landlocked Armenia and its eastern neighbor Azerbaijan, the former Soviet Union's third-largest oil producer and the only route for Caspian energy to Western markets that bypasses Russia.
Armenians seized Nagorno-Karabakh, a mountainous enclave about the size of the state of Rhode Island, and seven adjacent districts from Azerbaijan in a war after the Soviet Union's collapse in 1991. More than 30,000 people were killed and over a million displaced before Russia brokered a cease-fire in 1994. The two nations' presidents met in November in Vienna for the first time in two years.
Azerbaijan, which signed a $45 billion contract in December with a BP Plc-led group to pipe natural gas to Europe, has repeatedly threatened to use force to regain control of the territory should peace efforts fail. Aliyev said in January he had "no doubts" that Azerbaijan will "restore its territorial integrity."
'Provocative' Steps
Azeri Foreign Ministry spokesman Elman Abdullayev didn't answer calls to his mobile phone today. Azerbaijan's foreign ministry accused Armenia of "provocative" actions and said it "bears full responsibility for the evolving dangerous situation," according to a statement on the ministry's website today.
The U.S., France and Russia, which are leading efforts to resolve the Nagorno-Karabakh dispute, urged Azerbaijan and Armenia to take immediate action to defuse tensions and respect the cease-fire, as well as resume negotiations.
Companies led by London-based BP have invested more than $40 billion in Azerbaijan's oil and gas fields. Azerbaijan can pump as much as 1.2 million barrels a day of oil to Turkey through the Baku-Tbilisi-Ceyhan pipeline, which allows supplies to bypass Russia.
Eight Azeri and two Armenian troops were confirmed killed in clashes on July 31. Azerbaijan said it lost an additional four troops and an Armenian soldier was confirmed dead in fighting on Aug. 1-2. Another Azeri serviceman was killed last night, according to Nagorno-Karabakh's armed forces.
Before it's here, it's on the Bloomberg Terminal.
LEARN MORE