SocGen Net Rises on Investment Bank, Lower Loan Losses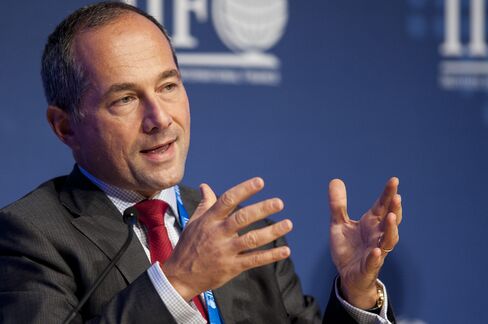 Societe Generale SA, France's second-largest bank, posted higher profit in the second quarter as earnings jumped at the investment bank and provisions for doubtful loans declined.
Net income rose to 1.03 billion euros ($1.4 billion) from 955 million euros a year earlier, the Paris-based bank said today. While earnings were the highest in four years and above analysts' estimates, the shares fell amid concern over the bank's business in Russia, where Societe Generale is among the largest foreign banks.
"Actions taken by management regarding Russian operations and the impact of sanctions" are a "key focus" for investors, Jean-Pierre Lambert, an analyst at Keefe, Bruyette & Woods Ltd. in London with an outperform rating on the bank, wrote in a note to clients today.
Deputy Chief Executive Officer Severin Cabannes, in an interview with Bloomberg Television, played down the risks to the bank's business from widening U.S. and European Union sanctions on Russian companies. The bank's Russian operations contributed 16 million euros to net income in the quarter.
The business in Russia will probably be "more or less break-even" in the second half of the year, Cabannes told Bloomberg TV. "Our first target is clearly to comply, completely comply," with new U.S. and EU sanctions.
The stock fell as much as 3.3 percent, and was 2.1 percent lower at 36.78 euros by 12:12 p.m. in Paris trading. Societe Generale has declined 13 percent this year, matching the drop of BNP Paribas SA, France's biggest bank.
Tougher Sanctions
The U.S. and EU this week moved to apply more pressure by targeting Russian banking, energy and defense industries for sanctions in another attempt to get President Vladimir Putin to back down in Ukraine.
Societe Generale's Russian activities represent about 3 percent of the bank's balance sheet, and the lender's capital and funding exposure to the subsidiary amounts to about 5 billion euros, Cabannes said.
Nonetheless, the bank had been counting on Russia to help fuel growth as tightening capital demands, sputtering economic growth and escalating legal risks drag on profit for Europe's banks. Now, economic growth in Russia looks like it will be "flat" this year, according to Cabannes.
In May, the bank said it saw its Russian operations contributing 5 percent of group earnings in 2016, excluding exceptional items, compared with about 4.3 percent last year, based on data on its website. It is targeting return on equity, a key measure of profitability, of 14 percent from its Russian consumer-banking activities in 2016, compared with at least 10 percent for the group.
Litigation Provisions
Societe Generale's ROE reached 8.8 percent in the second quarter, up from 8.4 percent a year earlier. The second-quarter results included a 210 million-euro gain from the purchase of derivatives brokerage Newedge Group.
A 24 percent decline in provisions for risky loans to 752 million euros also underpinned earnings, even as the bank set aside an additional 200 million euros for unspecified future litigation costs. That brought Societe Generale's total legal provisions to 900 million euros.
BNP Paribas posted a 4.32 billion-euro quarterly loss yesterday after a record penalty for doing business with Sudan and other countries blacklisted by the U.S. Ignoring one-time items, BNP earned 1.92 billion euros in the second quarter, helped by a rebound in capital-markets revenue.
Earnings at Societe Generale's global markets business rose 17 percent to 349 million euros in the second quarter. Revenue from trading fixed income, currencies and commodities increased 9 percent while equities trading sales were 538 million euros, up 2.9 percent excluding one-time items, it said.
For the five biggest U.S. banks, combined revenue from trading fixed income, currencies and commodities fell 9.4 percent to $12.1 billion in the period, data compiled by Bloomberg Intelligence show.
Rosbank Purchase
The results "confirmed the group's growth potential and our ability to improve our profitability," CEO Frederic Oudea, 51, said in the statement.
Societe Generale's French consumer-banking earnings rose 2 percent in the second quarter from a year earlier to 336 million euros, the company said. The international banking and financial-services unit had a profit of 318 million euros, up 31 percent from a year earlier.
Societe Generale, which had widespread operations in Russia before World War I, re-entered the market after the Soviet Union collapsed. In 2008, Societe Generale bought a majority stake in Moscow-based OAO Rosbank to clinch a spot among the foreign banks with the largest presence in Russia.
The French bank bought out most of Rosbank's remaining minority investors in April.
Before it's here, it's on the Bloomberg Terminal.
LEARN MORE