Obama Says Republicans Pushing 'Extreme' Bill on Border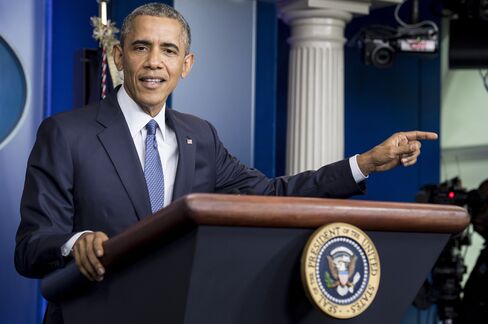 President Barack Obama accused House Republicans of focusing on immigration legislation that is "extreme and unworkable" just to send a message and "check a box" before leaving for a recess.
With Congress set to leave on recess without dealing with a host of legislation including immigration, Obama went on the offensive against congressional Republicans, saying they've obstructed measures that deal with urgent national issues.
In-fighting among Republican factions has stalled action on even the most uncontroversial legislation, the president told reporters at the White House.
"The challenge I have right now is that they are not able to act even on what they say their priorities are," Obama said of the Republicans in the House. "They are not able to work and compromise even with Senate Republicans."
Obama requested $3.7 billion to handle an influx of unaccompanied children that have been arriving at the U.S. border with Mexico, mostly from Honduras, Guatemala and El Salvador. About 57,000 minors were apprehended at the border from Oct. 1, 2013, through June 15, double the total from the same time a year earlier. The White House is seeking the money to pay for temporary housing and processing of the children.
House Republicans, after failing yesterday to agree on funding, are working on legislation to provide $694 million. Republican leaders are seeking to get a vote before leaving town for a five-week recess.
Even if the House passes a plan, there's no chance of it becoming law any time soon. The Senate was unable to advance its border plan on a 50-44 vote yesterday, with 60 needed. Senators then left Washington and aren't scheduled to return until Sept. 8.
Republicans put the blame on Obama.
"When it comes to the humanitarian crisis on our southern border, President Obama has been completely AWOL," Michael Steel, a spokesman for House Speaker John Boehner said in an e-mail. "Senate Democrats have left town without acting on his request for a border supplemental. Right now, House Republicans are the only ones still working to address this crisis."