Iliad Could Nab T-Mobile With a Bid Lower Than Sprint's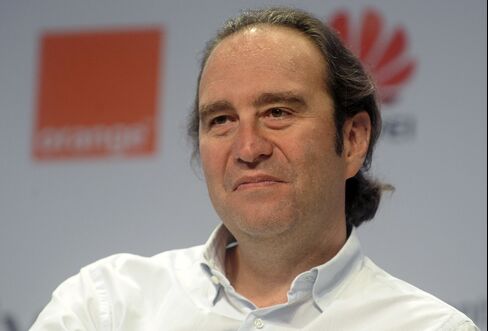 Iliad SA may not have to outbid Sprint Corp. to win control of T-Mobile US Inc. It just needs to get close.
That's because there's a greater chance the French phone company can win U.S. regulatory approval. Investors are more inclined to get behind a sure thing, which means Iliad could offer less than Sprint and still prevail, according to Kevin Smithen, an analyst at Macquarie Securities USA Inc.
Iliad may only need to raise its bid for 56.6 percent of T-Mobile to $37 a share -- up from the current offer of $33 a share -- to get T-Mobile parent Deutsche Telekom AG to consider the proposal, Smithen said. Sprint's owner, SoftBank Corp., has been preparing an offer of about $40 a share, according to people familiar with the matter.
"Iliad wouldn't have to match SoftBank's price since they would have a much easier time convincing regulators that their deal is better because it doesn't eliminate a fourth U.S. carrier," said Stephen Sweeney, a strategist at Elevation LLC.
A bid for T-Mobile by Iliad probably would face fewer objections from the U.S. Justice Department and the Federal Communications Commission than any bid submitted by Sprint. Combining Sprint and T-Mobile would reduce the number of U.S. wireless carriers to three from four, while Iliad's offer would preserve all four.
Getting Out
Deutsche Telekom considers Iliad's offer as not competitive and inferior to Sprint's plan, a person familiar with the matter said yesterday.
Iliad fell 7 percent to 191.55 euros today, while T-Mobile rose 1.5 percent to $33.42 in New York. Deutsche Telekom was little changed at 12.09 euros. SoftBank fell 1.3 percent to 7,477 yen in Tokyo.
Even if Deutsche Telekom's management rejected an initial offer from Iliad, the German company's priority is getting out of the U.S., according to two people familiar with the matter. It would be open to forgo some sales proceeds in exchange for lower risk of rejection by regulators, they said.
Deutsche Telekom "wouldn't necessarily hold out for the most money," Sweeney said. "The Sprint review process could take a year and there's a risk it could be rejected. They might not want to waste a year."
Sweeney said he expects a higher bid because Iliad wouldn't have said it was interested publicly if it weren't considering another offer.
Stalking Horse
"DT is obviously happy having a stalking-horse bidder," Smithen said, referring to Bonn-based Deutsche Telekom by its stock ticker. "If Iliad could get an all cash deal at around $36 to $37 dollars a share, I think the DT board would entertain the offer."
Representatives for Deutsche Telekom and Sprint declined to comment. T-Mobile confirmed it received Iliad's proposal and said it wouldn't comment further.
To be sure, Iliad's claims of $10 billion in potential savings to be shared between the two companies aren't immediately apparent, especially for a carrier based in Europe trying to combine with a U.S. operator, according to John Butler, an analyst with Bloomberg Intelligence. Iliad said its proposal values the remaining portion of T-Mobile at $40.50 a share based on those synergies.
"Bottom line, what T-Mobile needs more than anything is scale," Butler said. "Sprint and T-Mobile together would be a big benefit to both carriers."
Capital Need
Merging with Sprint may ultimately be the best option for T-Mobile because it would bolster the subscriber base and ability to acquire more spectrum, Smithen said. With Iliad, there would be no network or operational complements, he said.
"This could be an opportunistic way for Iliad to get a minority stake in the combined Sprint and T-Mobile," Smithen said.
T-Mobile Chief Executive Officer John Legere said in an interview yesterday before Iliad's offer was disclosed that there's more than one option available to help T-Mobile better compete against largest rivals Verizon Communications Inc. and AT&T Inc.
"Little by little we are attacking them, but there are multiple things to consider," Legere said in the interview on Bloomberg Television with Emily Chang. "If I really want to bring long-term competition and lead this entire industry, capital is important.
''Various accelerants exist -- they exist internationally, they exist domestically.''
Iliad's entry into the T-Mobile acquisition arena could create a three-way race among billionaires.
Billionaires Battle
Illiad's Xavier Niel is one of France's richest men, with a net worth of $9.2 billion. He's potentially vying against Sprint's owner SoftBank, which is led by Japanese billionaire Masayoshi Son. Son's personal net worth is $15.1 billion. Should the right doors open, fellow billionaire and Dish Network Corp. Chairman Charlie Ergen -- the richest of the three at $17.5 billion in net wealth -- could also enter the tussle.
Ergen said in May that he was willing to watch the Sprint deal for T-Mobile from the sidelines. Should there be an opening, or should SoftBank's plan get blocked by regulators, he said Dish might have a shot. Bob Toevs, a Dish spokesman, declined to comment on Iliad's interest in T-Mobile.
''I wasn't a very good poker player but when a bunch of drunken fools were throwing money around occasionally I was able to pick up the pot at the end of the day," Ergen said at the time. "My recommendation to our board would probably be let's see what happens."
Before it's here, it's on the Bloomberg Terminal.
LEARN MORE