Forrest Backs Welfare Cuts to Double Jobs for First Australians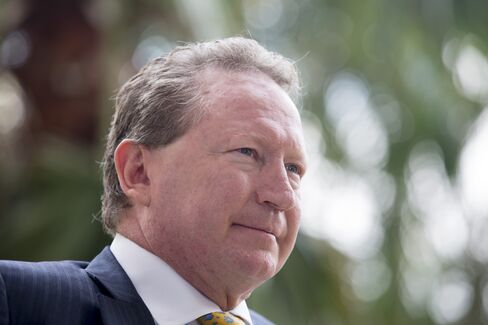 Billionaire miner Andrew Forrest, tasked by Prime Minister Tony Abbott to help end disparity between indigenous and other Australians, recommended a raft of measures including welfare cuts in an effort to double employment among aborigines.
"We must make jobs more attractive and ensure that welfare entitlements are such that transition to the workforce is reinforced," Forrest, the chairman of Fortescue Metals Group Ltd., said in his 256-page report released today. The government needs to "make better use of the existing funding, and make sure First Australian workers of the future are given opportunities to move to take up work and to contribute to the productivity of the nation," he said.
Abbott, a self-declared prime minister for Aborigines, is seeking to address poorer standards for the indigenous -- about 3 percent of the population -- in health care, education, employment and community services. Almost half of working-age "First Australians" rely on welfare as their main source of income, compared with 17 percent for all Australians.
To achieve employment parity between indigenous and other Australians by 2018, 188,000 Aborigines will need to find work - - double the current number, Forrest said in his report.
"Only employment will end the disparity, and employment is only possible if we remove all impediments to parity in education," he said. Forrest, who founded Australia's third-largest iron-ore miner, has in recent years led a campaign calling on resource companies and other large businesses to increase training programs and employment opportunities for the indigenous.
Education Focus
The report recommends implementation of intensive prenatal and early childhood services for the indigenous, a strict focus on education, making government departments and non-government organizations more accountable for their programs by restricting funding for non-performance, and tax incentives for those contributing to government revenue, Forrest said.
Forrest also wants to introduce a Healthy Welfare Card, which would restrict the ability of the indigenous to use welfare payments to buy alcohol and drugs, he said.
"Australia's economy and society has been held back by this issue and it has had an impact on the standard of living of every Australian," Forrest said in the report. "We should be well past throwing money and paternalistic solutions at Indigenous Australians. Instead, we need to set and drive high expectations and equal opportunity."
Entrenched Disadvantage
Australia's Aborigines remain the poorest and most disadvantaged group in society more than 200 years after Europeans settled in 1788. Indigenous people are eight times more likely to be victims of child abuse and neglect, almost a third less likely to complete school, half as likely to own their own home, and have life expectancies about a decade lower than other Australians.
"What the government is doing, what we have already embarked upon, is a campaign to ensure that we end the poison of sit-down money in remote indigenous communities," Abbott said today. The government will now have a six-week consultation period with the community on the report before deciding what parts of the review it will implement, he said.
The government wants to "end the dispiriting and corrosive cycle of training for training's sake in indigenous employment programs, and we try to ensure that everywhere in our country, but particularly in our indigenous communities, every child goes to school every day," Abbott said.
Before it's here, it's on the Bloomberg Terminal.
LEARN MORE