Consumer Spending in U.S. Rose in June by Most in Three Months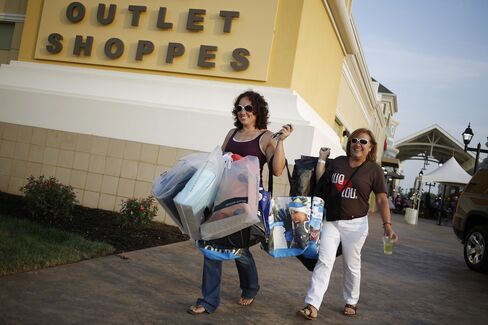 Consumer spending in the U.S. rose in June by the most in three months, ending the quarter on a strong note and signaling that continued job growth will bolster the world's largest economy.
Household purchases, which account for about 70 percent of the economy, climbed 0.4 percent after a 0.3 percent gain in May that was larger than previously estimated, Commerce Department figures showed today in Washington. The increased matched the median forecast of 74 economists in a Bloomberg survey. Incomes also advanced 0.4 percent.
A strengthening job market is supporting consumer confidence and giving households the means to spend as the economic expansion heads into its sixth year. Companies such as Starwood Hotels & Resorts Worldwide Inc. are optimistic sales will keep improving in the coming months.
"We have perhaps the best consumer that we've had this entire cycle," Jacob Oubina, senior U.S. economist at RBC Capital Markets LLC in New York, said before the report. "The fact that wages accelerated decently in the second quarter suggests some good momentum going into the second half of the year."
Projections for spending in the Bloomberg survey ranged from gains of 0.3 percent to 1 percent. The May reading was previously reported as an increase of 0.2 percent.
The Bloomberg survey median called for incomes to also rise 0.4 percent, matching the previous month's gain.
July Payrolls
A Labor Department report today showed payrolls climbed by 209,000 in July and the jobless rate increased to 6.2 percent from 6.1 percent in June.
Today's consumption data showed that after adjusting consumer spending for inflation, which generates the figures used to calculate gross domestic product, purchases rose 0.2 percent after a 0.1 percent gain the previous month.
Spending on durable goods, including automobiles, increased 0.4 percent after adjusting for inflation following a 1.3 percent advance in May. Purchases of non-durable goods, which include gasoline, rose 0.3 percent.
Household outlays on services increased 0.1 percent after adjusting for inflation. In addition to health care, the category also includes utilities, tourism, legal help and personal care items such as haircuts. This typically makes it difficult for the government to estimate accurately in the preliminary report.
Today's data also showed the core price measure, which excludes fuel and food, increased 0.1 percent in June from the prior month and was up 1.5 percent from a year ago, the same as in May.
Price Gauge
Total prices tied to consumer spending rose 1.6 percent in the year ended June, after advancing 1.7 percent in May. Federal Reserve policy makers aim for prices to increase around 2 percent a year.
An improving economy is buoying results in some cyclical sectors, such as lodging. Starwood Hotels, which owns high-end brands such as St. Regis and W, last week reported adjusted earnings that beat analysts' estimates and raised its outlook for the year.
"Our results are very much in line with the state of the U.S. economy," Chief Executive Officer Frits van Paasschen said on a July 24 conference call with investors. "Corporate profitability is high, consumer confidence is back where it was in early 2008, both of which bode well for increased demand for high-end travel."
Disposable income, or the money left over after taxes, climbed 2.3 percent in June from a year earlier after adjusting for inflation, the same as in May.
Growth Rebounds
A report earlier this week showed the U.S. economy rebounded from a winter weather-induced slump, as second quarter gross domestic product climbed at a 4 percent annualized rate after contracting at a 2.1 percent rate that was smaller than previously estimated.
Even amid the pickup in growth and payrolls, the Federal Reserve said the labor market has plenty of room for improvement, bolstering the case for keeping interest rates low.
The Federal Open Market Committee's policy statement earlier this week diminished the unemployment rate as a measure of progress toward its full-employment goal, saying "a range" of indicators suggest "significant underutilization of labor resources."
Policy makers continued to trim the asset purchases that have enlarged the Fed's balance sheet to a record $4.41 trillion, leaving them on pace to end in October. The central bank tapered monthly bond buying by $10 billion, to $25 billion. The FOMC repeated it's likely to reduce purchases in "further measured steps" and keep interest rates low for a "considerable time" after ending them.
Before it's here, it's on the Bloomberg Terminal.
LEARN MORE