As Craft Beer Gets Crowded, Sam Adams Goes on an Ad Blitz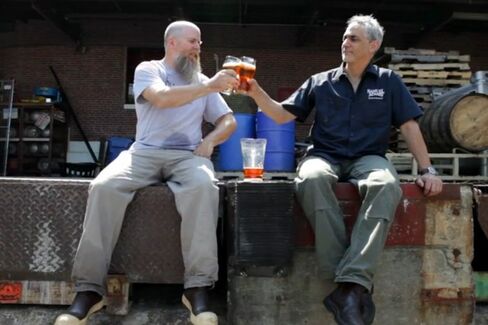 All those ads with chummy, bearded, Dropkick Murphys-loving men clinking pints of Sam Adams worked like a charm for Boston Beer. The maker of Sam Adams, Angry Orchard, and Twisted Tea is selling more beer than it expected this year.
The company now expects 2014 sales by distributors to retailers to increase between 20 percent and 24 percent. To "maintain the momentum," the country's largest craft brewer (PDF) will increase ad spending, said Chief Executive Martin Roper during an earnings call this week.
For the full year, Boston Beer plans to increase advertising and promotional spending between $37 million and $45 million, up from its previously estimated range of $34 million to $42 million. The company spent 31 percent more on ads in the second quarter, following a 41 percent increase the quarter before that.
The bad news for Sam Adams is that while sales increased, it lost some market share to competitors as the craft beer segment gets larger and more crowded. The number of craft brewers increased 15 percent last year, according to the Brewers Association. "There's a lot of fragmentation going on," Roper said. "We're doing, we think, reasonably well."
Meanwhile, Boston Beer will also increase ad spending for its small Alchemy and Science brands—Angel City, Coney Island, Just Beer, and Traveler Beer—between $3 million and $5 million. Alchemy and Science, a subsidiary of the company, currently only contributes 1 percent of Boston Beer's revenue. If the additional promotional dollars are at all effective, that could steadily grow.
Before it's here, it's on the Bloomberg Terminal.
LEARN MORE