Argentina 85-Cent Defaulted Bonds Show There's Still Hope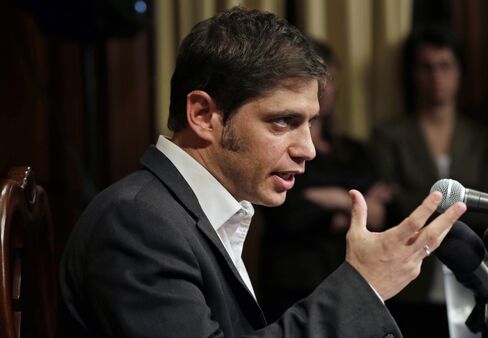 Typically when a country defaults, its debt sinks to less than 30 cents on the dollar. In Argentina, even after two days of losses, government bonds are trading above 80 cents.
Why are investors so confident? While missing a deadline to pay $539 million in interest due on July 30, Argentina still has sufficient funds and the willingness to make good on its obligations, according to Moody's Investors Service. Unlike in 2001, when Argentina defaulted on $95 billion of debt, holders see little chance of losing 70 percent of face value as they did in the government's last restructuring.
"Although it's difficult to keep your lunch down, anyone with a long-term view of the country ultimately believes this will get resolved," Daniel Freifeld, a money manager at Callaway Capital Management LLC, said by phone from Washington. "That's what's supporting prices in what otherwise should be a firesale."
Argentina's benchmark dollar-denominated notes due in 2033 were trading as high as 96 cents on the dollar before Standard & Poor's declared the government in default on foreign-currency debt on July 30. While the government, which has about $29 billion of international reserves, had deposited the interest due at Bank of New York Mellon Corp., the payment was held up because of a legal battle with creditors who refused to participate in earlier restructurings.
The notes fell 3.7 cents yesterday to 85.1 cents on the dollar. That compares with an average of 26 cents for government securities 30 days after a missed payment or during a debt swap, according to a Moody's analysis of defaults going back to 1998.
Investor Confidence
Greek bonds were valued at about 24 cents following its default in 2012, while Ecuador's debt tumbled to 28 cents after it stopped making payments in 2008.
Investors remain confident even with talks between Argentina and creditors deadlocked. The International Swaps & Derivatives Association ruled yesterday that the failure to pay interest will trigger $1 billion of credit-default swaps. The default also could lead holders of $29 billion of foreign-currency bonds to accelerate payments.
"We're expecting a substantial recovery rate from Argentina," Gabriel Torres, a sovereign-credit analyst at Moody's, said in telephone interview. "We don't see a scenario where Argentina stops paying for years and years. It's different from 2001 because Argentina does have the money to pay. It's a far cry from the crisis it was in back then."
SEC Request
Argentina will investigate whether the holdouts' failure to reach agreement on the debt case was part of a "maneuver" to profit from payouts on the country's credit-default swaps, the Economy Ministry said in an e-mailed statement on Aug. 1. Local regulators will ask the U.S. Securities and Exchange Commission to help the country establish whether the hedge funds, either by themselves or through third parties, benefited from the triggering of CDS, according to the statement.
A group of international investment banks, including JPMorgan Chase & Co., met with Elliott Management Corp. and other holdout creditors this week to propose buying securities the hedge funds own from the 2001 default, according to a bank official who asked not to be identified because the information is private. An earlier proposal by national banks fell through.
Third-party Solution
Argentine Economy Minister Axel Kicillof said July 31 that the government "wouldn't be opposed" to a third-party solution, noting that the country can't offer the hedge funds better terms than its 2005 and 2010 debt swaps without making the same deal with exchange bondholders.
"The resiliency on bond prices likely reflects the view that, unofficially, a deal is in the works," Siobhan Morden, head of Latin America Fixed Income Strategy at Jefferies Group LLC, said in a report today.
Before it's here, it's on the Bloomberg Terminal.
LEARN MORE